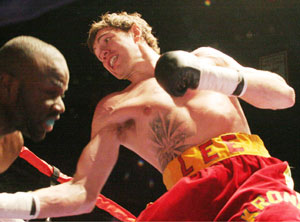 Andy Lee in action

By Ant Evans: I've covered boxing professionally for nine years now and - inevitably - I've learn to turn a suspicious ear whenever a trainer, manager or promoter launches into hyperbole about a novice fighter. But when IBF heavyweight champion Wladimir Klitschko and undisputed middleweight champion Jermain Taylor both give rave reviews after sparring sessions with the same fighter, it is wise to listen.

Irish super-middleweight Andy Lee, 3-0 (2), is the fighter getting the praise. Born in London, England, Lee comes from a boxing family. All four brothers boxed amateur, with the elder pair Tommy Lee and Mendy representing Young England while Andy and younger brother Roger boxed for Ireland.

"It was quite a rivalry," Lee told SecondsOut. "I was born in England and started boxing in England but I am proud to be Irish. I want to represent Ireland as a professional boxer, but not just as a gimmick with a shamrock, but as a world champion. I want to be know as a World Champion from Ireland rather than a fighter who uses his Irishness as a way to just sell tickets in America."

And it is America where Lee is based, training with the legendary Emanuel Steward.

Lee takes up the unlikely story: "It really all started in 2002 when I boxed in the World Junior Championships and won the silver medal. I beat a kid who Emanuel trained a bit and sponsored and when he went home and said he'd got beat by an Irish kid, Emanuel watched the tape and I guess he liked what he saw in me, because took an interest. He called me up from America. I couldn't believe it. He gave me some great advice."

The pair struck up a friendship and Steward continued to monitor Lee's progress. The Irish southpaw went to the 2004 Athens Olympics, only to get beaten by Cameron's Hassan Ndam Njikam on a count-back in the second round of the competition. Deciding - like so many talented boxers before him - that amateur boxing wasn't for him, Lee elected to turn pro.

And that's when he got the opportunity of a lifetime. Steward offered to bring the youngster over to Detroit to train in the world famous Kronk gym. Lee has been there ever since, lodging in Steward's house and absorbing everything the Hall of Fame coach can teach him.

Lee said: "In December 2004 I moved over here, and I've only been home to Ireland twice. It a big change of lifestyle but I am taking to it. The first day at the gym Emanuel look at me and said 'You ready to spar?' and I was in with a 18-0 fighter immediately. You have to be a good fighter to stick it here, but I am doing what I can."

And what Lee can do it said to be a bit special.

Steward also trains Wladimir Klitschko, who won his second heavyweight title from Chris Byrd in Germany in April. Although currently campaigning as a middleweight, 22 year old Lee's southpaw still and 6ft 2inch stature made him the perfect sparring partner to replicate Byrd's style.

"It was just incredible sparring with a world heavyweight champion," Lee said. "Although it took some getting used to - he's such a huge, huge man. He wasn't trying to take me out or anything, obviously, but was just working on his speed. But I really appreciated the chance to work with someone like him. It was such a great learning experience."

And Steward enthused: "Wladimir told me after beating Byrd that Andy was much harder to hit than Byrd and much faster, too. For the first day, Andy's speed really gave Wladimir problems and by the time we got Wladimir to the actual Byrd fight, Chris Byrd was slow in comparison to what Wladimir had been having with Andy in sparring."

Lee, who is hard to miss with a large distinctive tattoo on his stomach, fought on the Klitschko v Byrd undercard at the SAP-Arena, Mannheim, Germany, getting a fifth round KO of one Wassim Khalil.

Then it was back to Detroit as the world class education continued. Lee said: "After sparring with Wladimir, Jermain Taylor comes to the gym to train for his (June 16) fight with Winky Wright and he also needs southpaw sparring. So I get to spar with the reigning undisputed middleweight champion. Really, I couldn't wish for better preparation. It was only 5minutes ago I'd been reading about these guys in my bedroom in Ireland.

"Me and Jermain had a good close spar and that boosted my confidence so much. I learned so much from him.

And Steward added : "Jermain came in as the champion of the world, but Andy was the champion of the gym and wanted to protect his turf. They had some real good, heated, competitive rounds. Both guys really worked hard."

Beyond getting to spar with established world class fighters, Lee is also getting the inside track at how to handle the outside the ring pressures that accompany big time boxing.

Lee said: "I was with Jermain all fight week and say how he conducted himself as a champion, how he dealt with the pressures of the week and even how he was during fight night (Lee was in the changing room before and after the fight). Just being around this stuff is a learning experience. Mixing with these guys is giving me an idea on preparing to be a world champion myself one day."

The southpaw banged out journeyman Rodney Freeman on Taylor's undercard at the FedEx Forum but admits that, at this stage, he's be doing most of his learning and developing as a fighter in sparring sessions in Detroit.

He said: "A lot of people my age, friends of mine back home, are going off to the Army or university but that's kinda what I've done. I'm at the best boxing university in the world."