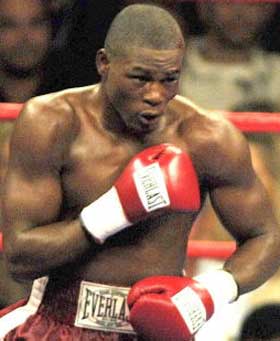 Losing respect for B-Hop: Jermain Taylor (pic Neil Abramson)

Interview by Ant Evans: After staving off a frenetic later round assault, Jermain Taylor snatched the Undisputed World Middleweight Championship from Bernard Hopkins on the basis of outworking 'the Executioner' in the early and middle parts of their June 16 clash at the MGM Grand in Las Vegas.

In the immediate aftermath of his WBC, WBA, IBF and WBO title win 'Bad Intentions' said the he'd 'respect Bernard Hopkins forever'. However, in the weeks since losing his championship, Hopkins has acted not unlike a petulant child (demanding the Nevada State Athletic Commission overturn the split decision, writing to boxing publications asking they keep him as the No.1 middleweight in the world and thus and so) and Taylor's estimation of the ex-champ has shrunken.

Taylor told SecondsOut: "He's just an all around dirty fighter. I can't stress that enough, he's just dirty. He's always been dirty, he's known for this. He's no boxer and I don't think that he'll be remembered as a great boxer, just a dirty, dirty fighter. He don't win the right way, he cheats to win and I don't consider that winning a boxing match, (much less) an undisputed middleweight title (match)."

In boxing, there's a saying that you're only as good as your last fight. Since July 16, Hopkins has been behaving as though the common mantra is that your only as good as your last round. While admitting he was tired in the final four rounds, Taylor believes he hasn't been given his due for out thinking and outfighting Hopkins for the first two thirds of the fight.

Quite simply, Bad Intentions feels dissed.

He said: "Bernard has given me no respect. I won the fight. It may have been close, but I made the fight almost the whole way chasing him when he was running away but he won't give me any respect at all. Bernard needs to stop crying, but that's the type of person he is. When he was champion, I gave him respect. If he'd have beat me and got the decision I'd give him respect. Now I'm champion - he should give me the respect I deserve but that's not Bernard Hopkins."

Taylor admitted Hopkins was a big step up in class from his previous 23 opponents but argued that the most potent of Hopkins's tool were his illegal tactics.

He said: "Every time he's jumping in with his head. He butted me and I got a little dizzy and I was bleeding a lot the whole fight but I didn't let that bother me too much. I've never been in that situation but I'm a fighter, man. I dealt with what I had to deal with but next time, come December, I'll know exactly what to do. I saw every dirty trick Hopkins has and all he could do was make it close; next time, knowing what I know, it won't be close.

"I made mistakes last time, mistakes I was always going to make in my first world title fight but mistakes I won't make again. Hopkins was trying to wait it out and I made a mistake in following him and chasing him around too much. I believe he was waiting on that but I didn't let him counterpunch too much. I was waiting on that and he didn't land too many at all. But I chased him around and wasted energy, that's what I noticed and I noticed that I never came back with a three punch combination when I should have. I had him hurt and I should have just jumped on him.

"All I need to do in look at how I can improve a little on the first fight and I'll put it beyond doubt next time."

How? What if Hopkins begins his surge three rounds earlier in December?

A fired up and fully confident Taylor said: "Like I said, I used up a lot of energy chasing him around because he ran and ran (early on) but the main thing was his dirty stuff. The headbutts, the lowblows, me losing blood with the cut, everything illegal that he did took a toll, y'know? I think it was one of the dirtiest fights ever in an undisputed title fight.

I was never badly hurt at all. I was fatigued. He caught me with a couple of good shot? Bernard's not a big puncher, but he's an accurate puncher. He picks his punches well but he doesn't have to power to knock anybody out. In the second round (when Hopkins needed to use his hands to steady himself on the ropes) I knocked Bernard down. It was a knockdown because he held onto the ropes to stay on his feet. When did I need to ropes to stay up?

"I learned a lot in there, though, like I should have come out of the clinches differently to protect myself and should have kept my left hand high. I'll be working on those things in the future.

"I really want to knock him out and I think you'll see that knockout but - even if I don't knock him out - then I'll keep working him and working him. There will be no room for him to cry about anything."