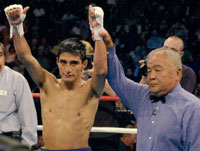 By Mark G. Butcher in Las Vegas: Marco Antonio Barrera remains a strong favorite ahead of the featherweight super-bout with Erik Morales at the MGM Grand in Las Vegas on Saturday, but promoter Bob Arum is in a small minority, along with this writer, who believes Morales will prevail. The form guide would suggest otherwise with Barrera looking masterful in wins over Naseem Hamed and Enrique Sanchez while a listless Morales struggled in decisions over Guty Espadas and In Jin Chi. But discipline and preparation have made Morales a different fighter for the rematch with his bitter rival, according to Arum.
He's finally trained for a fight, said the Hall of Fame promoter. With Guty Espadas, he came into camp at 160 (pounds). He had some nutty nutritionist, giving him herbs and so forth. He was sick to his stomach two weeks before the fight and he wasn't in any kind of condition. And he trained for the first time, instead of at altitude, at this Prince Ranch in Las Vegas, which was stupid. Then for In Jin Chi, he figured he was fighting an easy Korean and so he never even got up to train for that fight.

This time El Terrible has embarked on a ferocious training regimen at altitude at the Otomi in the Mexican mountains, about two hours outside Mexico City, and this renewed discipline has paid dividends, insists Arum.

Morales for the first time, even more than the first Barrera fight, will come in shape and condition. He trained hard for the first Barrera fight, but the problem was he had to make 122 pounds and he was dead at the weight. Remember, we had to carry him out of the weigh-in, said Arum.

(The weight) is all the difference. That's what people are not seeing. That Morales is the natural bigger guy and the extra weight benefits Morales, who really struggled at 122. He said, 'How could you make me do this?' He started crying.

The promoter firmly believes that people are reading far too much into Barrera's emphatic 12-round pounding of Naseem Hamed in April 2001. Hamed is mediocre, he said. I had a kid called Cesar Soto, who wasn't much of a fighter, and he was beating Hamed until Hamed fouled him and threw him down. Then Augie Sanchez almost knocked Hamed out and Augie Sanchez can't spell fight!

So to beat Hamed is no big deal, to beat Enrique Sanchez is no big deal and to beat Jesus Salud is no big deal, continued Arum. I would be terribly disappointed if Morales didn't knock out Barrera within eight rounds. And my matchmaker feels the same way. If I bet on fights, which I don't allow myself, a 9-5 touting Barrera is the worst, stupidest overlay I've ever seen.

On Saturday night, the savvy promoter may be vindicated for such faith in his fighter.