ATE: Barrera-Khan, Pacquiao-Hatton, Berto-Clottey, No Love For Haye, Froch-Taylor, Valero and More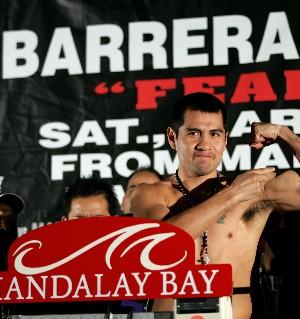 Will Barrera end Khan's career?: HoganPhotos.com

In today's edition of Ask The Editor (ATE), we analyse the announcement that Amir Khan will face Mexican great Marco Antonio Barrera, try to answer what is going on with the Manny Pacquiao-Ricky Hatton fight and consider whether Andre Berto-Joshua Clottey would be a great boxing match. We debate whether David Haye getting a fight with either Klitschko now would be a good thing, pull apart whether Jermain Taylor wants to really fight Carl Froch, try to guide Edwin Valero to a big fight and much more.

Name : Duma Msongelwa
Country : South Africa
Your Question :
Just heard Amir Khan will fight Marco Antonio Barrera in March. Can you guys please describe the logic behind this fight? Are they trying to end his career early or is Amir Khan really that good? Last time I checked he was knocked out in the first round by an unknown Colombian. My message to Amir Khan, "Don't go chasing waterfalls, stick to the rivers and lakes that you are used to".

CLIVE BERNATH ANSWERS: Good question Duma. My personal view is this is a cracking piece of matchmaking. I'm sure Freddie Roach and Frank Warren believe Barrera is past his sell by date and that a youthful, faster and more ambitious Khan will prove too much. We all know that Barrera is past his best and is much smaller but the question is, what does he have left? What puzzles me is why would Barrera want to take a fight like this at this stage of his career?

GREG JUCKETT ANSWERS: Duma, I don't think it's a bad match-up at all. We'll get to see if Barrera has anything left and if Khan really has anything to begin with.

PAUL UPHAM ANSWERS: After such a shocking knockout loss last year, one of the quickest ways to get a lot of ground back quickly, is to beat an ageing great like Barrera. The only problem is that Barrera might still have too much left for Khan. A fight that will tell us a lot about both men and where they are headed.

Name : Barnaby Chesterman
Country : Italy
Your Question :
Just what has got into Safety First Warren? Khan vs. Barrera, what a great idea and a great fight for British fans and for Khan, but how totally out of character for Frank Warren. True, Barrera is not the fighter he was when he dismantled Hamed, but neither is Khan as good as Hamed was. Seems to me like a certain defeat coming Khan's way, although I'm much looking forward to the fight, what do you guys think? Has Warren been overdoing the festivities?

CLIVE BERNATH ANSWERS: I can see where you are coming from Barnaby, and I agree. If Khan was as good as the hype that accompanies him he would be world champion by now. Don't get me wrong, I would not be surprised to see a past his best Barrera take Khan to school, but equally, a much bigger and stronger Khan could do a Graham Earl on Barrera.

GREG JUCKETT ANSWERS: Barnaby, Warren may have put together an uncharacteristic fight for his style of matchmaking, but I'm glad he did. Barrera-Khan offers an intriguing crossroads encounter between a young star under scrutiny and an aging legend looking to fight on. Either way, whoever loses needs to contemplate quitting at dramatically different stages of their respective careers.

PAUL UPHAM ANSWERS: It seems Warren is going all in with Khan. It will either pay off with a win and get Khan's career restarted, or Warren takes a good payday in a Khan loss. This fight will generate some interest in the UK, much of it based solely on people asking, what the hell is Frank doing?

Name : Ronny Anderson
Country : United Kingdom
Your Question :
What's with the almighty Pacman ducking Hitman Hatton??? Everything was done, everyone agreed on the fight and then Pacquiao wants nothing of it? What's happening here? Is Pacquiao overvaluing himself, or is he worried Hatton will give him a real fight???

CLIVE BERNATH ANSWERS: Ronny, the latest news from LA where promoter Bob Arum is staging the Antonio Margarito vs. Shane Mosley fight is that Hatton vs. Pacquiao is not dead. Our correspondent Jason Pribila reported that Arum announced on Thursday he was flying to the Philippines to hold a meeting with Pacquiao. On Friday we hear the fight is back on. For the record, I don't think it's Pacquiao that is stalling on a Hatton fight. Reading between the lines, its seems too many unqualified hangers-on are filling his head with the wrong advise and over valuing his worth.

GREG JUCKETT ANSWERS: Ronny, as you know by now, Pacquiao has apparently agreed on Friday to go forward with the Hatton fight. Maybe Pacman stalled in an attempt to get as high a percentage of the purse as possible…it's happened before.

PAUL UPHAM ANSWERS: It's all business. Everyone is trying to get the best deal they can. There is a lot of bluffing and calling going on. With few alternatives to earn the same sort of money, Pacquiao-Hatton was always going to be made.

Name : James Allan
Country : Belgium
Your Question :
Obviously the No.1 fight on the horizon in the stacked welterweight division is out of the Mosley-Margarito-Cotto rematches, owing to their last outings. Yet, having watched the cracking fight between Berto & Collazo, what would the panel think to a Berto-Clottey unification fight to rival the proposed other encounters this summer? The fight seems to make sense for both men in match-making terms as Berto's star is on the rise and Clottey has yet to receive the exposure owed to his record and come-forward style. It would also be a contest of requisite action with low enough purses as to be in-keeping with Boxing After Dark's much needed re-invigoration in 2009. Any thoughts?

GREG JUCKETT ANSWERS: James, I'm on the same page as you…Berto vs. Clottey is a natural!

PAUL UPHAM ANSWERS: I like it. But Clottey could be the real sleeper in the division. I think Clottey has too much for Berto and gives every other welterweight a very tough battle.

Name : Geraint Gronow
Country : South Africa
Your Question :
Hi guys, just want your thoughts on David Haye? I mean where is the love? For years everyone has been moaning about the state of the heavyweights and where is the excitement going to come from? Well, David Haye surely is what we have been waiting for, someone who is going to give this bland lot a good kick up the arse and inject some much needed interest. What irks me is the amount of bad press he seems to get, especially from the ESPN website, yes he shoots his mouth off a lot, which is hardly new for a boxer trying to get noticed, and yes he is smaller than you average Russian, and yes his chin may be suspect. But he is exciting! He took on the main man and won away from home to win the cruiserweight title, he has a hefty wallop, he's very quick, he can give an interview and may even attract some of the lady fans to the sport! There has been more excitement in Hayes career than the whole top tens combined. I'm not saying Haye will go on to dominate for years to come, but it will be a great ride trying to watch him do it, lets get behind his quest instead of dismissing it before its even begun. PS. Hamed Hall of Famer yes or no? I think yes.

CLIVE BERNATH ANSWERS: Geraint, I totally agree that David Haye is very exciting and good for boxing. But I would like to see him work his way up through the rankings like everyone else. Just because David was the undefeated world cruiserweight champion and is no doubt exciting to watch, does not give him the right to leap frog all other contenders to face the Klitschko's. Hamed, Hall of Famer? Not for me.

GREG JUCKETT ANSWERS: Geraint, I like Haye and I'm looking very forward to the Hayemaker shaking things up in the drab heavyweight division, but I don't think he should rush into a Klitschko fight. Let him entertain us for another twelve months against suitably matched opposition. I think the Klitschkos are beatable, but I don't think Haye is ready yet.

PAUL UPHAM ANSWERS: I have also been surprised by the amount of cynics who think Haye can't conquer the heavyweight division. Why should he leap frog the other contenders Clive asks? Because the recent group have been some of the most inept in heavyweight history and have done absolutely nothing to garner the public's interest. I want to see Haye vs. either Klitschko now! Yes, I think Hamed achieved a lot in his career. At his best he was unique and exciting with a genuine knockout punch. There was no shame in losing to Barrera. Of course, Hamed 36-1 (31) could have handled the defeat better and made another run at a rematch or another major world title, but living the high life sucked the desire to train out of him. He won the WBO, WBC and IBF world titles and beat former WBA champion Wilfredo Vazquez, who was stripped for fighting Hamed, instead of his mandatory. Many despised him, but Hamed took boxing back into mainstream media. The Prince is due recognition for what he achieved in the ring, which was significant.

Name : Matt O'Brien
Country : United Kingdom
Your Question :
I just read the comments made by Lou DiBella regarding the whole Taylor-Froch-Kessler negotiations, and I think there is something seriously wrong with this situation. I think DiBella usually talks more sense than a lot of people in boxing, so I'm tempted to think the US TV networks are largely to blame, but nevertheless, I struggle to understand his stance on this. DiBella says that Taylor "really wants" to fight for the title and to meet the other top guys in the division, but then he goes on to say that in almost every case the risk doesn't match the reward in terms of Taylor's pay. Isn't a contender supposed to take risks? (See Collazo & Mosley this month). I think Taylor and his people need to remember that he is a contender now; he is not the undisputed, undefeated golden child of boxing anymore, and he should stop acting that way in negotiating for title shots. If Taylor wants the title as badly as DiBella claims, why doesn't he start acting like a contender and makethe fight happen - and worry about calling the shots next time?

CLIVE BERNATH ANSWERS: Matt, I agree, if Taylor want the title that badly he should face Froch, but as always, money is the stumbling block. Problem is Froch is not a big name in the US and HBO, I'm led to believe, are not interested for the money that the fighters camp think its worth. And Showtime would be happy to broadcast but would not be prepared to part with the type of cash expected by the fighters. Lets see what happens if the fight goes to purse bids.

GREG JUCKETT ANSWERS: Matt, my guess is that of the current crop of 168lbs world champions, HBO isn't clamouring to televise Taylor versus Froch, Bute, Kessler or Inkin, and Taylor might not be interested in fighting outside of the United States. I understand your points and I wish the circumstances were different as well, but DiBella and Taylor may opt to fight a ten rounder or two on HBO against an American opponent before Bad Intentions fights any of the current champions at 168.

PAUL UPHAM ANSWERS: It is all public posturing trying to make the best deal available. Lou DiBella knows what he is doing. Of course, Taylor has to accept now as you rightly point out, that he is not the champion and he doesn't have full say on everything. Eventually as the real options reveal themselves, the current economic climate will see the best fights being made – see the outcome of the Pacquiao-Hatton negotiations.

Name : Joe Sumner
Country : United Kingdom
Your Question :
I read your article on Yuriorkis Gamboa as Hot Prospect of the Year...and now, a week later, read his fight report! How can a man who's been down four times already in his career be regarded as a future top level performer? He's only had 13 fights! Fair enough, he packs a punch and puts some nice combinations together but when he steps up a level, surely it's lights out? P.S from a British boxing fans perspective, how do you rate our new post Olympic prospects?! I'm fully aware of the Fraudley syndrome, but I've rarely been excited as I am about Frankie Gavin, who, I regarded as on par, if not better, than Amir Kahn! Keep up the great work guys, fantastic site!

GREG JUCKETT ANSWERS: Joe, despite Gamboa's propensity to get knocked down, he hasn't been knocked out, so we'll just have to wait and see how he does as the competition stiffens. You could be right; he may get starched sooner than later.

PAUL UPHAM ANSWERS: Well, Gamboa has shown that he can get up off the canvas, which some will say is a good thing, but as you suggest, maybe he should not have been down in the first place. I am never convinced either way early on in a boxer's career. Some fighters learn much more from being in tough spots early in their career. We can only reassess a fight at a time. But in the world today, we are all expected to be able to see the future and tell everyone what will happen in advance. I actually love fights where we don't know the outcome. It makes it more interesting. In a similar vein, Olympic boxing and professional boxing are two different sports. Success at Olympic level never guarantees success as a pro, as you rightly point out. Like you, I will keep an eye on Frankie Gavin. Part of the joy in following boxing is discovering a promising prospect early in their career and following them to a world title. You take a little extra pride in being in there for the ride from the beginning. Whenever I talk to young pro boxers telling me how they are going to win a world title one day, I ask them one thing – "You promise to still take my calls?"

Name : Thomas Peak
Country : United Kingdom
Your Question :
Hi guys. I would like to wish you a happy new year and by the way, I think your awards this year are totally spot on. My question regards Edwin Valero. I have never seen him fight live, although I have read many articles about him and seen his fights on YouTube and wherever else they can be scrounged online. His record speaks for himself and places him as probably alongside Vic Darchinyan and David Haye as the hardest punchers pound for pound in the world today. He is exciting and a great boxer to boot. I just wonder how far you think he can go? Lightweight is a tough division, but there is little doubt he would blow away other contenders such as Amir Khan and although he was a WBA champ at super feather in the much tougher lightweight division he has to be considered a contender at this point. I personally think that he can overcome the obstacle of not being allowed to box in the states and become a pound for pound fighter in the next couple of years.

CLIVE BERNATH ANSWERS: Hi Thomas. First of all, if Edwin cannot get licensed in the US it is very unlikely he will be allowed to fight in the UK or parts of Europe. Personally, I feel Valero is probably the hardest puncher pound for pound in the game today. There is no doubt that not being able to fight in the US has harmed his career.

GREG JUCKETT ANSWERS: Thomas, I think you've partially answered your own question. Yes, Valero is an exciting and devastating puncher, but we won't really know anything until he fights consistently in the States or in Europe. That being said, it could still be a long time before we see Valero in a significant high-profile fight.

PAUL UPHAM ANSWERS: There has been talk that Valero has been approved to fight in Houston. Time will tell. It is an interesting dilemma considering that Valero's spot on his brain scan was caused in a motorbike accident and is reportedly not related to any boxing injury. Bob Arum a while back was determined to have Pacquiao vs. Valero in Macau. But Manny has accelerated his career now to the very top where he is now out of Valero's reach.

Name : Paul McLaughlin
Country : United Kingdom
Your Question :
Two questions for you from a British fight fan. Firstly, Michael Jennings has got a massive fight against Miguel Cotto in what is widely seen as Cotto's comeback fight and a warm up for future world titles chances and bigger named opponents. However, do you think this is a good time for Jennings to be fighting Cotto after the brutal Margarito fight? Jennings is definitely a rung or two below genuine world class but he's an excellent British/European fighter, so do you think he has a reasonable chance of nicking a decision here? Also, if Hatton and Pacman do get it on in May and if Hatton can get the win, do you think any of the current junior-welters can really establish themselves as a big name for a fight against Hatton and who do you think it would/could be from Bradley, Holt, Torres, Ngoudjo, Maidana, Kotelnik, Ortiz, Figueroa? Forget Witter.

CLIVE BERNATH ANSWERS: Paul, you could be right, Cotto may not have recovered from the beating he took against Margarito I still feel his thirst for redemption and his experience will be too much for Jennings.

GREG JUCKETT ANSWERS: Paul, I don't know too much about Jennings, but he'll probably need to fight the fight of his life to derail a "come-backing" Cotto in front of a pro-Cotto crowd at Madison Square Garden. Your first question makes sense however...maybe Cotto will not quite be the same following Margarito.

PAUL UPHAM ANSWERS: No better time to be fighting Cotto than now after his brutal loss to Margarito. Jennings needs to be aggressive early and make Miguel remember what happened to him in his last fight. You never know what could happen then. But if Jennings is cautious and lets Cotto fight his fight, forget it. If Ricky Hatton beats Pacquiao, he will truly be on top of the world. Only two fights that I could then see for him that would be big enough. A Mayweather rematch, or a fight now with Shane Mosley after his big win over Margarito. Of the names you mentioned, I think Tim Bradley is the best, but Hatton fighting him after beating Pacquiao would be a step down.

Name : Mark Cooper
Country : United Kingdom
Your Question :
This may seem an odd request, but I'm watching some past Joe Calzaghe fights. Just seen the match against Evans Ashira on 10/09/2005. I'm trying to find out the artist for Evans Ashira's entrance music, does anyone happen to know which group the music is by?

PAUL UPHAM ANSWERS: There is nothing we love more than odd requests here at ATE. I am sure some of SecondsOut's readers will have the answer?

Name : Paul White
Country : Australia
Your Question :
Paul, what is the news on Willie Kickett? He has gone underground since walking into a haymaker from Ahmed Elomar. He was incredibly lucky to get the nod over Gairy St Clair, that was a disgraceful decision, not as bad as the Billy Dib farce against the South African though.

PAUL UPHAM ANSWERS: I was told recently that Willie has not been training over Christmas and is enjoying the holiday break. It won't be easy to come back from a 1 round knockout like that, but he has too much talent to just walk away from the sport. Any Kickett news we will have here at SecondsOut.com.