ATE: Final Calzaghe-Jones Thoughts, Darchinyan, Less Weight Classes, Hopkins the Trainer, Fantasy Lennox and More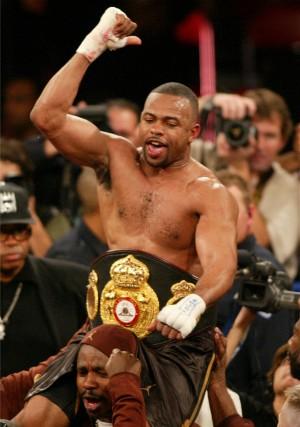 Can Roy Jones Jr be champion again?

In today's edition of Ask The Editor (ATE), we give some final thoughts on tonight's Joe Calzaghe-Roy Jones Jr match, speculate on the future for power punching Vic Darchinyan and question whether boxing would be better with less weight classes. There is a suggestion that Bernard Hopkins would make a great trainer, we look at some Lennox Lewis fights that never occurred and much more.

Name : Michael Robinson
Country : USA
Your Question :
I am sick and tired of people talking up Joe Calzaghe and calling him some sort of boxing legend. If he had any balls, Joe "The Slapper" would have fought Roy Jones and Bernard Hopkins and taken some big fights in the U.S.A 5 to 10 years ago! Beating up an old Roy Jones now does nothing for Calzaghe's reputation.

CLIVE BERNATH ANSWERS: Michael, Joe has already explained why he has not fought Roy Jones Jr earlier. As soon as he became a free agent it became far easier negotiate with Jones direct.

GREG JUCKETT ANSWERS: Michael, I don't think it always comes down to balls or lack there of…rather, strategically maximizing your earning potential. You can't really argue with Calzaghe's business plan in a sport where one fight can end your career. Plus, he is a hell of a fighter!

PAUL UPHAM ANSWERS: If Roy looks really old in the ring, Calzaghe won't get the same credit for the win. If Calzaghe looks brilliant in winning, many people will still ask why he never made the jump to the USA for a big fight much earlier in his career. I suspect that only Calzaghe and his former promoter Frank Warren really know the answer to that one.

MICHAEL NORBY ANSWERS: I love this Joe The Slapper garbage. Joe The Slapper has slapped his way to a perfect record and 32 stoppage victories in a fifteen year career, so his punching style has done him zero harm if you ask me. Now, your argument that he should have fought Hopkins and Jones Jr in the US years earlier is spot on. He should have, he didn't and a victory on Saturday over Roy really does not add much to legacy.

Name : Bobby Graham
Country : USA
Your Question :
I have always been a huge Roy Jones Jr fan. I know he is way past his best and probably shouldn't be still fighting. But is there any glimmer of hope for me that the old RJJ can make one final appearance against Joe Calzaghe at Madison Square Garden this weekend?

CLIVE BERNATH ANSWERS: Bobby, yes I really do think Roy can put in one last great performance. I would not be surprised to see Roy win on points, especially in light of the recent upset wins for Bernard Hopkins and Vic Darchinyan.

GREG JUCKETT ANSWERS: Bobby, yes, there is a glimmer of hope because Calzaghe probably won't really hurt Jones – making this a boxing match between two still skilled boxers. I think anything can happen.

PAUL UPHAM ANSWERS: I'd love to see a Roy Jones Jr blast from the past, but I'd say it is unlikely. Unfortunately, Roy's ego is writing cheque these days that his body simply can't cash.

MICHAEL NORBY ANSWERS: I don't think you'll see the old RJJ in New York tonight, Bobby. There is always a chance of an upset, however, and if Jones catches Calzaghe with a perfectly thrown right hand then of course he could capitalize and win. I really don't think that will happen, but there is a chance.

Name : Max Townsend
Country : USA
Your Question :
I'm interested to hear what you all think is Roy Jones Junior's best career win?

CLIVE BERNATH ANSWERS: Max, I'd have to say his points win over John Ruiz. To move up in weight like that and still be mobile and fast was incredible to watch.

GREG JUCKETT ANSWERS: Max, to me, it's the first-round knockout over Montell Griffin. Jones had something to prove that night in Connecticut and he did so, emphatically!

PAUL UPHAM ANSWERS: I'm going to say Roy's win over John Ruiz at heavyweight. Take note of that one Pacquiao and De La Hoya fans, it is possible for the smaller boxer to win.

MICHAEL NORBY ANSWERS: Roy's heavyweight triumph over John Ruiz was a great feat, but his revenge win over Montell Griffin was, for me, the most spectacular.

Name : Rick Stevens
Country : USA
Your Question :
I wrote last week telling you how much I was looking forward to Darchinyan vs. Mijares. I had no idea it would be such a devastating one-sided win to Darchinyan. Showtime are on a winner with the Raging Bull. He's like a mini-Mike Tyson in his prime. All I can ask is when can I watch him again and who will he be fighting?

CLIVE BERNATH ANSWERS: Rick, there are many big fights out there for him now. His team will sit down and go through the list. Vic punches so hard he could move up a couple of divisions and fight Israel Vasquez or the winner of Celestino Caballero or Steve Molitor at super-bantam. What do you think?

GREG JUCKETT ANSWERS: Rick, it's really hard to say. There's the possibility of one more unifier versus WBO champion Fernando Montiel and all the mandatories defenses that will pop up at super flyweight. There isn't really any high-profile fighters at flyweight or bantamweight to create a stir for Darchinyan.

PAUL UPHAM ANSWERS: Jorge Arce in March appears most likely for Darchinyan at the moment. Fernando Montiel is another possibility. Darchinyan has already beaten up Montiel's brother Alejandro, so there is a revenge match there. Vic still wants a rematch with Nonito Donaire. The question is does Donaire want it?

MICHAEL NORBY ANSWERS: Showtime definitely have a winner in Darchinyan, Rick. Hopefully we'll see Vic take on Fernando Montiel in 2009 – there seems to be a mutual dislike there.

Name : Thomas Peak
Country : United Kingdom
Your Question :
Hello guys, bad luck on your Mijares-Darchinyan picks, but in fairness, who could have foreseen that! I hope that now at least he will feature high in the P4P rankings? I believe Darchinyan could go on and really dominate his division by picking up the WBO strap and destroying all comers, however I fear that like a lot of champion fighters seem to do these days, he will ditch all the belts without a defence and move up in weight for the sake of it. On an unrelated matter, I would like to ask what the American guy who wrote in about Hopkins, claiming he won against Calzaghe was smoking? Hopkins was obviously a beaten man against Joe Calzaghe. The only thing that the Pavlik fight showed was that Calzaghe beat a world class fighter and not a shell like we all suspected. In England, we have a big problem with football players diving which means rolling around on the floor like little girls pretending they're hurt in order to win a foul. In all my years watching fights, Hopkins is the first fighter I have ever seen dive in that sense. Watch the tape back again yourself pal and you can see Calzaghe actually laughing at him, now in my mind that is a beaten fighter, no matter how much he complained about it. Hopkins was, and is, a great fighter, but unfortunately, he is not a great loser.

CLIVE BERNATH ANSWERS: Hi Thomas. I will be installing Vic Darchinyan in at No.10 of our pound for pound list. I think he's earned it. And for the record, I thought Joe nicked it against Hopkins in a tough fight. But I do think that if the fight was three years earlier, the result would have been different.

GREG JUCKETT ANSWERS: Thomas, you're spot on with most of your analysis, however, I think Darchinyan will stay at super flyweight because there don't seem to be any potential high-profile fights for him at bantamweight.

PAUL UPHAM ANSWERS: Check it again Thomas, someone at SecondsOut picked Vic to win. The three big fights at the moment for Vic are Arce, Montiel and a Donaire rematch. The Calzaghe-Hopkins fight was close. Joe may have won by a point. As for Hopkins tactics, he tries to get every advantage to win a fight.

MICHAEL NORBY ANSWERS: Our esteemed colleague Paul Upham called the Darchinyan-Mijares fight, so props are due - he was flying solo on that pick and got it spot on. Hopkins is a special fighter, Thomas and he proved that against Kelly Pavlik but, you're right, he did not beat Calzaghe and his poor reaction to the defeat was unfortunate. If he had fought Joe with as much conviction as he showed against Kelly Pavlik, maybe he would have done better.

Name : Barnaby Chesterman
Country : Italy
Your Question :
I read recently on this website one of you guys saying that you'd reduce the number of weights to between 8-12 divisions. I couldn't agree more, in fact I think the number of weight classes in boxing is truly ridiculous. I mean, take another fight sport as an example, namely judo: there are only seven weight classes with the lowest being 60kg. How many boxing weights come in under 60kg? Eight! And lightweight is only just over 1kg heavier. The lightest weight in boxing is around 47kg. Now fair enough, you could argue that because of the strength element in judo, it's natural that boxing's lightest division be lower, but to have eight weight divisions all inside the lightest weight in another fight sport - it's pretty ridiculous. What other fight sport can produce a six-weight or five-weight champion (De La Hoya and Mayweather)? None, to do that in judo, where there are just seven weights, you'd have to move up from 60-100kg, that's a lightweight moving up to at least cruiserweight: impossible, of course it is. If anyone ever does switch weights in judo it often takes time to adapt to their new weight and few fighters ever reproduce the success they had at the lighter weight, unless as can be the case where they weren't that successful lighter and found the new weight more to their liking. Boxing needs to cut out at least seven weight divisions maybe more to arrest its slide in terms of interest. I love boxing but Pacquiao apart, I pay little attention to the majority of lighter weight matches because it's too confusing. Fewer divisions would mean more competitive and meaningful fights.

GREG JUCKETT ANSWERS: Barnaby, you make some good points, but I don't see any major changes forthcoming regarding the weight classes because there's too much money to throw around with proliferation. I think we'll continue to see 17 weight classes for a long time.

PAUL UPHAM ANSWERS: You make some good points. However, officials will always point to safety concerns as to the reason for the extra weight classes. It would be hard to change it back with that in mind.

MICHAEL NORBY ANSWERS: Great email, Barnaby. Unfortunately, dropping weight classes in boxing would mean promoters, fighters and networks dropping dough and that will not be allowed to happen.

Name : Graham Lengthorn
Country : United Kingdom
Your Question :
I was just wondering if Amir Khan's next fight will be on Sky Box Office again? We all know he lost his last fight, but what was the viewing audience for his first Box Office fight and would Frank Warren and Sky be happy with the viewing numbers? I think Sky made him Box Office much too soon especially when a) he was not in a world title fight or eliminator or b) fighting somebody who the English public had heard of.

CLIVE BERNATH ANSWERS: Hi Graham. Yes, Khan's next fight is on Sky Box Office. I'm told, and this is by no means confirmed, sales were around 50,000 last time. Of course, Khan was made PPV far too soon.

MICHAEL NORBY ANSWERS: Khan's next fight against U.S based Irishman Oisin Fagan, will indeed be broadcast on Sky Box Office. Also on the card are two world championship contests - Nicky Cook vs. Stephen Foster (WBO junior lightweight title) and Enzo Maccarinelli vs. Johnathon Banks (vacant WBO cruiserweight title).

Name : Daley Francis
Country : United Kingdom
Your Question :
After three confidence building fights, what do you think of a lightweight Commonwealth title bout between Amir Khan and Michael Katsidis? Khan gets the chance to prove us wrong against a strong but beatable opponent who has appeared on HBO a good few times. If Khan gets sparked, he knows the truth. But if he wins, imagine the confidence he would gain from beating a big puncher. Also, I have to say, Hopkins looked great against Pavlik, but I am gutted because I wanted to see a young, unbeaten, dominate world champion at middleweight, and now some of the shine has come off. Catchweight bouts are no good for anything but lining pockets.

GREG JUCKETT ANSWERS: Daley, I would love to see Khan-Katsidis, and even though Pavlik got beat, I think Arthur Abraham could be that young, unbeaten, dominant world champion at middleweight.

PAUL UPHAM ANSWERS: Katsidis would be too strong for Amir Khan. Pavlik needs to go back to middleweight and beat Arthur Abraham. That would re-establish his reputation very quickly.

MICHAEL NORBY ANSWERS: That has the makings of a great match-up, Daley. I would probably give Khan at least three fights before taking on someone of Katsidis' ilk, though. If Khan irons out the sizeable kinks in his armour, then that's a fight he could win.

Name : Matt Rogers
Country : United Kingdom
Your Question :
A fan wrote on this site that he thought Bernard Hopkins would make a great trainer one day if he could transfer his brilliant skills into teaching others. Do you think Bernard could/will one day do this and do you know of any great fighters in the past who have gone on to excel in the training department?

GREG JUCKETT ANSWERS: Matt, I think Hopkins has the potential to be a good trainer, and Buddy McGirt is first ex-fighter turned trainer that comes to mind.

PAUL UPHAM ANSWERS: The hardest thing for any all-time great fighter to overcome in becoming a trainer is that they tend to see any fight through their own eyes and the abilities they had. Certainly, Hopkins has all the knowledge to benefit any boxer he trained.

MICHAEL NORBY ANSWERS: If there's any time left after he retires as a prize fighter at 80-years-old then he there is a possibility that he could be a successful trainer. I think he'll develop his current business role, though. Bernard Hopkins will be incredibly successful as a promoter.

Name : Geoffrey Coney
Country : New Zealand
Your Question :
Hoping that you can settle a bet between two brothers, who was the pre-fight betting favourite in the Lennox Lewis-David Tua match?

GREG JUCKETT ANSWERS: Geoffrey, I'm fairly sure Lewis was the pre-fight favorite versus Tua.

MICHAEL NORBY ANSWERS: Lennox Lewis was a clear betting favorite going into the Tua fight, Geoffrey.

Name : Tim Young
Country : Australia
Your Question :
Avoiding Lennox Lewis. Although the heavyweight division is in a bit of a mess at the moment this is nothing new. Certain boxers such as Tyson and Holyfield avoided Lewis until public clamour and big bucks finally saw them face off with the real champ. Other alphabet champs of the time did step up to the plate. Akinwande, Morrison, Botha, Mercer, Vitali Klitschko, McCall twice, Rahman twice, Bruno, and future champ Briggs. Others simply avoided Lewis altogether.
Riddick Bowe
He was the major culprit of the fragmentation of titles. WBC belt in the bin rather than defend it against Lewis. Sure he let his mouthpiece Rock Newman do all the talking but if Bowe is totally honest he would admit he didn't want a bar of Lewis. Two reasons, first the scars of the Olympic final and second and opponent who matched him in size. Much easier to boss little men like Holyfield and Ferguson around. It's a shame it never happened and as Lewis was still an unfinished product at the time, it was the best chance Bowe was ever going to get. I still see Lewis running out winner by something like 118-112.
Michael Moorer
Moorer stated publicly that he was in no hurry to unify the titles, small wonder. If Foreman could catch him, Lewis sure as hell could and once his punches had slowed Moorer down I could only see a late round KO or Teddy Atlas throwing in the towel.
George Foreman
Big George suddenly becomes little George. Smaller, older and slower and a cautious Lewis would surely have inflicted enough punishment to win just about every round. Lewis by a huge point's margin
Bruce Seldon
Well Tyson and Bowe both blew him away inside a round, and even with an ultra-cautious Lewis, it wouldn't have gone past round 2.
Michael Bentt
Remember him? Not much to remember really and I don't think a fight with Lewis would have made the history books. A one sided battering until about round 6.
Herbie Hide
He couldn't hide against Bowe or Klitschko and with his strait into' em style I think he would have impersonated a yo-yo for a while until the ref waved it off.
Wladimir Klitschko
He's been found out a couple of time through carelessness and Lewis was a very patient man. A competitive fight until a swift conclusion in the later rounds. Bad luck Wlad.
Corrie Sanders
The snipers only hope would have been catching Lewis cold. After that, pretty much one way traffic, Lewis in around 9 rounds.
John Ruiz
No, he didn't duck Lewis, but who thought he was better than Grant who Lewis defended against first? No one! Ruiz could not have won this fight as every time he lunged in, a lot of leather would have met him. Still, Ruiz was no quitter, but perhaps Normy Stone would have seen enough after about 8 rounds.
Chris Byrd
Nope, he didn't dodge Lewis either, but I bet he's glad he didn't have to fight him. It would probably have ended up with a cascade of boos greeting the final bell and a 120-108 score line.
The editing team's thoughts?

GREG JUCKETT ANSWERS: Tim, Lewis versus Bowe? Bowe by decision. Lewis vs. Moorer? Lewis by KO6. Lewis vs. Foreman? Lewis by decision. Lewis vs. Seldon? Lewis by KO3. Lewis vs. Bentt? Lewis by KO10. Lewis vs. Hide? Lewis by KO6. Lewis vs. Klitschko? Lewis by KO2. Lewis vs. Sanders? Lewis by decision. Lewis vs. Ruiz? Lewis by decision. Lewis vs. Byrd? Byrd by decision.

PAUL UPHAM ANSWERS: The Bowe that fought Holyfield the first time would have given Lewis a challenge, but I think Lennox had it mentally over Riddick. A fit and focused Lennox would have beaten everyone else on your list, though, Byrd at his best would have given Lewis some problems.

MICHAEL NORBY ANSWERS: Entertaining email, Tim with some interesting fantasy matches. I agree with much of what you forecast – I too believe that Lewis would have prevailed in all of those contests. I think he would have stopped both Chris Byrd and Riddick Bowe, though.