ATE: Final Mijares-Darchinyan Thoughts, Haye-Klitschko Now, Calzaghe-Jones, Hopkins-Pavlik, Wacky Boxing Moments and More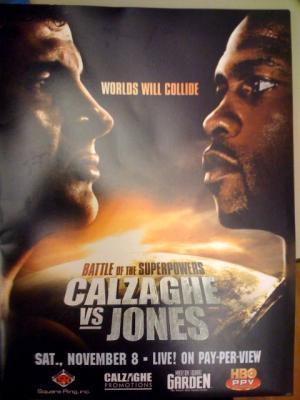 Does Roy have a chance against Joe?

In today's edition of Ask The Editor (ATE), we take a last minute look at tonight's Cristian Mijares-Vic Darchinyan clash on Showtime, consider a shock last minute David Haye challenge against Wladimir Klitschko and question if Roy Jones Jr has any chance against Joe Calzaghe. We review more outcomes from Hopkins-Pavlik, suggest some of boxing's best wacky moments and much more.

Name : Rick Stevens
Country : USA
Your Question :
Much appreciation to Showtime for making this weekend's Cristian Mijares-Vic Darchinyan battle. These are the sorts of matches that real boxing fans want to see. HBO please take note! I love Darchinyan's power, but Mijares is a real tough Mexican with skills to boot! I ain't sure who will win, but I know it is going to be a great fight.

GREG JUCKETT ANSWERS: Rick, I'm with you Man…love to see unifiers no matter what network it's on. Mijares outboxes Darchinyan, but Darchinyan presses the whole fight.

PAUL UPHAM ANSWERS: No matter who wins, it should be a great fight tonight! These are the sort of fights that will help build boxing, not shrink it.

MICHAEL NORBY ANSWERS: This is what boxing is all about, Rick - an extremely dangerous puncher against a brilliant boxer. I like Mijares to box his way to victory on points but Darchinyan can turn a fight on its head at any stage. Should be a great fight!

Name : Thomas Peak
Country : United Kingdom
Your Question :
Having just read that Povetkin has pulled out of title challenge, thus leaving W.Klitschko to search for a new opponent I have to ask the question if Haye destroys Monte Barrett in November, could he possibly sneak in with his title shot sooner than he expected? Obviously he will be murdered but I think he would make and exciting last stand.

GREG JUCKETT ANSWERS: Thomas, I hope Haye fights for the heavyweight title as soon as possible because the division needs a personality. And, I don't think Klitschko murders The Haymaker by any means.

PAUL UPHAM ANSWERS: I'm not positive that Haye beats Wladimir, but it is an interesting fight. I can't see Haye facing Klitschko at short notice, that is a fight that will be built up over the next twelve months. If Haye can beat Barrett well, it will be an important step on his way to a heavyweight title fight.

MICHAEL NORBY ANSWERS: There is less than a month between the two contests so I don't think that'll happen. Haye will want to complete a full training camp focusing on Klitschko before a fight takes place.

Name : Tom Butler
Country : USA
Your Question :
In his prime, I was a big fan of Roy Jones Jr, but I, like most people now, can see that Roy isn't what he used to be. Why are so many so-called experts thinking he can beat Joe Calzaghe? I see even more suggesting it after Hopkins' win over Pavlik. But you can't compare Jones and Hopkins now. They have aged very differently. I simply don't give Roy a hope of winning.

GREG JUCKETT ANSWERS: Tom, I think Calzaghe needs to establish some dominance early on against Jones to take the Madison Square Garden crowd out of the fight. Otherwise, I believe Jones could feed off the crowd and gain momentum in a fight decided on points.

PAUL UPHAM ANSWERS: I agree with you Tom. I simply can't see Jones winning in any way. Roy beating Trinidad didn't mean anything when it comes to facing Calzaghe.

MICHAEL NORBY ANSWERS: We see eye to eye on this one, Tom. I'm hoping for a good fight, but I see Joe Calzaghe winning pretty comfortably.

Name : Dante Gainer
Country : USA
Your Question :
To all those Hopkins haters out there, can you please now admit that he beat Joe Calzaghe? Hopkins was too smart for Pavlik and he did the same to light hitting Joe. Watch the tape again. Bernard clearly won six rounds plus the extra point for the knockdown.

GREG JUCKETT ANSWERS: Dante, it was very close fight between Calzaghe and Hopkins. I had Calzaghe ahead by one point at the end.

PAUL UPHAM ANSWERS: Maybe Bernard did win, maybe he didn't. It was a close fight. If Bernard had pushed ahead more aggressively like he did against Pavlik, maybe he would have won against Calzaghe.

MICHAEL NORBY ANSWERS: Why would Hopkins' performance against Pavlik change anyone's opinion on the Calzaghe fight? If Hopkins had come out to face the Welshman with the energy and poise he displayed last Saturday, he may have done a little better.

Name : Michael Gough
Country : UK
Your Question :
After reading Thomas Hauser's brilliant piece on the Hopkins-Pavlik fight and what really happened, now we know that Pavlik was sick going into the fight. Hopkins wasn't that good after all. He just beat a shell of a man. If you knew that beforehand, you could have made a pound or two at the Las Vegas casinos, who had Pavlik a clear betting favourite.

GREG JUCKETT ANSWERS: Michael, a dominant win is a dominant win. Hopkins was splendid against Pavlik…there's no asterisk attached to that performance!

PAUL UPHAM ANSWERS: During the fight Pavlik didn't look right. I'm not sure if he was sick, but I think Hopkins can take some credit for the way he wasn't fighting at his best.

MICHAEL NORBY ANSWERS: Nobody tells a story like Thomas Hauser, Michael. After reading his incredible report on Monday, it is clear that Kelly Pavlik is a man of rare class in the sport of boxing – he was sick, took a beating and never once made an excuse. That said, there is no way he would have beaten the Hopkins that showed up on Saturday night - regardless of his condition.

Name : Ian Benson
Country : Canada
Your Question :
I sat back after watching B-Hop do what many thought he may and whilst I applaud what he did and was pleased to see glimpses of a world class fighter it brought me to ask myself what is happening to our sport? Years ago even non-boxing fans could at least name the current heavyweight champ, and also maybe some of the other outstanding fighters of the day, the likes of Duran, Hagler, would probably be known. I doubt that would be the case now, with the exception of maybe say a Pacquiao or Marquez where the hell of all the fighters gone. Maybe the over-hyped super fights involving past stars or the alphabet soup of dull and over protected champs has let our sport slide sideways. I can see why many are looking to MMA or other fight sports for exciting fights. I only hope that in the next few years promoters and fans alike demand a return to less weight divisions and genuine title fights, otherwise I see the sport I love becoming a sad tired joke

GREG JUCKETT ANSWERS: Ian, there no question with no network television exposure, boxing has become a very marginalized sport, but hopefully the pattern is cyclical and the fight game will make a comeback amongst the major sports complete with up and coming young stars.

PAUL UPHAM ANSWERS: There has been a definite move over the last two years for promoters and the leading boxers to make the best fights, regardless of titles. Making the best boxing matches possible will bring the fans back.

MICHAEL NORBY ANSWERS: When we have a healthy and exciting heavyweight division, we'll have a healthier sport. In the absence of that, start with fight cards that pit well matched fighters against each other from the first fight to the headliner. MMA does such a good job in putting their broadcasts together and have quality, exciting fights from start to finish. Boxing, more often than not, doesn't.

Name : Eric Lavoie
Country : Canada
Your Question :
I watched last night the fight between Bute and Andrade in Montréal and even if it seems that some people are already screaming for controversy, I do believe that the according to the IBF rule, it is clear that Bute deserves the victory. The rule clearly says that after a knockdown, the fighter still standing must go to a neutral corner and if he leaves it, the referee must pause his count until he gets back to it. According to this rule, I cannot see any errors from the referee. He did exactly that! Andrade must be aware of this and it costed him the fight. Do you see it the same way as I do? I do agree with the fact that Bute was out on his feet and Andrade's tiny error gave him the 2 or 3 seconds he needed to finish the fight.

PAUL UPHAM ANSWERS: Maybe the referee could have stopped the fight anyway, Bute looked hurt. He didn't and Andrade had to stay in the neutral corner. Maybe he thought the referee was going to wave it off? There was controversy, all the more reason for a rematch.

MICHAEL NORBY ANSWERS: Eric, I didn't see Andrade leaving his corner on the television replays. Bute beat the count anyway (he was up at around six) and, since he got knocked down with only three seconds left in the fight, there was no time for Andrade to attack him. All Bute had to do was stand up, and he did.

Name : Andy Edgeworth
Country : UK
Your Question :
I am as big a fan as any of Ricky Hatton, but I am a little worried about this next fight with Paulie Malignaggi. Ricky has a new trainer, not sure if he and Mayweather will be able to understand each other. I can't get what Floyd Senior is saying most of the time. Not sure if the American can grasp Ricky's heavy Northern English accent! Anyway, what are we going to see different from the Hitman? He'll need to be at his best because Malignaggi is sneaky.

GREG JUCKETT ANSWERS: Andy, I think Hatton's constant aggression eventually breaks down Malignaggi, leading to a unanimous decision victory for The Hitman.

PAUL UPHAM ANSWERS: There will be lots of attention on the Hatton-Mayweather Senior partnership. It will be interesting to see what Hatton produces. At his best, Hatton's aggressive pressure should be too much for Malignaggi, but I am still expecting a close fight.

MICHAEL NORBY ANSWERS: Mayweather is a terrific trainer, Andy and he'll try to iron out a few of the creases that have developed with Hatton. I'm sure well see more effective aggression - working his way inside instead of leaping in with a hook and not smothering his own opportunities while he is there. If Hatton is sloppy against Malignaggi, he'll lose.

Name : Jack Kelly
Country : United Kingdom
Your Question :
Re: Danny Johnson's Q&A in the last ATE. I was shocked to see all the editors answer in agreement with Danny's feelings that Ricky Hatton is making ridiculous requests in talking about fighting DLH, Pacquiao and a Mayweather rematch. I do agree that there's a good chance Ricky Hatton would be out of his depth in taking these fights based on recent performances. However, to agree that Hatton is living in fantasy land or being ridiculous for even suggesting it is terrible journalism. Richard Schaefer himself has talked of "his dream" in seeing Hatton vs. DLH @ Wembley, and last time I checked he was quite high up at Golden Boy. Bob Arum & Pacquiao themselves have spoken publicly of wanting to fight Ricky Hatton. The only part that is purely Ricky himself talking in public is the Mayweather rematch. But it's only natural for a fighter to want to avenge a defeat, especially publicly. I'm not some blind Hatton fan who thinks he'll beat all three of them and was robbed in Vegas against Mayweather. I backed Mayweather to stop him, and I've already laid money down that Malignaggi will stop him too. I am disappointed though that you guys agreed with a point that was essentially wrong. Ricky Hatton may not warrant fights against the three mentioned on sporting merits, but all three know that he brings one of boxing's biggest pay days now, and unfortunately that's what matters most to fighters, promoters & broadcasters in this day & age. So, please, SecondsOut.com, get your facts in order in future. Because there are quotes from the people mentioned in this email that back-up what I have said.

GREG JUCKETT ANSWERS: Jack, I'm all for Hatton-Pacquiao at Wembley or anywhere else for that matter…it's a potentially explosive fight.

PAUL UPHAM ANSWERS: I don't have a problem with Hatton fighting De La Hoya or Pacquiao. I just find it hard to believe that Oscar would fight in the UK after all these years. A De La Hoya fight is worth huge dollars to Las Vegas and Richard Schaefer is just publicly signalling the options available for when it comes time to negotiate. It may seem strange to some, but good businessmen use other options as a wedge to drive the price up.

MICHAEL NORBY ANSWERS: Alright, Jack. Don't get your knickers in a twist. Point taken – Ricky Hatton vs. DLH or Pacman at Wembley Stadium would sell tickets. I didn't say those fights wouldn't – I just don't think they will happen. I see Oscar fighting a rematch with an un-retired Mayweather and Pacquiao going back to lightweight where he will rubber match Marquez. After that, who knows?

Name : Ian Gower
Country : UK
Your Question :
Me and the lads were talking at the local the other day about some of the big fights we have watched together over the years. We couldn't believe that the Holyfield-Bowe rematch was fifteen years ago this November 6. And Holy is still fighting! One of the reasons I remember that fight so fondly is not only for Evander's comeback win, but also the appearance of the Fan Man during the fight. That had to be one of the stranger events in boxing. If you were making a list of unusual boxing occurrences, what else would you suggest?

GREG JUCKETT ANSWERS: Ian, when I was working for Cedric Kushner, we promoted the first Oleg Maskaev-Hasim Rahman fight in Atlantic City. As you probably know, after Maskaev knocked Rahman out of the ring with a vicious right hand, a major riot ensued in the audience. I'll never forget climbing in the ring and standing with Maskaev and his team right after the most significant victory of Maskaev's career up to that point, only to have absolutely no one paying attention to the winner as we all stood alone in the ring watching a domino affect-like brawl break out all over the ballroom.

PAUL UPHAM ANSWERS: How about the Bowe-Golota 1 riot? The Tyson-Holyfield Bite Fight? I remember Ray Mercer knocking Don Steele out of the ring at the Silver Star Casino in Philadelphia, Mississippi in a heavyweight bout promoted by America Presents on Fox Sports Net on March 17, 2001. Steele fell out threw the ropes down with his back on the floor, a fan at ringside jumped on him and pinned him WWE style!

MICHAEL NORBY ANSWERS: Oliver McCall weeping and refusing to fight against Lennox Lewis is one of the strangest things I have seen in the sport but nothing has come close to Fan Man.