ATE: Froch-Taylor Final Thoughts, More Pacquiao-Hatton, Haye-Klitschko, Mosley, Chambers and More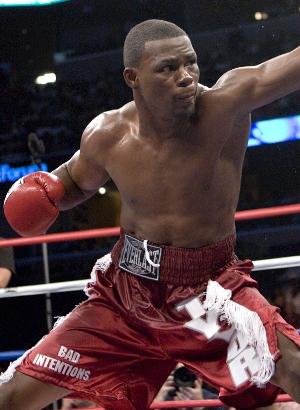 Can Taylor be champion again?: HoganPhotos.com

In today's edition of Ask The Editor (ATE), we give some final thoughts on the WBC super middleweight world title boxing clash between Carl Froch and Jermain Taylor, continue to preview the Manny Pacquiao-Ricky Hatton superfight and question whether David Haye can handle the size of Wladimir Klitschko. We try to figure out the best fight for Sugar Shane Mosley, rate Eddie Chambers amongst today's heavyweights and much more.

Name : Jimmy Woodson
Country : United Kingdom
Your Question :
Looking forward to the Carl Froch-Jermain Taylor fight on April 25. Does the SecondsOut team give The Cobra any chance of getting the upset win?

CLIVE BERNATH ANSWERS: Hi Jimmy. Though I make Taylor a slight favourite I don't think it would be an upset if Carl won. My thoughts are if Taylor has prepared to the best of his ability, I see him winning on points. Just not sure how much desire Taylor has now.

GREG JUCKETT ANSWERS: Jimmy, I have Taylor a slight favorite over Froch based on Taylor's superior level of competition so far in his career, but I think it's going to be a very completive fight and a Froch victory wouldn't shock me.

PAUL UPHAM ANSWERS: If Taylor wants to get back to the top level again, he needs to win this fight and win it well. I am tipping Taylor to win on points, but those visions in my mind of Kelly Pavlik dropping Taylor remind me that this is a fight that Froch can win.

MICHAEL NORBY ANSWERS: Froch is a very good fighter, Jimmy and he deserves great respect for travelling across the pond for his first defense. He definitely has a chance, but if Jermain Taylor turns up in Foxwoods this Saturday 100 per cent focused, then I think he'll be taking the WBC championship to Arkansas.

Name : Viel Mervic Nuestro
Country : Philippines
Your Question :
On Froch-Taylor, I believe Taylor will win this one. Remember, Taylor had fought every tough middleweight in his reign, and his only two losses came from Pavlik, though many believe his second loss was a close one. Taylor blasted Hopkins in two fights, fought a barn-burner with Winky, and fought and won against proven adversaries (Marquez, Joppy, Ouma, Spinks, Lacy). Though this'll be just his second fight in the super middleweight division, I don't see the weight as a factor coming in this fight. Taylor still has got his style, especially his power and his ability to impose his will. Froch might be the bigger of the two, but the way he fights will be the perfect style for Taylor. Also as of lately, the adage "a good big 'un always beats a small good 'un" doesn't come out as clear as ever. I expect a very good fight, and I still have to admit I'm not that confident, but still hopeful, that Taylor will win. If Froch wins, then I won't be that sad about it. In fact, it may prove he [Froch] really is a great fighter.

PAUL UPHAM ANSWERS: The great thing about boxing is that a fighter like Froch gets the chance to go to a new level against Taylor that we haven't seen before. This is a dangerous fight for Taylor. Many expect him to win, but it won't be an easy fight at all.

Name : Riaz Uddin
Country : United Kingdom
Your Question :
Hi guys, great work on the site. Now, onto the business of Ricky Hatton vs. Pac-Man. I believe Hatton is Britain's best boxer of the last decade but for some reason he is never given the great accolades he deserves outside of the UK. Can wins against Pacman and Mayweather (if the fight rematch ever happens) bring him up amongst the greats, where I believe he deserves to be?

CLIVE BERNATH ANSWERS: Riaz, if Ricky beats Pacquiao and a return match against Mayweather, then I'm sure he gets the credit. I think he will prove too strong and determined for the smaller Filipino. Mayweather on the other hand, I feel will always be too good in all departments for the Hitman

GREG JUCKETT ANSWERS: Riaz, it's a shame Hatton doesn't get more credit outside of the UK...he's deserved a top echelon boxer billing since the TKO victory of Kostya Tszyu. Should Ricky derail Pacquiao, it would be hard to deny him all-time great status regardless over whether he gets a rematch against Mayweather or not.

PAUL UPHAM ANSWERS: A lot of people seem to give Hatton a hard time, but its hard to criticise him too much. He has only lost once in his career to Floyd Mayweather Jr, no shame there, has won every other fight. Granted, he hasn't always fought at his best, but he has still found a way to win. He has travelled to the USA for big fights, early in his career. A win over Manny Pacquiao would really confirm his status as one of the best junior welterweights in recent times. His massive fan base simply confirms what so many people think. That Hatton is exciting to watch, a likeable person outside the ring and gives value for money.

MICHAEL NORBY ANSWERS: I think Hatton's body of work already ensures that he will be remembered as one of the UK's finest after he retires. He came up short against a better fighter in Mayweather and I would favor Floyd to win again should the two meet later in the year, but I'm picking the Hitman to win an exciting match against Pacquiao next week.

Name : Bruce Tomoike
Country : USA
Your Question :
Finally, a heavyweight fight we can be excited about. I saw the Haye vs. Barrett fight and it was very clear Haye was much faster than Barrett. Do you think that Haye's speed will be enough to beat Wladimir Klitschko?

CLIVE BERNATH ANSWERS: Bruce, anything can happen in heavyweight boxing, but I feel once Klitschko lands a few stiff jabs early on David will know all about it. I love the fact David is super confident but just not sure he will be able to get past Klitschko jab.

GREG JUCKETT ANSWERS: Bruce, the key to a Haye victory over Klitschko would indeed seem to lie in your aforementioned reference to Haye's speed. It's very difficult to outwork Klitschko. The unified champion's size and jab make it difficult for any challenger to win on points, but neither Klitschko brother is comfortable fighting a guy with some movement and pop on their punches. If Haye can manage to not get overpowered (not sure how well he will take Klitschko's power shots), I believe he can keep the champion off balance and eventually hurt Klitschko...leading to a stoppage victory.

PAUL UPHAM ANSWERS: If Haye can get on the inside without getting tagged himself and land one of his power shots, we may well have a new champion. I'm convinced that Klitschko has a chin of steel.

MICHAEL NORBY ANSWERS: Kudos to Haye for stopping Monte Barrett last year but that outing will not have fully prepared him to face Klitschko. Haye will be faster but the champion is technically superior and will punch harder than anyone the Englishman has ever faced. So, in short, I don't think Haye's speed will be enough to beat Klitschko.

Name : Ronny Famechon
Country : Australia
Your Question :
Any updates on Shane Mosley's next fight? Has anything been signed or about to be signed?

GREG JUCKETT ANSWERS: No word yet on Shane's next fight. However, I did hear recently that Mosley was hoping to convince Floyd Mayweather into fighting him, but more realistically, I see Shane fighting the winner of June's Cotto-Clottey match-up in the fall.

PAUL UPHAM ANSWERS: Shane told me recently that he was unlikely to fight until November. He wants Mayweather, Cotto or the winner of Pacquiao-Hatton. If Cotto beats Joshua Clottey, Cotto-Mosley 2 is the most likely scenario at this time.

MICHAEL NORBY ANSWERS: Nothing signed yet, Ronny but Shane certainly has a lot out there to choose from. Paul Williams could be an option as could the winner of Hatton vs. Pacquiao. I personally would love to see Mosley take on either Williams or Miguel Cotto later in the year.

Name : John Lodispoto
Country : USA
Your Question :
How do you now rate Eddie Chambers among the heavyweights now?

CLIVE BERNATH ANSWERS: John, I've always liked Chambers, very fast and busy, but just a little too small at the top level. Even as dire as the heavyweight division is now. At 220lbs, he lack a little pop against the bigger men of the division.

GREG JUCKETT ANSWERS: John, it's hard to get a gauge on Chambers based on the Sam Peter fight because Peter came in so grossly out of shape, but Eddie did what he needed to do and he's now 34-1, so I would give the transplanted Philadelphian a shot against any of the current crop besides the Klitschko brothers, who would present some major size obstacles for the 6'1'' tall Chambers.

PAUL UPHAM ANSWERS: Chambers may be one of the better American heavyweights today, but what does that actually mean? He beat the bloated Sam Peter, but lost on points to Alexander Povetkin in Germany. Chambers has talent, but he has to take it to another level to win a world title.

MICHAEL NORBY ANSWERS: Chambers has the speed and technique to cause anyone problems, John. Judging by his soft physique and sometimes overly relaxed fighting style during fights, however, I would question both his preparation and approach. In other words, he has lumps of talent and if he applies himself he could go far. I hope that didn't sound too much like a school report. Ah, what the heck – B minus for Mr Chambers right now.

Name : William Wade
Country : Germany
Your Question :
Just came back from another fight night out here in Germany, where I've been living for the last 7 years. The event was unsurprisingly held by Sauerland Promotions, and was a well-organised and pretty exciting night all round. My question is this. Sauerland seems to have a decent stable of fighters, with some very good fighters and of course the incredibly strong and talented Arthur Abraham. Are they being wise or over-protective in their matching of fighters against undeniably weaker opponents with a view to gaining undefeated records in the hope of securing title shots (which they obviously have the money to bid for, but also need the credibility to match the bid via an unblemished card)? Or am I being a touch critical in this one? Forgive the longevity of the question...perhaps it has been cathartic!

GREG JUCKETT ANSWERS: William, I think your observations are spot on, all around. There has been a booming boxing scene in Germany since Henry Maske got things going in the 1990s. Boxing events in Germany are very well staged and entertaining. It makes sense for German promoters to build up the records of their fighters against safer opposition - keeping the fans happy and establishing world ranked contenders and long-reigning champions in the process.

PAUL UPHAM ANSWERS: Boxing is a business, not a sport. Always remember that. The German promoters are astute businessmen and they know how to run a promotion and progress their fighters along at a maximum reward, least risk pace. That doesn't always translate to the best fighting the best. But it makes it easy to see the fighters and promoters around the world who truly believe in the old saying, 'fighting anyone, anytime, anywhere'.

Name : Michael Wilcox
Country : USA
Your Question :
Rumor has it John Duddy refuses to fight Yuri Foreman, the light-hitting middleweight. Never saw a tough Irishman scared to fight a light hitting Jewish boy. Every fight Duddy has had has been against real stiffs. Let him take a deep breath and fight a competitive fight.

CLIVE BERNATH ANSWERS: I'm sure John Duddy does not give a damn who he fights, Michael. John has a great fan base and is banging on the door for a big money world title fight. He will do what's best for him financially and if that means fighting Foreman, then so be it.

GREG JUCKETT ANSWERS: Michael, I doubt Duddy is scared to fight Foreman. It would actually be a great fight to make in New York City. And, you're right…Duddy needs to fight a live guy soon!

PAUL UPHAM ANSWERS: If they both keep winning, the fight will happen. If it doesn't, then you can come back to ATE Michael and remind us all that you were right.

MICHAEL NORBY ANSWERS: I was taking an elevator to the press room at Madison Square Garden just after John Duddy beat Matt Vanda a couple of months ago. I hail from Duddy's hometown and possess a similar accent, so a guy who introduced himself as a friend of Foreman started yelling at me to force John Duddy to fight his pal (he must have thought I was part of Duddy's team). So, judging from that, I guess Yuri fancies the fight and it would be a big event in New York, but I'm not aware of any negotiations or interest from the Irish star.

Name : Luca Biason
Country : United Kingdom
Your Question :
While I was scrolling down the news in the Italian newspapers my eyes stopped upon the very sad news of Giovanni Parisi's premature death. I would like to salute him. A former Olympic gold medallist (with two round-1 KOs in the semi-final and final!), he was later to become WBO lightweight and junior welterweight world champion. For us, young and fired up amateurs of a small boxing gym in a no-man's land in Northern Italy, he was an example to follow and an idol. An excellent technician who could naturally box either orthodox or southpaw, he had dazzling speed and power in both hands and was rightly regarded a very slick craftsman of the ring. If you were a fan of his, Giovanni would never fail to keep you on the edge of your seat: either to see him claw his way back into the fight after his customary difficult starts (he never had an iron jaw) or just to admire the brilliant boxing skills put on display. He traded leather with the some of the very best in his division and rightly earned the respect of the boxing community. A very, very sad day for boxing. Ciao Giovanni.

GREG JUCKETT ANSWERS: Luca, I agree, Parisi had a very solid career and was one of boxing's most active and durable fighters between 1991 and 2000…will be interesting to see if he's considered as a Hall of Fame candidate.

PAUL UPHAM ANSWERS: A very well written tribute there Luca. It is fan favourite boxers like Parisi who help keep the sport alive.

MICHAEL NORBY ANSWERS: Great email, Luca – couldn't have put it any better. Parisi was a fine champion and his tragic passing, at only 41 years of age, is a big loss for the sport.

Name : Tim Young
Country : Australia
Your Question :
As we all know, most boxers pad their records with a few tomato cans at the start of their carriers, but some step up in class, fight eliminators and are rewarded with title shots. Two names come to mind: Alexander Povetkin getting a title shot after 15 fights and Ruslan Chagaev after 22. This brings me to my question. What do the editors know about Malik Scott? I know he's 6'4'' and 28 years old and undefeated in 32 bouts. It also seems as if since he beat David Bostice over 4 years ago, there has been little or no step up in class. His record in that time is full of solid boxers usually defeated in 8 round contests. Not one scalp to excite anyone in the boxing world. How about belting a couple of well-known veterans like Ruiz or Rahman? You could join the young American circuit of Arreola, Witherspoon, Estrada and Walker. Maybe try for someone of the likes of Austin, Thompson, or Brock, because blokes like those are true barometers on whether you deserve a shot. Anyway any feedback would be welcome.

CLIVE BERNATH ANSWERS: I agree Scott should be looking to step up in class now. There is still plenty of time for him but maybe he is happy stay at the level he's at. Seems strange, though, especially when the heavyweight scene is wide open and crying our for a superstar.

GREG JUCKETT ANSWERS: Tim, the Philadelphian Scott has good skills, but doesn't possess a particularly pleasing style to watch. Therefore, other contenders and networks don't find him to be an attractive opponent. That could be changing however because I hear Scott might be matched up soon against Tony Thompson on Goossen Tutor-promoted show.

PAUL UPHAM ANSWERS: Maybe Malik Scott can fight Eddie Chambers?

MICHAEL NORBY ANSWERS: I agree that it is time for Scott to step up now, Tim. He is still a young heavyweight but he needs a solid, recognizable name on his resume this year. He's a talented, big heavyweight but he can't punch a lick (which I think will hurt him eventually) but he should be farther up the ladder by now.