ATE: Hand-Wrap-Riddle, Barrera-Khan, Mosley-Hatton-Pacquiao, Williams-Wright, Jermain's Mouth, Calzaghe Retires and More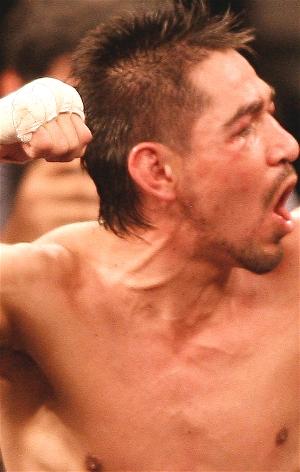 Margarito after beating Cotto: HoganPhotos.com

In today's edition of Ask The Editor (ATE), we take an in-depth look at the Antonio Margarito hand wrap scandal, question what might happen if Amir Khan does beat Marco Antonio Barrera and consider if the winner of Ricky Hatton vs. Manny Pacquiao would be the right fight for Shane Mosley. We look at Paul Williams vs. Winky Wright for the first time, critique what Jermain Taylor is saying about Carl Froch, continue to analyse Joe Calzaghe's retirement and close Michael Norby's backyard window.

Name : Joseph Lim
Country : Canada
Your Question :
Hello SecondsOut team. As always, great work on the site. Given that Antonio Margarito was found guilty of having an illegal substance in his hand wraps, do you feel that the one year revoking of the boxing licenses for both him and his trainer was fair? I feel that this is a rather light sentence. Fighters in the past have sustained serious and sometimes lethal injuries due to tampering with either gloves or wraps and I think that if a fighter, or trainer for that matter, is caught doing so, a lifetime ban in boxing should be the result. I love boxing, but this hurts the sport very much and a hefty penalty such as a lifetime ban would act as a strong deterrent for this type of disgusting behaviour. What do you guys think?

CLIVE BERNATH ANSWERS: My feeling is that if both the fighter and trainer are found guilty of this type of offence, then a worldwide ban should automatically be put in place. No excuses! If anyone is found guilty of this type of offence, then they have no place anywhere near a boxing gym or ring. The other thing that worries me is where was the California State Commission supervisors when Margarito's hands were wrapped?

GREG JUCKETT ANSWERS: Joseph, I agree with your analysis of the potentially serious damage that could result when a competing boxer takes on an opponent with loaded gloves. That being said, I think a one-year ban isn't harsh enough, but a lifetime ban for Team Margarito is too extreme. In this particular case, I would vote for a two-year ban, since the tampering was fortunately discovered beforehand.

PAUL UPHAM ANSWERS: Let's be clear, no one has said that Margarito and his trainer Javier Capetillo have only been suspended for twelve months. In one's year time, they have the right to appear in front of the California Athletic Commission and request the return of their licences. I would like to think that what Margarito does publicly between now and then will impact the decision of the Commission. If he tries to get around the revocation of his licence by fighting in Mexico or another country, that should mean a much longer period of time before he gets his American boxing licence back again. Likewise, if Margarito takes responsibility for the incident and works hard to redeem himself – some charity work would be a great idea – then that would hopefully be taken into consideration as well. I don't think anyone should try to minimise what really happened and how lucky the sport was that the hand wraps were discovered before Margarito's fight with Shane Mosley.

MICHAEL NORBY: It's an absolute disgrace, Joseph. A one-year ban doesn't even come close to fitting the bill for the shocking actions of Margarito and his team. This isn't corking a bat in baseball for goodness sake. This could have resulted in potentially dreadful consequences and who knows how long he has been using this stuff in his wraps. I don't think there would have been too many tears if a more severe penalty had been handed out.

Name : Daley Francis
Country : United Kingdom
Your Question :
I know Barrera-Khan will be talked about for months and you've probably got fed up with it already, but I've got to say: I'm more worried about what will happen if Khan WINS than if he loses! If he loses, Khan goes back to domestic level and does what he should have done from day one - build slowly towards world level. But if he wins, he'll be hailed as the second coming of Sugar Ray for beating the mighty Barrera (semi retired and comprehensively beaten in his last two meaningful fights - at super featherweight!) and when he gets brought back down to earth again by an opponent who can punch hard - the press and racist forum critics will tear him back down again. This is simply a name opponent who is past his best. Warren has been doing this for years. I hope people stop talking about a Breidis Prescott rematch as well. It would last longer now Freddie Roach has taught him to duck, but I still don't think he'd make it out the 1st round. It's man against boy - any time they meet.

CLIVE BERNATH ANSWERS: Daley, I fully expect Khan to win as I do believe Barrera is way past his best and much smaller. For me, it will not make a blind bit of difference how he beats Barrera. I'd like to see Amir fight the best in Britain and Europe before I make a real judgement on him.

GREG JUCKETT ANSWERS: Daley, no doubt Khan should avoid a Prescott rematch indefinitely. However, I do like the Barrera match. The Mexican legend should keep decent pressure on Khan minus the danger of a one-punch knockout. Will Khan look good or shaky? It will be interesting to see how Khan handles the pressure. Should Khan win and depending on how he looks will determine what Warren's plans are for immediate future opponents.

PAUL UPHAM ANSWERS: This is all about the business of boxing. Khan and Warren are trying to re-build a shattered career as quickly as they can. I still give credit to Khan for taking the fight with Barrera. You make some valid points. A bad knockout loss is not always the end of a career at the top level – see Vic Darchinyan – but the most important thing is how the boxer handles the defeat and uses it to improve themselves. Khan working with Freddie Roach can only help him. A number of hurtful home truths will have been told to Khan. I am very interested to see how Khan looks against Barrera. Of course, if he does win, those around him need to instil in him that this is just the beginning of a long road back. Of course, there is still the chance that Barrera gives him another tough lesson. A big call there from Clive! Where does that leave Khan if he loses?

MICHAEL NORBY: If Khan beats Barrera, it'll propel the Englishman back into the spotlight after getting his butt kicked against Prescott. I think, though, that most people will put a victory over an aged Barrera into perspective, and I can't see Freddie Roach letting a win go to the head of his young fighter. Beating the living legend is not going to be an easy task, though, so let's talk about this after the fight.

Name : Jack Medina
Country : Philippines
Your Question :
Will the winner of Pacquiao-Hatton be a good match for Shane Mosley, taking into account Mosley's speed, boxing skills, size and power? Will it not be a mismatch?

CLIVE BERNATH ANSWERS: Yes, I do think Shane Mosley would be too big for both Manny Pacquiao and Ricky Hatton.

GREG JUCKETT ANSWERS: Jack, I think the Pacquiao-Hatton winner will present a competitive fight for Mosley. Pacquiao has already proven he can beat a legitimate welterweight and Hatton certainly won't go quietly against anyone should the Brit happen to upset Pac-Man on May 2.

PAUL UPHAM ANSWERS: It is a fight I like, Mosley vs. the winner of Pacquiao-Hatton, but the bigger fight will be if Pacquiao beats Hatton and then faces a come-backing Floyd Mayweather Jr. It will be interesting to see which way Mosley goes in the mean time. If he is getting a divorce, Mosley will be willing to fight sooner rather than later to pick up some extra money. Mosley-Cotto is the natural fight to be made, if Cotto returns as a force this weekend.

MICHAEL NORBY: It's more likely that Pac-Man would move up to meet Mosley should he beat Hatton. I think Ricky should stay at 140lbs no matter what happens. I would favor Sugar Shane over either guy.

Name : Luke Rich
Country : United Kingdom
Your Question :
Who are you guys picking out of Paul Williams and Winky Wright? I go for Williams mainly due to the age factor. Also why do you think Williams is so under appreciated, Wright I have always understood due to his defensive style, but I have always found Williams pleasing to watch.

GREG JUCKETT ANSWERS: Luke, I like Williams because of his size and youth advantage. Also, I don't like the fact that it will be close two years out of the ring for Wright before he faces Williams on April 11. That being said, Winky has a lot of experience…obviously he sees a kink in Williams' armor or he wouldn't have taken the fight.

PAUL UPHAM ANSWERS: With Wright having been away for so long, it is easy to forget that it wasn't that long ago that he was rated the third best boxer in the world pound for pound. It will be interesting to see what he has left. Williams is a genuine threat to anyone from middleweight to welterweight right now. I am temped to say Williams on points, but I am reminded of the skills of Bernard Hopkins in dismantling Kelly Pavlik. Wright has the skills to give Williams trouble. Interesting fight.

MICHAEL NORBY: This is a tough fight to call, Luke. We all know how difficult Winky Wright is to beat, but we don't know how he will perform after almost two years away from the ring. I'm with you, though. I have to side with Williams, who has been devastating since losing to Carlos Quintana a year ago.

Name : Brendan O'Connor
Country : United Kingdom
Your Question :
Is it just me that thinks that Jermain Taylor now has delusions of grandeur? He publicly runs down Carl Froch, holder of the most prestigious belt out there, and refuses to fight him, saying the fight will not generate enough money. OK, he should leave and make money elsewhere, give up his No.1 contender status and stop showing contempt for both the WBC and Carl Froch. He says Froch is not Ray Leonard, he should get in the ring then and knock Froch out in a round and become champion. There are very few boxers who can't fight without belts and Jermain Taylor is not one of them.

CLIVE BERNATH ANSWERS: Hello Brendan. I think both you and Taylor are right. Taylor is correct, there is not enough money in a Froch fight compared to what he can earn in America against other fighters. Lets be honest here, Froch has not proved himself in the U.S yet. It's not his fault, he needs the Taylor's of this world to prove it and to be fair to him, he is willing to go to the U.S and face Taylor. And you're correct, if Taylor does not think he can earn decent money fighting Froch, then give up the No.1 ranking.

GREG JUCKETT ANSWERS: Brendan, I think Taylor is just talking shit. I'm fairly sure that Taylor and his promoter Lou DiBella know the WBC belt carries clout and that Froch won't go quietly when and if the two square off.

PAUL UPHAM ANSWERS: There is a lot of public posturing going on from Taylor and his promoter Lou DiBella trying to get the upper hand in negotiations. Taylor sounds like he is still the undisputed middleweight champion of the world and he is not. The fight could still likely happen. In Taylor's world, of course he thinks who is Froch to me? But that's why we actually have the boxers compete in the ring. So, they can prove who is the best. Brendan, you make some good points. Just remember, if the fight does happen, Taylor has give you and all of the Froch fans some important quotes to enjoy the fight even more if the champion retains his title.

MICHAEL NORBY: Taylor was just giving his ten cents on Froch's rather comical assessment of Joe Calzaghe's decision to retire. I happen to agree with Taylor. Froch is a good fighter but he is not anywhere close to being on the same level as Calzaghe. He'll more than likely be brought down to earth if he jumps into the ring to fight Taylor.

Name : Thomas Peak
Country : United Kingdom
Your Question :
I would like to congratulate Joe Calzaghe on his wonderful career and wish him the best in his retirement. Do you guys believe that he retired at the right time? And also, how do you rate his awesome career? I have seen the occasional comment that Calzaghe didn't fight anybody before Lacy etc. and that he was merely an average champion. However, I consider him to be the greatest super middleweight of all time and one of the all-time great light heavyweights. Certainly, it is tough to compare him with the likes of Tommy Loughran and Maxie Rosenbloom, but he is definitely in that upper echelon of fighters. For those that said he never beat anybody before Lacy, I say this... he dominated (admittedly an aged) Eubank, outfought the very, very good Robin Reid (who was disgustingly robbed of a win over Sven Ottke), he also beat world champions in Charles Brewer and Byron Mitchell very impressively. He was a wonderful fighter and I hope that he is happy in retirement and doesn't miss too much the glamour of the prize ring.

CLIVE BERNATH ANSWERS: Hello Thomas. Personally, I think Joe should fight on and go for Marciano's record. He is still at his peak and there are some decent fights out there for him. This may sound a bit crazy, but if he really is looking for a challenge and needs motivation, why not go for a cruiserweight world title? Having said all that, the money may not be there to warrant the risk. Also, Joe's had a fantastic career and he's earned his retirement.

GREG JUCKETT ANSWERS: Thomas, I think Calzaghe hung 'em up at the right time. He'll be 37 next month and he's made a lot of money in recent years. There will always be a "Chad Dawson" urging an aging superstar to fight on, but I think Joe's timing was perfect. I don't question Calzaghe's level of competition either. Prolific undefeated fighters like Calzaghe shouldn't be negatively criticized regarding quality of opposition…a winner is a winner and Calzaghe is one of the greatest of all time!

PAUL UPHAM ANSWERS: Calzaghe's retirement timing was perfect. There were no other fights out there right now that would have added to his career resume. He is one of the best super middleweights of all time. Not enough fights at light heavyweight to really measure him there. Of course, his win over Hopkins was impressive considering Hopkins' later win over Pavlik. Retiring undefeated will only add to Calzaghe's reputation in the years to come. He did beat some good fighters. The only genuine criticism that many people have is that he hid his talent in Wales for so long, when he could have made the jump to the USA and big time boxing much earlier in his career instead of waiting till the age of 36.

MICHAEL NORBY: I believe that Calzaghe was the greatest 168lbs fighter in the division's 25 year history, Thomas. He retires unbeaten and as one of the best fighters of his or any other generation. I think he has stopped fighting at the right time. He has his health and has made enough dough to enjoy a great life with his family. Good luck to him.

Name : Chris Evans
Country : United Kingdom
Your Question :
I was over in Zurich in Dec to see the Holyfield v Valuev fight. Evander was robbed, even the Ukrainian members of the audience agreed. Hell, even the Valuev camp thought it was a draw. My question is how much credibility does the WBA have a. Making the match to begin with, b. Having such a shocking set of judges, c. Announcing a review then months later, making no announcement. I have emailed them many times, no reply. WBA is becoming as bad at the WBU/WBF

CLIVE BERNATH ANSWERS: Chris, I just like to see great fights. I gave up a long time ago taking the sanctioning bodies seriously. Tell you what, Chris. Here's a question for you. Just out of interest, check out all the world title fights over the last couple of years and let us know how many fights were for vacant titles? I think you will be surprised. The days of the man beating the man have well and truly disappeared.

GREG JUCKETT ANSWERS: Chris, I concur with your assessments; approving Valuev vs. Holyfield in the first place wasn't the WBA's smartest move or its handling of the post-fight controversy, but if the Venezuelan-based sanctioning body honors its promise to give Holyfield a shot at the Chagaev-Valuev II winner, the fallout of Valuev-Holyfield will probably be forgotten.

PAUL UPHAM ANSWERS: I thought they would have announced the mandatory rematch by now. Maybe the esteemed WBA Review Panel were arguing about whose home they will watch the replay at and whether they are ordering in pizzas or Chinese takeaway for dinner! Regardless, does anyone honestly believe the result of the review would be anything but an ordered rematch?

MICHAEL NORBY: You're a hardcore fan if you went the whole way to Zurich to attend Holyfield vs. Valuev, Chris. If that fight had taken place in my back yard I would have drawn the curtains. You know the decision was shocking when the WBA actually decided to get off their backsides and review the tape.