ATE: Legend of Bernard Hopkins, Credit Calzaghe, Flabby Heavyweights, $ 4 Oscar-Pacman & More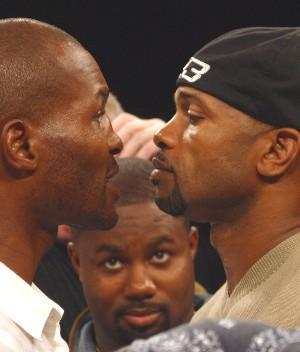 Hopkins vs. Jones 2 anyone?: Tom Casino

In today's edition of Ask The Editor (ATE), we review Bernard Hopkins' impressive legendary boxing victory over middleweight world champion Kelly Pavlik from all different angles and recalculate the worth of Joe Calzaghe's own win over the Executioner. We take a look at why there are so many flabby heavyweights around, remember that Oscar De La Hoya versus Manny Pacquiao is really about the money and much more.

Name : Thomas Peak
Country : United Kingdom
Your Question :
As a major critic of Bernard Hopkins (only since his racist comments toward Joe Calzaghe) I have to say how awesome he looked against Kelly Pavlik I, like most others, considered it a foregone conclusion. I thought Kelly would destroy him - but he looked better than he had done since Jermain Taylor robbed him twice, however many years ago. That performance also puts Calzaghe's win in perspective. He didn't scrape a win against a past it pensioner, he beat a world-class fighter well. It's a shame that Calzaghe now will be robbed of a big career ending win over Pavlik, however I'm sure that a few good wins at middleweight will make Pavlik as good as new. I think Hopkins will now go looking for Chad Dawson and who is going to be foolish enough to venture an opinion on that one! Two fights I would love to see (which almost certainly will not happen) Hopkins vs. David Haye at catch weight or just about at heavyweight. The second is Calzaghe vs. Dawson. I have a theory that with the advent of modern sports science and nutrition, if a fighter avoids getting hit a lot, he can carry on well into his 40's and his prime might not even come until he is well into his 30's. Because if they combine years and years of experience with nutrition and training that keeps their body young, then surely these are the fighters that are going to be dominating boxing for years to come.

CLIVE BERNATH ANSWERS: Thomas, it certainly seems like the 30 something's are kings of the ring at the moment. I can see your point and agree. But lets not forget, the likes of Hopkins, Mosley, Calzaghe, De La Hoya and co, not only possess talent by the bucketful, they also live like champions and train like champions. I believe this is the reason they have survived so long at the top level. Over the years they have all picked up invaluable ring experience in big fights, this too I believe has helped in their longevity.

GREG JUCKETT ANSWERS: Thomas, your closing comments are quite interesting and probably have some validity. Hopkins-Haye and Calzaghe-Dawson have no chance of happening, but your prediction that we could see Hopkins-Dawson isn't out of the question at all.

PAUL UPHAM ANSWERS: I can't see Hopkins fighting Dawson now. There is nothing really to gain in that one for Bernard. I suspect it will either be rematches with Joe Calzaghe or Roy Jones Jr only for him. After that performance, why wouldn't Hopkins just retire now with his legend status intact? There is no doubt that Hopkins' is a freak of physical nature to box like he does at 43. You can only assume that staying in shape all of the time, not taking beatings through his career and living a clean life helped.

MICHAEL NORBY ANSWERS: Hopkins' performance on Saturday night was incredible, Thomas. He is 43-years-old and the way he dominated a much feared fighter like Pavlik goes down in my books as one of the finest performances of his terrific, hall-of-fame career.

Name : Barnaby Chesterman
Country : Italy
Your Question :
Chapeau to Bernard Hopkins as they say in France. I think he should fight Roy Jones Jr next, Pavlik should go back down to middleweight and take on King Arthur Abraham while Calzaghe should stick around for one more fight after Jones: Chad Dawson. Thoughts?

CLIVE BERNATH ANSWERS: Well if Jones beats Calzaghe, how about a super fight rematch between a 43 year-old Hopkins and near 40 year-old Jones?

GREG JUCKETT ANSWERS: Barnaby, yes (sort of), yes and no. I think Hopkins will push for a Jones, but even if Jones beats Calzaghe, I don't think Jones will give Hopkins a rematch…there's bad blood there. Pavlik versus Abraham would be awesome and should happen. No way Calzaghe wastes his time with Dawson.

PAUL UPHAM ANSWERS: If Roy Jones gets badly beaten by Joe Calzaghe, as I suspect he will, I'm not sure that there would be too much there for Hopkins to get excited about. Bernard should just retire now on top and let the rest of us only speculate if he could have won a rematch with Calzaghe. Pavlik vs. Abraham is still a great fight, but there would be many more people backing the undefeated Armenian to win now. Calzaghe more and more looks to have his eye on what Lennox Lewis did, retiring on top. But doing it with an undefeated record would only make it more special. Hopkins' impressive dismantling of Pavlik only added to Calzaghe's reputation.

MICHAEL NORBY ANSWERS: I'd be willing to wager that Bernard will have his fingers crossed that Roy can defeat Calzaghe (who will probably retire after this fight) on November 8. Wouldn't hold my breath if I were him, though. Pavlik's wounded ego will travel back down to 160lbs after this and I doubt you'll see him test heavier waters anytime soon after last Saturday's lesson. I'm sure he'll fight Abraham – that's the fight fans will want to see.

Name : Paul Carpenter
Country : Australia
Your Question :
I honestly can't believe so many of you picked Pavlik over Hopkins today. Pavlik is the same type of fighter as Danny Green (one dimension). If he does not knock a guy out he will not win the fight. I love the guy but I think a fighter like Mundine would kill Pavlik and I hate Mundine! Nothing away from Hopkins though, he is my fave boxer besides Shane Mosley. I feel Joe and his dad will come out of the wool now and talk about how crap Pavlik was (which I feel he will always be against a boxer) but Joe didn't win his fight against Hopkins he was just lucky to have the judges on his side. Pavlik needs to go and look at his defence and work on his speed as he looked hopeless tonight.

CLIVE BERNATH ANSWERS: Hi Paul, glad to have you back. I disagree about the Calzaghe-Hopkins fight. I think Joe nicked it, but if they had fought three years ago I really feel Bernard would have prevailed.

GREG JUCKETT ANSWERS: Paul, even though I picked Pavlik to decision Hopkins, I thought to myself, "Hopkins won't let himself get embarrassed and he's got all his money, so maybe he really sees himself beating Pavlik." I guess he was on to something!

PAUL UPHAM ANSWERS: Isn't it easy to come in and point the finger about our dumb picks after the result! I never though Pavlik would knockout Hopkins. I picked Pavlik to win on points on the basis that Hopkins was 43, getting older every day and fought a very cautious fight against Calzaghe, who ain't no Tyson with his punches. I suspected that over the twelve rounds, the much younger Pavlik's workrate and Hopkins' application to defence would lead to a close Pavlik points win. Really, if I had come out beforehand and predicted that Hopkins would have been so dominate to the point that he would be throwing bolo punches in round 7, many of you would have been emailing our Editor-in-Chief Clive Bernath to say that I had finally taken too many hits to the head.

MICHAEL NORBY ANSWERS: I would tend to give Kelly Pavlik a little more credit than that, Paul. He was just beaten by a better guy on Saturday night. I, like most others, picked Pavlik to win but I'm never surprised when B-Hop turns a fight he's expected to lose on its head. In saying that, I honestly didn't think he could do it in such an aggressive and commanding fashion.

Name : James Hill
Country : United Kingdom
Your Question :
Simply brilliant, Hopkins` win over Pavlik was breathtaking! It's a big enough achievement that he is at this level at 43, but I don't want to dwell on that, as I think Hopkins has now proven at times, age just doesn't matter. I think it would be cruel to say Pavlik has been exposed, but many a people have already said he's one dimensional, and against a fighter as cunning as Hopkins, he looked out of his depth, it has to be said, but instead of pointing to Pavlik being outclassed etc, Id like to focus on Hopkins, because he is what is says he is, now nobody can doubt him, and that is a legend, and a throw back. I wish he was only just peaking, because I think Hopkins is great for the sport. Sure, he has said some stupid things, (the white boy comment etc.) but at the end of it all he keeps us interested. I know a lot of people predicted a boring fight, and with Pavlik being too young and too strong, but I think maybe it was always Hopkins' game plan, starting by saying he has full respect for Pavlik and not slating him, lulling Pavlik into a false sense of security perhaps? And nobody could of predicted he would come forward and meet Pavlik head on. As it turned out he had too many combos, too many angles, and was far too clever.

GREG JUCKETT ANSWERS: James, spot on…Hopkins' performance against Pavlik was one for the ages.

PAUL UPHAM ANSWERS: Well written James. In the end, age didn't matter, only Hopkins' ability. I do think though that after watching the replays, Hopkins' regretted no opening up more against Calzaghe, particularly after the 1st round knockdown. He gave the impression this time that he wasn't going to leave anything in reserve against Pavlik.

MICHAEL NORBY ANSWERS: I think that Hopkins is somewhat of an anomaly in the sport, James. There are not too many 43-year-olds that can go out and perform like that.

Name : Matt O'Brien
Country : United Kingdom
Your Question :
Obviously Hopkins' win over Kelly Pavlik enhances his already outstanding legacy in boxing. But what does this do for Joe Calzaghe's legacy? It seems that all those who questioned the merit of Calzaghe's victory over Hopkins, claiming that he only beat an old man, now need to revise their opinions. Calzaghe also said all along that Pavlik was over-rated, and that sentiment now seems somewhat vindicated. Would you agree that too many people were too quick to label Kelly Pavlik as the next great fighter? Personally, I agreed with Calzaghe and I was very surprised that so few writers gave Hopkins a chance of victory. Comparisons between Pavlik and the likes of Hagler, Monzon, Duran and Hearns were wildly premature in my opinion, and I picked Hopkins to win this on points. The one asset which Calzaghe possessed and needed to get the win over Hopkins was precisely that which Kelly Pavlik was lacking in: experience. Pavlik's main asset going into the fight - namely his punching power - is also the one thing that has bothered Hopkins the least throughout his career. I understand why so many people picked Pavlik to win based on his youth and Hopkins age, but Hopkins showed once again that there is no substitute for experience and sound, fundamental boxing skills.

GREG JUCKETT ANSWERS: Matt, when a guy is mowing people down like Pavlik was, most people will side with the young guy on the rise against any opponent until they see otherwise. Hopkins made us see otherwise, for sure.

PAUL UPHAM ANSWERS: Yes, we must now give more credit to Calzaghe's win over Hopkins. The loss by Pavlik also reduces his standing. One of the differences between Calzaghe and Pavlik against Hopkins was that Joe's workrate was not only better than Kelly's, it was more effective, forcing Hopkins to fight at a faster rate than he wanted to. Against Pavlik, Hopkins dictated the pace.

MICHAEL NORBY ANSWERS: I think Calzaghe's legacy is already cemented, Matt. Pavlik should not be compared to those greats that you listed but he is still arguably the best 160lber right now.

Name : Will Black
Country : China
Your Question :
I just read Joe Calzaghe's comments on the Hopkins-Pavlik fight and I have to disagree with him. Of course, I was really surprised Hopkins dominated, I expected him to take the early rounds and then run out of gas because of Pavlik's pressure, but he just never seemed to tire. That was helped by the fact Pavlik kept coming forward yet didn't throw any punches, a dream scenario for Hopkins. The Ghost pulled a real disappearing act in this fight, but I think it is unfair to say he was way overrated. I think he had an off night and his style does not match up well with B-Hop's, or Calzaghe's for that matter. But I think we will see him come back strong, he has the power and the chin to do it. And as for Joe saying all this about Roy Jones and how great they are, come on. Roy is past it, there's no doubt. Let's see him take out Glen Johnson and not a bloated rusty Trinidad before we compare him to his past. I think the upcoming Jones-Calzaghe fight will be an absolute bore, and have no effect on either of their legacies. I think Calzaghe is extremely skilled, his footwork, speed and distance are the tops, but I sure would like to see someone shut him up! But it seems he waited til the end of his career before he got the confidence to fight the big names, and by then, they were past their prime. What do you fellas think?

GREG JUCKETT ANSWERS: Will, Calzaghe has always done things his way, and so far, you can't argue with the results. As for Jones, he's somewhat restored some credibility since the second loss to Tarver and you can't blame him for taking on a name in Trinidad. And, I don't blame Jones at all for staying away from a rematch with Glen Johnson. Johnson nearly killed him the first time and Johnson doesn't punch that hard!

PAUL UPHAM ANSWERS: Some good points there Will. I expect Calzaghe to win just about every round against Jones. I have often myself asked why Calzaghe hid his great talent for so long by only beating lesser talent and why he didn't make the jump to the USA earlier in his career to beat some of the best when they were at their best.

MICHAEL NORBY ANSWERS: I think Calzaghe would have been a match for Jones and Hopkins when those two legends were in their prime. I rate Joe Calzaghe as the best super middleweight in the relatively short history of the division. But, all in all, you are right. Jones vs. Calzaghe right now doesn't really matter that much.

Name : Adam Ellison
Country : United Kingdom
Your Question :
I've been on a good run of picking fights recently but the fights over the last few weeks I've picked the loser in every one. I picked Samuel Peter, Tarver and Pavlik. Pavlik losing was the biggest surprise, but who would expect Hopkins to not only perform that well, but also that consistently round by round. What next for Hopkins though? He should retire, but I think he really wants Roy Jones and he is only one fight away from 50 wins. Chad Dawson would be the only other logical option. Incidentally, the Hopkins win puts the Abraham vs. Pavlik fight back at least a year. What do the editors think?

CLIVE BERNATH ANSWERS: Abraham vs. Pavlik is certainly on the back burner for now, Adam. Kelly needs to have a long rest then maybe a decent test back at middleweight, then maybe face Abraham. By the way, I'm in the minority that would not be surprised to see Jones nick a decision against Calzaghe and set up a senior citizens super-fight against Hopkins.

GREG JUCKETT ANSWERS: Adam, I had the same three predicted winners (Peter, Tarver & Pavlik) so you're not alone. I really hope Hopkins retires, but you never know, Hopkins could get bored and take on Dawson. And you're right about Pavlik-Abraham…we won't see that fight in the very near future.

PAUL UPHAM ANSWERS: The 50 wins would be tempting for Hopkins, but what a great time for him to retire after one of his best career wins. I said the same after he beat Tarver and he stayed around to demoralise Pavlik. I don't think beating Dawson does anything for Hopkins' resume. If Roy Jones puts up a decent performance against Calzaghe, even in defeat, a rematch with Hopkins would be a real personal grudge match for both boxers.

MICHAEL NORBY ANSWERS: I don't think Hopkins will mess with Chad Dawson, Adam. He'll be hoping that Jones pulls through with a win because I doubt Calzaghe would give him a rematch.

Name : Saul Butters
Country : United Kingdom
Your Question :
I have always been a fan of Samuel Peter and thought he could be an exciting champion with knockout power, although I knew he had limitations. I thought it would have been great for the sport to have an African heavyweight champ too. However, when I saw his fight with Vitali Klitschko I was really disappointed. What annoyed me most was his conditioning. How can a potential heavyweight champ come into the ring looking so out of shape? And it's not just him lots of the heavies around today are pathetically chubby. I find it an insult to the historically great division and the genuine athletes that have graced the sport with such sporting endeavour and dedication. But even more so I feel its an insult to us fans. Only in boxing could such out of shape "sportsmen" get paid so much to not do what they are supposed to do. Can you imagine a footballer/tennis player etc turning up to a world elite level match with a spare tyre and flab and visibly struggling to compete half way through an event? Please tell me, am i ignorant of the subtleties of heavyweight conditioning or are a lot of the heavies around today taking the sport for a joke? Its one thing having limited skills its another not even being physically prepared? Am i being overly critical of these guys?

GREG JUCKETT ANSWERS: Saul, you're not being overly critical at all. To come in out of shape to fight for THE or a portion of the greatest title in sports, is pathetic. Yet, time and time again, we've seen boxers disrespect the championship. Tim Witherspoon, James Douglas, Corrie Sanders and Sam Peter are just a few of the many disrespectful examples.

PAUL UPHAM ANSWERS: There would appear to be some tie-in to the fact that heavyweight boxers don't
MICHAEL NORBY ANSWERS: From your lips to God's ears on the overall heavyweight situation, Saul. I didn't think Sam Peter was in such bad shape, though. He usually hovers around 250lbs and, whilst he could definitely trim a couple of pounds off there, I think Klitschko was just too good.

Name : John Fox
Country : Australia
Your Question :
Why criticize fighters eg. Oscar vs. Pacman fighting for money. Prize Fighting is the name of the game. Boxing is for the Olympics.

CLIVE BERNATH ANSWERS: John, how can you say Oscar vs. Pacman is a real fight when Manny could be outweighed by as much as 16lbs on the night? Come on, let's be honest about this.

GREG JUCKETT ANSWERS: John, I can see your point…De La Hoya and Pacquiao are cashing in on their earned popularity and their hard work to get where they are. Hopefully, we'll see a good fight.

PAUL UPHAM ANSWERS: Interesting point there John. This De La Hoya vs. Pacquiao match is seeing wide ranging points of views from the boxing industry, media and fans. No one can seem to agree whether it is a mismatch, legitimate fight or simply a cash cow. If the two want to fight and people are prepared to pay for it, I guess the money made will ultimately determine its success. Also considering that professional boxing is not a sport, but a business.

MICHAEL NORBY ANSWERS: That's one way to look at it I suppose. If you're a fan, though, you shouldn't care how much boxers make, you should want to see good fights.

Name : Russ Bevan
Country : New Zealand
Your Question :
How do the team see the outcome of the upcoming Cristian Mijares versus Vic Darchinyan fight?

CLIVE BERNATH ANSWERS: Russ, the way Mijares is boxing at the moment I'd have to back him.

GREG JUCKETT ANSWERS: Russ, I like Mijares. I think Darchinyan brings an exciting style to the ring, but he's so wide open. Mijares by TKO 9.

PAUL UPHAM ANSWERS: It is a great match on paper. Mijares should be favourite going in, but Darchinyan's aggressive nature and punching power has been irresistible on all occasions bar one. One of the reasons why the Showtime network has taken such a liking to the Raging Bull from Armenia. Mijares' skills and toughness should give Darchinyan some problems, but if Vic detonates one of his power shots, the Mexican will need to be strong to resist it. Right now I'm thinking Darchinyan wins a close points decision.

MICHAEL NORBY ANSWERS: I'm really looking forward to this contest, Russ. I like watching both guys fight but I think Mijares will be able to out-box Darchinyan for much of the fight. Do not count out Darchinyan, though – he's got the power to turn a fight around in an instant. Should be good.