ATE: Praise For Sugar Shane, Wrapgate, Pacquiao-Hatton, Klitschko-Gomez, Where's Prescott, Tyson-Holyfield 3 and More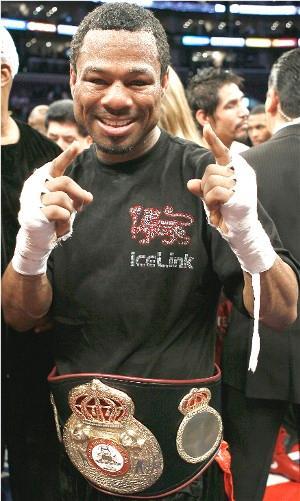 All hail Sugar Shane: HoganPhotos.com

In today's edition of Ask The Editor (ATE), SecondsOut readers heap plenty of praise on Sugar Shane Mosley for his win over Antonio Margarito, we take a look at Wrapgate and talk more Manny Pacquiao vs. Ricky Hatton. We preview Vitali Klitschko vs. Juan Carlos Gomez for the first time, ask what happened to Breidis Prescott since his 1st round KO of Amir Khan, say why we don't want to see Tyson-Holyfield 3 and much more.

Name : Richard Gordon
Country : United Kingdom
Your Question :
What a performance from Sugar Shane! When the fight was announced I had mixed feelings. I am a fan of Mosley and to be honest didn't really want to watch him get beat badly after such a great career. In the Mayorga fight, it looked like father time had caught up with him, but he still showed he had the power to bail him out. He looked old that night, his shots were badly out of time and he had absolutely no rhythm, so going into a fight against the most feared welterweight in the world didn't really seem like a great idea. I did hear Mosley say in an interview he would knock Margarito out but I thought it was just Mosley being Mosley – he doesn't duck anyone, and then to see almost every writer pick Margarito (many by stoppage), I thought he had no chance. I think his win was immense – amongst the best I have witnessed - all the odds were against him, the divorce, the steroids and the fact that few gave him a chance. Where now for Mr. Mosley? You'd think Cotto would prefer Mosley again now, do you think Mosley could reverse his previous loss to him?

CLIVE BERNATH ANSWERS: Hi Richard. I'd like to see what Cotto has left against Michael Jennings before I start thinking about Cotto-Mosley 2. How about Mosley vs. Mayweather Jr?

GREG JUCKETT ANSWERS: Richard, yeah what a giant win for Mosley. And, I have to admit I also didn't see him being able to beat let alone stop Margarito. I wasn't that thrown off by the Mayorga fight because everyone has trouble finding a rhythm against the herky jerky Nicaraguan. The victory over Margarito might be his greatest triumph to date besides the spectacular come from behind points win over De La Hoya in their first fight in Los Angeles. I gotta think Shane has a legitimate shot in a rematch against Cotto. The first fight was very close. Let's see how Cotto handles himself against Jennings.

PAUL UPHAM ANSWERS: Agreed, I thought Mosley was going to have it tough against Margarito. But having said that, how much of our high estimation of Margarito had to do with what was going down before the fight in the hand wrap scandal? Looking back through Margarito's career now, there is much uncertainty there. As for Mosley, he has always wanted the rematch with Cotto. It is the natural fight to be made this year.

MICHAEL NORBY: I picked Margarito to win in a close fight but I wasn't surprised at all that Mosley won, Richard. Shane is still a terrific fighter and the way he handled Margarito proves how good he really is. With Margarito not fighting anytime soon because of his licence being revoked, I would like to see Mosley and Cotto lace 'em up for a second time.

Name : Daley Francis
Country : United Kingdom
Your Question :
I would like to congratulate Shane Mosley for showing athletes how to overcome personal problems and be truly great. I don't think I've had as an emotional response to a fight since Hatton beat Tszyu in 2005. I've always loved Shane, and it truly was a master class. It was made sweeter by Margarito and his trainer being caught out afterwards. If it was intentional - talk about salt in the wounds! Did he land a shot all night? The flip side of the coin is that another black mark has gone against boxing, as if it needs them. I'm also glad Mosley won because it creates so much intrigue in the welter division. Anyone can beat anyone on any given day - as proven by the Mosley-Margarito-Cotto round robin. Throw in Clottey and we've got ourselves a lower-level-but-still-awesome Hagler-Hearns-Duran-Leonard series! Bring it on!

CLIVE BERNATH ANSWERS: Daley, Mosley beating Margarito so convincingly has certainly livened up the welterweight division. And if a certain Mr Mayweather decides to fight again, we really could have a welterweight tournament on our hands.

GREG JUCKETT ANSWERSDaley, Amen! We need a great combination of welterweights fighting each other. And don't forget Berto!

PAUL UPHAM ANSWERS: It may not be as good as the 'Fabulous Four', but it is damn intriguing.

MICHAEL NORBY: I'm sure Mosley would love to avenge his loss to Cotto next, Daley. As far as Margarito is concerned, now that the California State Athletic Commission has pulled his licence, he is in the deep stuff and you can probably take him out of the trio that you write about.

Name : Gavin Whalebone
Country : Australia
Your Question :
As an unashamed Mosley fan, I would like the SO team to address where they place the stunning Mosley upset in the all-time renaissance fights? I'm thinking of Leonard vs. Hagler, Robinson vs. Basilio (No.5, I believe), Ali vs. Foreman etc. These may seem to be grand comparisons, but consider the reputation that Margarito held coming into the fight. So confident were pundits that Mosley was a 4.5/1 underdog, and your esteemed team of writers went 22/23 in favour of the 'Tornado'.

GREG JUCKETT ANSWERS: Gavin, I don't compare Mosley's win over Margarito to the other upsets you've mention. It was a fantastic and unexpected showing by Shane, but from personally being around Shane for many years with CKP, I know he's a gym rat and always focused. Also, he's never taken a bad beating, other than maybe the first Forrest fight. I was indeed surprised he beat Margarito, but I knew he had a chance to pull it off.

PAUL UPHAM ANSWERS: The problem I have is that I am unable to confirm if Margarito had anyone other assistance in his recent impressive wins over Miguel Cotto, Joshua Clottey and Kermit Cintron twice, which led to him having such a high reputation going into the fight with Mosley. Can anyone here say for sure 100% if Margarito had undiscovered illegal hand wraps in any of his other wins? No. So it is impossible to say whether Margarito really was the fighter that many of us thought he was. That greatly affects how we assess the outcome of Mosley-Margarito. Regardless, it was a great win by a 37 year-old Mosley. One of the best of his career.

MICHAEL NORBY: It's up there, Gavin. The fashion of the victory, rather than the actual win, was what surprised me. I had a sneaking suspicion that Mosley would pull it off, but knocking out Antonio Margarito is not an easy feat to accomplish.

Name : Viel Mervic Nuestro
Country : Philippines
Your Question :
Can't wait, this is huge! Huge for the sport, so let's thank Manny Pacquiao and Ricky Hatton for making this fight, also the promoters and everyone involved. As a huge Pacfan, you can tell who I'm rooting for, and personally I believe my guy won't lose to Ricky. Of course, every boxer has a chance. It's just that, I'm not confident of giving it to Ricky. I've watched and watched Hatton's fights with Malignaggi and Lazcano, and even in his career-best win over Kostya Tszyu, and if Lazcano can do that on Ricky's face, imagine what Pacman'll do to him. It'll be a mistake for Ricky if he won't use his defense against Manny. Mayweather will work on that I'm sure. And also, Ricky will pose a threat to Manny because of his style. Grabbing and holding, clinching and mauling, the last time Manny fought with a boxer with that kind of style was against David Diaz. We all know what it turned out however, Ricky is not the same as Diaz. I believe Manny's gonna be like a head hunter come fight night, and hitting with sniper-like accuracy. Expect Manny to dart in-and-out, moving side-to-side on May 2 against Ricky, and doing what he did on the De La Hoya fight. I love Ricky, he's a likeable guy, doesn't talk trash, does good things but I think on May 2 his will, will again be broken.

CLIVE BERNATH ANSWERS: Of course your gonna root for Manny, Viel. And I can see how you think Manny can beat Ricky. Lets not forget though, Ricky is a very strong solid junior welterweight, whereas Manny is much smaller and beat a very weak and well past it Oscar De La Hoya. Mind you, the way my predictions are going at the moment I think I'll keep my thoughts to myself!

GREG JUCKETT ANSWERS: Viel, I'm sure many people will agree with your view of Pacquiao-Hatton. Pac-Man's movement and hand speed is unmatchable right now. Hatton will need to slow down the pace and try to steal the fight in the trenches. I compare Hatton's formula for success to what Roberto Duran did to Ray Leonard in Montreal…attempt to divert Pacquiao away from fighting his fight.

PAUL UPHAM ANSWERS: Great fight! I can make a case for both Pacquiao and Hatton winning. That's what makes it so interesting. Both are in their prime. Both are elite top ten pound for pound boxers. What's not to like? Simply enjoy! It is a match that can change on one punch. How Pacquiao handles Hatton's pressure style will be important. A lot of people are going to try to predict in advance how the fight will transpire. I don't think anyone really knows for sure. Me, I think it will just happen on the night.

MICHAEL NORBY: I wouldn't get too hopped up on what Pacquiao did to Oscar as an indicator of how May 2nd will turn out. Hatton will present a whole different set of challenges for Manny, Viel. For one, unlike De La Hoya, Hatton will come in supremely ready to fight. They meet in Hatton's natural, favored weight class and he'll definitely fancy his chances. The contest will be exciting and it is a difficult fight to call but I'm leaning towards the Hitman right now.

Name : Hans Reicher
Country : Germany
Your Question :
I am interested in your predictions for the Vitali Klitschko vs. Juan Carlos Gomez fight in Germany. The boxers have sparred each other before at Universum and will known much about the other.

GREG JUCKETT ANSWERS: Hans, this is a tough fight to handicap because I'm still not convinced of what Vitali Klitschko has in the tank. Gomez has grown into a legitimate heavyweight and his southpaw style could throw off the WBC champion. That being said, I always thought Corrie Sanders' style could have beaten Vitali if Sanders had bothered to show up in shape for their fight in April 2004. To get back to your original question, I'll pick Klitschko by late stoppage, but I don't feel that strongly about it.

PAUL UPHAM ANSWERS: Good heavyweight battle. Gomez will do well, but if Klitschko is fit, he will win on points over the distance. Vitali is the better of the two brothers. His fights seem to be more exciting.

MICHAEL NORBY: I like Klitschko by knockout. Gomez has been knocked out by Yanqui Diaz for crying out loud and Klitschko looked like he had never left the ring when he battered Sam Peter last year.

Name : Derek Goode
Country : Ireland
Your Question :
I just wanted to know if the Wladimir Klitschko vs. David Haye fight is signed and agreed and where would the most likely place be to stage it?

CLIVE BERNATH ANSWERS: Not signed yet, Derek. The latest news is David himself fears the fight may not happen this year.

MICHAEL NORBY: The deal is still being hammered out, but it looks like they will fight this summer in Britain. Just a short hop across the Irish Sea for you, Derek if you decide to attend.

Name : Chioma Wigwe
Country : United Kingdom
Your Question :
Breidis Prescott! Remember him? Flattened Amir Khan in 54 seconds and we've never heard from him again. Why isn't Khan calling him out for a rematch? The Barrera fight is intriguing, but let's face it, Marco has seen better days. If Khan wins, I for one will be saying, Well he beat a smaller, old faded legend. I know why the fight was made - Khan is on Box Office now and no one in their right mind would pay £14.95 to watch him beat up another hopeless fighter as a main event. The next best thing is a beatable big name who may/may not present much of a challenge to Khan at this stage in his career. To be a true legend you have to avenge your losses or at least be seen to want to do so. Lewis knocked out McCall and Rahman after they knocked him out initially. Hatton has been calling out Mayweather since he lost to him and Mosley has always gotten back in the ring with those who have handed him defeats. Do you think we'll ever see Khan back in the ring with Prescott? Or will he be continually fed a diet of 'has beens' and 'no hopers' to make him look good? If he does beat Barrera, what exactly would that tell us about Khan's development? It would be another Calzaghe-Jones scenario.

CLIVE BERNATH ANSWERS: Chioma, of course you have a point and 90% of boxing fans may feel the same. But lets face it, that's how boxing works and Khan can only be "fed a diet of has beens and no hopers" if the fans buy the tickets and PPV's. There must be a market because we are buying into it.

GREG JUCKETT ANSWERS: Chioma, I don't have a problem with Khan moving away from a rematch with Prescott, at least not right away. Khan has plenty to gain from a fight against Barrera…it would be a great learning fight if Khan wins. Taking on Barrera is a different risk for Khan than a rematch with Prescott, but a risk none the less. I agree that should Khan continue to achieve success, he should clamor for an eventual rematch with Prescott. Let's see what Prescott and Khan do over next 24 months first before Khan rushes back into a rematch with a guy that's already taken his head off inside one round!

PAUL UPHAM ANSWERS: Chioma, pull it in tight here and I'm going to let you in on a little secret. Just between us, right. Don't tell anyone else, OK? Boxing is a business, not a sport. I know, I know. It is a shock. But that is just the way it is. When you think of boxing as a sport, of course Khan should be rematching Prescott next. But there is risk involved in doing that for the boxer and his promoter. The way it usually works is getting the most money for the least amount of risk. For the true greats of boxing, it is about beating the best when they are the best.

MICHAEL NORBY: Prescott is fighting on an ESPN card in the USA on February 20th in a card featuring Cuban phenom Yuriorkis Gamboa. I saw Prescott fighting against Richard Abril on television last year and, on that performance, I would never have thought that Khan would have had a problem with him. It was just a poor, poor performance by the Englishman. It is possible that we'll see Prescott and Khan rematch at some stage, but if Khan beats Barrera, then he'll have bigger fish to fry.

Name : Riaz Uddin
Country : United Kingdom
Your Question :
There have been rumours for the past few years of a Tyson-Holyfield rematch but I just heard that it was confirmed to take place in Abu Dhabi. Have both men totally lost it? This could be the worst fight in history between two extremely faded legends. Slow, lethargic and with out any flair or skill. Am I also right in hearing that this could be the richest fight in history?

CLIVE BERNATH ANSWERS: Relax Riaz, don't blow a gasket. Tyson has confirmed there was never any truth in the rumour.

GREG JUCKETT ANSWERS: Riaz, Holyfield-Tyson III is NOT going to happen. Mike Tyson hasn't wanted to fight in 15 years and apparently hasn't lived a clean lifestyle for equally as long, if not longer.

PAUL UPHAM ANSWERS: It must not be easy managing Mike Tyson. But his current team seem to be making some forward progress, involving Mike in the promotion of the new movie documentary Tyson and working on an autobiography book deal. He has to be one of the most recognisable men on the planet, but that doesn't translate into earning a living. Mike and his team are doing the best they can to keep him working to help pay off his debts and make him some money for the future. Fighting Holyfield again should definitely not be on Tyson's list of things to do.

MICHAEL NORBY: This fight idea is stupid. I would rather watch paint dry then paint the wall for a second time and watch it dry all over again whilst simultaneously chewing broken glass before I'd tune in to watch Tyson-Holyfield III.

Name : Johnny.H
Country : United Kingdom
Your Question :
Hi there, I'm asking this on behalf of a few people. A bit of a strange one but do any of you fellas know the ring entrance song that Alex Arthur came into the ring with when he fought Michael Gomez?

PAUL UPHAM ANSWERS: I watched the Arthur-Gomez tape and it is not recognisable to me. The voice sounds faintly like an AC/DC song? But it is very hard to hear over the chanting of the monster crowd. Maybe one of our SecondsOut.com readers can assist?

Name : Adrian Borchok
Country : Australia
Your Question :
I would have loved to have seen Aussies Paul Briggs and Danny Green go head to head at light heavy! What a bruising clash that would have been! I am sore just thinking about it! Who, in your esteemed opinion would have emerged the winner in this clash of power punchers from Down Under! On a non Aussie note, where is the love on a final payday for Joe Calzaghe against undefeated Chad Dawson? Surely Bad Chad is the only fighter at light heavy capable of ending Joe's winning ways! if Dawson is not the most underrated fighter out there then I do not know who is! I cannot believe the lack of recognition for this guy!

PAUL UPHAM ANSWERS: I saw Briggs and Green spar twice. The first time Paul got the better of Danny. The second time Green dropped Briggs, who had a great chin. Paul got up, shook himself off and immediately wanted to get back into it. That's the sort of fight it would have been – a war. Either man could have won on the night. One punch either way could have changed the fight. It would have all depended on when they fought. Briggs was never the same after the Adamek fights. Whoever won, no one would have complained about seeing a great battle. As for Chad Dawson, he is a very good fighter, but he doesn't go out there, take charge and win fights. He is underappreciated for sure, but he has to go out there and win the fans appreciate through his performances. Now that Calzaghe has retired, Dawson has to go out and dominate the division.