ATE: Vitali Klitschko, Dawson, Making the Fights, Mosley, P4P, Hatton, Lost Rematches and More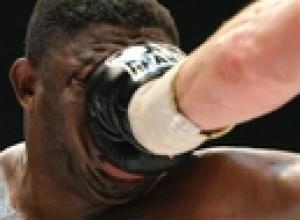 Samuel Peter meets Vitali Klitschko's fist

In today's edition of Ask The Editor (ATE), we consider who is the biggest heavyweight challenge to Vitali Klitschko, suggest who Chad Dawson should fight next and take out our HBO cheque book to make some fights. We factor in the loss of some of Shane Mosley's stamina, review SecondsOut's pound for pound top ten, question who Ricky Hatton would meet in a super fight at Wembley, recall the lost boxing rematches that were never made and much more.

Name : Graham Lengthorn
Country : United Kingdom
Your Question :
With Vitali Klitschko winning last weekend and who is now probably the No.1 guy at heavyweight, who is his biggest threat would you say out of David Haye, Odlanier Solis or Alexander Povetkin? Who out of these three would you say has the best chance of being the next big star or would you say somebody else?

CLIVE BERNATH ANSWERS: I don't think any of them to be honest, Graham. Too early to tell how Haye will perform at heavyweight. One man you missed out was Juan Carlos Gomez. He may just have the right style to topple Vitali

GREG JUCKETT ANSWERS: Graham, all three guys can really fight, but Haye has the biggest upside to be a possible superstar because he's charismatic, outspoken and is the heaviest puncher of the three.

PAUL UPHAM ANSWERS: The only danger I see out there for Vitali is the health of his own knees and back. If he stays fit, he beats any other heavyweight out there right now.

MICHAEL NORBY ANSWERS: Based on how easily Klitschko defeated Sam Peter last weekend I wouldn't fancy any of those three against the big guy – especially Haye because we really don't know how he will perform at heavyweight. In any case, I thought that after a four year layoff that Klitschko would struggle but he looked superb.

Name : Stuart Greenberg
Country : United Kingdom
Your Question :
Yesterday afternoon I subscribed to Setanta and later watched Vitali Klitschko completely outbox Samuel Peter in an incredible display of boxing following a near four year layoff. Only to listen to Steve Bunce, surely the biggest mouth in boxing talk absolute drivel about Vitali. I am an avid boxing fan and buy all the magazines and whenever I see Mr Bunce has written an article I avoid reading it, for he writes as he talks which is rambling in the extreme! Why do Setanta have this guy on, he is a real turn off! If I have to listen to him again I will really consider terminating my subscription! The guy talks so much he will one day disappear up his own behind, hopefully never to be seen again! So my question is, am I the only one who thought Bunce's comments last night showed a real lack of boxing insight and found his voice really irritating?

CLIVE BERNATH ANSWERS: Em, well you did subscribe knowing full well Mr Bunce is a regular voice on Setanta, Stuart.

PAUL UPHAM ANSWERS: Steve certainly never leaves you wondering what he thinks about any topic.

MICHAEL NORBY ANSWERS: I watched my first Steve Bunce boxing hour last week on Setanta North America. Interesting show.

Name : Michael Butler
Country : USA
Your Question :
Chad Dawson got the job done against Antonio Tarver on Saturday night. Where does "Bad" Chad go from here?

CLIVE BERNATH ANSWERS: Before Dawson does anything else he should give Glen Johnson a rematch. For me, Glen Johnson has been on the end of some terrible decisions including the Dawson fight. In fact he has been on the end of more bad decisions than anyone I know of. He is a true gentleman and warrior, so do the right thing Chad and give Glen his rematch? Please!

GREG JUCKETT ANSWERS: Michael, it's hard to say because Dawson is the only American light heavyweight champion and not overly popular. In order to max the dollars, he may need to go on the road to fight unifiers against Adrian Diaconu, Hugo Garay and/or Zsolt Erdei because oldies but goodies like Hopkins, Jones Jr. and Calzaghe won't have Dawson in their plans.

PAUL UPHAM ANSWERS: Clive is spot on. Let's see Dawson-Johnson 2.

MICHAEL NORBY ANSWERS: Make no mistake about it, Michael. Antonio Tarver is still a terrific light heavyweight fighter and for Chad Dawson to do what he did against the former champion last Saturday was magnificent. A fight against the Jones vs. Calzaghe winner would be the obvious answer.

Name : Kenny Johnson
Country : USA
Your Question :
I read Thomas Hauser's latest update report on the poor HBO fight ratings with interest. If you were the head of HBO, what fights would you be most trying to make for 2009?

CLIVE BERNATH ANSWERS: I'd like to see Mayweather vs. Margarito, Hopkins vs. winner Jones/Calzaghe. Also, Pavlik vs. Abraham, Pacquiao vs. Valero and Rafael Marquez vs. Israel Vazquez 4.

GREG JUCKETT ANSWERS: Kenny, despite the fact that their fight was a stinker, HBO suites are probably hoping Floyd Mayweather Jr. will come out of retirement next year and fight a rematch with Oscar De La Hoya. Other fights HBO needs to make is the Antonio Margarito-Miguel Cotto rematch and Nate Campbell versus Manny Pacquiao.

PAUL UPHAM ANSWERS: Arthur Abraham vs. Kelly Pavlik, Sakio Bika vs. Jaidon Codrington 2, Ricky Hatton vs. Manny Pacquiao and Paul Williams vs. Antonio Margarito 2 wouldn't be too bad a pay-per-view card!

MICHAEL NORBY ANSWERS: There are so many great fights out there that should be made, Kenny. Pacman vs. Marquez 3, Calzaghe vs. Pavlik, Margarito vs. Williams 2. The list goes on and it's up to the networks and promoters to get their butts in gear. Each big card should have a can't miss undercard. I am convinced of that and there is no excuse for not providing fans with true value for money. Get fighters that match up well and put them on the show – Bika vs. Codrington type fights. The UFC does it and it's a major selling point. Thorough, top quality major broadcasts would make a huge difference in fan enjoyment and retention in boxing.

Name : Gavin Whalebone
Country : Australia
Your Question :
I'm hoping to gauge your opinions on Shane Mosley, based on what you saw in his fight against Mayorga. Sorry about the reel of questions, but here it is: What did you make of his clinching (rather than taking his shots) from rds 8-10? Was it a case of tactics, as Shane claimed, or was it simply a 37 year old running out of steam? Mosley, who has never really relied on footwork, did seem more flat footed than in the Cotto fight. Was this simply a De La Hoyaesque tactic of standing in front and punishing on the counter punch, or was it further evidence of an ageing fighter? To me, Shane seems to be entering the realm where he can no longer fight twelve rounds at a sustained pace; Mosley, like Hopkins, appears to be increasingly fighting in strategic patches. At any rate, as a long time Mosley fan, the win against Mayorga was up there in my top three Mosley career moments. Not necessarily for the blinding skills on display, but for a fighter in his twilight years using ring savvy and ultimately courage to claim a dramatic knock out win. Thanks guys, and I'm sure Paul Upham would have been as stoked with the win as me.

GREG JUCKETT ANSWERS: Gavin, you have to take into account the much bigger Mayorga was losing to Mosley, but the Nicaraguan wasn't going anywhere. Mosley got a late second wind which gave him enough pop at the end to score the dramatic last round KO. I agree that Mosley fought a brilliant fight…simply doing what he had to do in rounds 8 through 10.

PAUL UPHAM ANSWERS: I first met Shane Mosley in February 2001. I watched him train in Las Vegas at Johnny Tocco's gym in front of four or five people. I remember SecondsOut's Greg Juckett was there that day, working with promoter Cedric Kushner at the time. It is a memory I will always treasure. I have never seen someone punch with such speed. I was talking to Shane again recently and recalled that training session with him. He told me he was struggling with busted ribs at the time. I was shocked. For him to be able to do what he did with an injury was incredible. I have marvelled at Shane's career since his days as a lightweight. His wins over Oscar De La Hoya were outstanding. But most importantly, he has carried himself with class. Yes, he has slowed down a bit now. He can do what he used to do, but he will give any boxer at welterweight or junior middleweight the fight of their lives. I'd like to see Shane try to avenge his defeats to Vernon Forrest before he retires. If not Vernon, yeah, why not a shot at Antonio Margarito.

MICHAEL NORBY ANSWERS: Shane Mosley is a winner, Gavin. He may not be as silky smooth as he used to be but I still think he has the tools to take it to a Margarito or a Williams and he'd have a great chance.

Name : Thomas Peak
Country : United Kingdom
Your Question :
After looking at your pound for pound rankings I have to disagree with the last two spots. First of all I have to ask what you have to do to be dropped from the ratings? Hopkins was decisively beaten by Calzaghe in his last bout and it wasn't so much how good Calzaghe looked in defeating him that possibly warrants a look at Hopkins place, but more how abjectly awful Hopkins himself was. I think he will be stopped by Pavlik in spectacular fashion and whilst he is undisputedly a Hall of Famer... I don't think he can be considered a pound for pounder especially when you look at some of the guys you have left out. As for Ricky Hatton, again great fighter, but is he better than some of the guys not on the list? Watching Ivan Calderon box his last contest was a master class in the sweet science. He is a brilliant fighter who, OK, does not knock them all out but neither did Sweet Pea Pernell Whitaker and it didn't disparage his talents. Hatton it can be argued still deserves a place but if David Haye looks good in his next outing can he still be considered below the Hitman?

CLIVE BERNATH ANSWERS: Hi Thomas. I hear you on this but decided to keep Hopkins in on the strength of his showing against Calzaghe. We could well see the P4P list change quite a bit between now and Christmas. I very nearly crept in Calderon and Christian Mijares last month. I'd be interested in your opinion after both the Hatton and Calzaghe fights on the P4P rating. I think David Haye has a long way to go before he is a P4P top 10 fighter. Let's be honest, we don't know if he can compete at heavyweight yet. And let's not forget, he had life and death with an out of condition Jean Marc Mormeck.

GREG JUCKETT ANSWERS: Thomas, I'm okay with our P4P ratings. Hopkins still belongs based on his win over Pavlik and if Hatton beats Paul Malignaggi, there's no reason not to keep the Hitman on the list.

PAUL UPHAM ANSWERS: It seems our Editor-in-Chief's gut feeling last week was right after Bernard Hopkins' impressive win over Kelly Pavlik yesterday.

MICHAEL NORBY ANSWERS: I hate pound for pound lists, Thomas and whilst, by and large, the SecondsOut rankings are solid, it is difficult to disagree with your alternatives.

Name : Danny Johnson
Country : Australia
Your Question :
Regarding Ricky Hatton and his desire to face any one of either Floyd Mayweather Jr, Oscar De La Hoya or Manny Pacquiao in his final career fight at Wembley Stadium in front of his adoring home crowd of fellow pommies. I wish Hatton the best of British luck if he thinks he will ever have his wish granted. Oscar De La Hoya, put simply, commands too much money in the United States to even consider such an offer, Floyd Mayweather Jr. would want a better opponent than Hatton could ever be against which to come out of retirement and Manny Pacquiao is headed for bigger and better things as well. I just can't understand where Hatton gets off making such ridiculous requests, especially when you consider that Mayweather has already taken him to the cleaners once and would very likely do the same again, no matter if it was in the United States, Britain or even Afghanistan.

GREG JUCKETT ANSWERS: Danny, I agree, Hatton won't get De La Hoya, Pacquiao or Mayweather to fight him a Wembley, but should Hatton beat Malignaggi, it would be cool to see Hatton have a huge fight at Wembley. The big question is what opponent can make it happen?

PAUL UPHAM ANSWERS: You always got to dream for the stars. Nothing wrong with that. Hatton's problem at the moment is dealing with Paulie Malignaggi and winning that fight and looking good doing it. That match could be very ugly to watch. No way Hatton gets Mayweather or De La Hoya to the UK. A Hatton-Pacquiao match could happen, but Hatton would have to open the purse strings and dump a phenomenal amount of money in Pacquiao's front yard. Say, 28 tipper trucks full.

MICHAEL NORBY ANSWERS: I agree, Danny. In fact, I would make Hatton only a slight favourite to prevail over Malignaggi next month, so this may not matter anyway. I think Mayweather is just waiting for De La Hoya to get a little older and if Pacquiao gets taken to the cleaners by the Golden Boy he'll take his check and go back to fighting lightweights. Timothy Bradley or the Torres-Holt rubber match winner are possibilities for the Hitman or maybe a rematch with Malignaggi if their fight merits one.

Name : Pieter Cronje
Country : South Africa
Your Question :
I was always disappointed that there wasn't a Marvin Hagler-Tommy Hearns rematch in the 1980's. Which fights of your time would you have loved to see a rematch of?

CLIVE BERNATH ANSWERS: Hagler vs. Hearns for sure, Pieter. The greatest three rounds ever for me.

GREG JUCKETT ANSWERS: Pieter, I would have liked to have seen Hagler and Leonard do it again and I would have enjoyed seeing Lennox Lewis take on Vitali Klitschko again.

PAUL UPHAM ANSWERS: Roy Jones Jr vs. Bernard Hopkins 2 when they were both closer to their primes.

MICHAEL NORBY ANSWERS: Great question, Pieter and there are many. I would have loved to have seen a Hagler-Leonard rematch. Others, off the top of my head: Barry McGuigan vs. Steve Cruz (minus the 110 degree Caesar's Palace setting). Oscar De La Hoya vs. Felix Trinidad. Roy Jones Jr vs. James Toney and/or Bernard Hopkins.

Name : Tyson Campbell
Country : USA
Your Question :
There hasn't been much talk about it, but I think the November 15 battle between former Olympic team mates Jermain Taylor and Jeff Lacy should be pretty even. How do you see it going?

CLIVE BERNATH ANSWERS: I'd have to lean towards Taylor in a fight between two fighters past their best.

GREG JUCKETT ANSWERS: Tyson, I like Taylor against Lacy because Taylor has won big fights and Lacy tends to fold up under the spotlight. Taylor by unanimous decision.

PAUL UPHAM ANSWERS: You would think that Taylor would have the advantage going in, but here is the perfect fight for Lacy to lift up his career again. Jeff knows enough about Jermain to find his weaknesses in the ring.

MICHAEL NORBY ANSWERS: I've been worried with what I've seen from Lacy recently, Tyson. Even though he narrowly won, Lacy took a tremendous beating against Epifanio Mendoza last time out and he just doesn't look right. Calzaghe, it seems, beat the stuffing out of him and hasn't been the same since. The shoulder injury obviously did not help matters but he looks sluggish and vulnerable and I'll take Taylor to win – possibly by knockout in the middle rounds.

Name : Garry Ohare
Country : United Kingdom
Your Question :
James De Gale was quoted on the BBC when talking about turning pro that he is looking for a deal around £2million for a 2 year deal as "that is what an Olympic gold medallist should be looking for" This is the same situation as Audley Harrison! How can he deserve that kind of money before he has even dipped his feet in the pro ranks, surely after what's happened with Harrison and Khan, no promoter will take that sort of gamble with De Gale, being a gold medallist doesn't guarantee success in the pro ranks he needs to keep his feet on the ground and take note of what's happened to Audley Harrison.

CLIVE BERNATH ANSWERS: Garry, my thoughts exactly. Don't get me wrong, good luck to him if he can get that sort of money, but I would not hold my breath if were him. If I were a promoter there is no way I'd part with anywhere near that kind of money unless I was guaranteed the same amount and more from a broadcaster. Both Khan and Harrison are living proof that it takes far more than an Olympic medal to make it in the pro game.

GREG JUCKETT ANSWERS: Garry, I totally agree…proving it in the ring as an amateur and proving it in the ring as a pro, are two different animals.

PAUL UPHAM ANSWERS: Boxing is a business, not a sport. If we were in the same position, most likely we'd be trying to get the most money as well. History shows though that to get to the top in pro boxing, you have to forget about the money and concentrate on doing whatever it takes to develop as a fighter and win. Quite often that is easier said than done.

MICHAEL NORBY ANSWERS: Not a great sign from De Gale if he's making those demands, Garry. Look, boxing is maybe the most hazardous sport in the world and I'm all for fighters getting paid well. But, when you are just about to begin your professional career, why not focus on winning a few fights before you start with demands like two million quid from the Beeb.