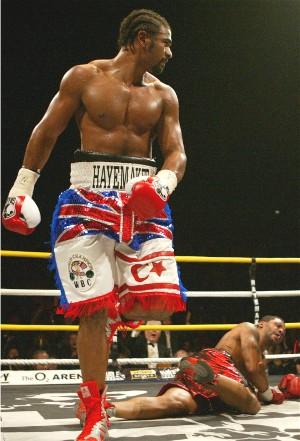 By Clive Bernath: I think it is fair to say that David Haye has well and truly become an annoying irritation to both Vitali and Wladimir Klitschko. In the beginning the giant Ukrainian brothers may well have been amused at the Londoner's attempt to goad them into the ring by unashamedly ridiculing them in public, in much the same way a young Cassius Clay did to Sonny Liston nearly 45 years ago. And just like Clay the 27 year-old Haye has now succeeded in talking himself into a fight.

Haye is scheduled to face WBC heavyweight king Vitali Klitschko at a London football stadium in June 2009. As I said the Klitschko's probably put pr stunts like chasing Wladimir up a set of escalators with a video camera and calling him out face to face as the actions of an enthusiastic young heavyweight contender at best. But when Haye confronted Vitali in a German restaurant and shoved a picture of him dressed up as one of the characters from the Reservoir Dogs film holding Wladimir's head, Vitali exploded and grabbed the Londoner by the scruff of the neck.

In my experience both Klitschko's have always conducted thenselves in a dignified and respectful manner regardless of the company they are in but Haye obviously touched a nerve and may just live to regret his actions.

A clearly fired up Klitschko was quoted as saying: "He(Haye) crossed the line. It is more than tasteless and he will be punished for it.

"I will do that without emotion in the ring. I will reply for my brother and Haye must pay for this photo.

"You know lots of people said that they would knock my brother and me out.
Klitschko added: "But it is well known what happened to them and the same would happen with Haye."

David Haye has masterfully engineered his path towards a crack at the heavyweight title far quicker than any other heavyweight contender in history, perhaps with the exception of Olympic champion Pete Rademacher, who was knocked out in six rounds by Floyd Patterson on his pro debut in 1957. Haye's relentless pursuit and public ridiculing has paid off handsomely but I just hope he does not live regret it.

December 16, 2008