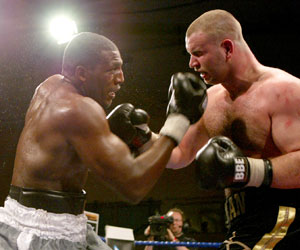 Greenberg (right) in action against Releford (Mr Will)

By Clive Bernath: Immediately After watching 23 year-old prospect Roman Greenberg soundly out-point decent American import Kendrick Releford over 10 rounds last weekend there seemed to be mixed views regarding the young heavyweight contender's performance, which led me to thinking, do we sometimes expect far too much of our young prospects too soon?

In the case of London based Russian, Greenberg, who has won all his 21 professional bouts, 14 inside, my opinion is that he was judged far too harshly after out-pointing Releford. For all the praise he received at ringside that night from various experts in the trade he was criticised by others in equal measure.

For those that did not see the fight live or broadcast on Sky Sports last Friday (Dec16) night Greenberg won by a clear 98-93, in other words eight rounds to two with one even.

In my opinion, Greenberg produced a solid and mature performance against an opponent who, was not only ranked much higher than himself in the independent world rankings but had also beaten some very good quality men stateside such as Cuban Eliecer Castillo and given other fighters like recent IBF title challenger DaVarryl Williamson decent tests. The 23 year-old from Texas was a live opponent and came to win but Greenberg ran out a handy winner so why the heavy criticism from some sections of the press and some hardened boxing fans? I agree Greenberg got caught a few times and he could have put a few more sustained combinations together but on the plus side I thought he controlled the tempo of the rounds out-punched a fellow counter puncher and produced some quality skills very seldom seen from the bigger men. I seem to remember a certain Lennox Lewis receiving similar criticism in his early career and look what he went on to achieve?

Young Amir Khan is another one. Many are saying that the 18 year-old is not a puncher and gets hit far too often. That may certainly be the case but he is still young, eager to impress and maybe that is why he is somewhat erratic at times. Khan will grow physically, get stronger and with experience, may become a force to be reckoned with.

In all intense and purposes both Greenberg and Khan have benefited from a great deal of publicity, we build up these young boxers and maybe we expect to see something very special immediately which is very seldom the case regardless of who the boxer is.

When I called Greenberg's promoter Robert Waterman earlier this week about his thoughts on the young heavyweight's performance against Releford, he said: "I know some people in the media were not impressed with Roman's performance against Releford but that's their opinion. Personally I was very pleased with the way he boxed. I have to tell you that after the fight I had a number of people from America call me up and say what a great win it was to have beaten Releford by such a wide points margin."

Maybe the press and pr machines are to blame, or that some of these young boxers like Khan for example get hundreds of thousands of pounds when they turn pro. Therefore we expect them to prove their worth right-away.

Whatever the reason I would like to know the opinions of you the readers/fans the ones that really matter. Please let me know your thoughts by either emailing boxingeditorial@secondsout.com or clicking on the Ask the Editor link below? Please supply your name and where you are from.

December 21, 2005.