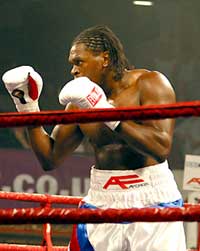 Is this now the end for Audley Harrison (pic Mr Will)

By Clive Bernath: How does that old saying go? 'its not over until the fat lady sings' well, the proverbial fat lady sang long loud and clear at the Agua Caliente Casino in Rancho Mirage, California on Friday night (April 14) when former Olympic super-heavyweight champion Audley Harrison was soundly out-pointed by one time American fringe title contender Dominick Guinn.

The 34 year-old London born southpaw was already on a very generous stay of execution after losing his unbeaten record to former world title challenger Danny Williams, via a split decision last December in a real stinker of a fight. Harrison knew he was in the last chance saloon after suffering such a career damaging defeat but he still failed to deliver and his career is surely all but officially over now.

Two successive defeats on points (especially heavyweight defeats) does not always spell the end of a fighter's career. After-all Guinn had only registered one win in five fights until schooling Harrison on Friday night. No, it all depends how you lose, who to and how you bounce back. In Guinn's case he had dropped points decisions to newly crowned WBO heavyweight champion Serguei Lyakhovich, top heavyweight contender James Toney and the top 10 rated Monte Barrett. Audley in comparison had lost a split decision against a very mediocre and out of shape former world title contender in the shape of Danny Williams and prior to that had not feasted on any opponent remotely near world class in his previous 20 fights.

As I said it all depends on how you bounce back from defeat and Guinn returned by clearly defeating the Sydney 2000 super-heavyweight champion on points over 10 by scores of 98-92 and 97-93 twice. I have not seen the Guinn vs Harrison fight as yet so cannot comment on Harrison's performance but I'm told Audley fought without any fire in his belly whatsoever until the 10th and final round. With that being the case It appears that he performed in much the same negative manner as he did when losing to Williams but more on that fight later.

So where did it all go wrong for 'Our Audley'?

Personally, and it is only my opinion, Audley's career was destined to fail from day one the moment he decided that he wanted to negotiate his own business affairs and become his own promoter, thus forming A Force Promotions.

I can remember sitting down one on one with Audley after a press conference at the RAF Museum near Hendon in west London in early 2001. The press conference and photo session was called to discuss his professional debut against American Mike Middleton. I can vividly remember him explaining how he was going to control his own career, be his own promoter and plan his own route to the world heavyweight title. 'Jump on the gravy train now because once we get going we aren't stopping," I recall I him echoing.

Harrison explained that Lennox Lewis, Oscar De La Hoya, Roy Jones and Naseem Hamed had all very successfully handled their own careers and if they could do it why couldn't he? I countered by reasoning that all of the above had established themselves as world champions before severing ties with their respective promoters. And even then they all had the foresight to retain experienced teams in an advisory capacity for a short while afterwards. It soon became pretty clear that although Audley surrounded himself with a somewhat experienced team in the shape of established promoter Jess Harding and manager Colin McMillan, it soon became obvious he and he only called the shots. How on earth he thought he could juggle the day to day running of a promotional business and concentrate on becoming a genuine contender for the heavyweight championship of the world is beyond me.

All the press conferences from day one right through to his 16th fight against Julius Francis seemed to follow the same regimental pattern. Audley would arrive at least half an hour late, complete with his 'superstar' sunglasses, bright red Cantor Sport tracksuit and fully expect the superstar treatment even though he had done absolutely nothing to earn it since winning the Olympic Gold in September 2000. And every press conference also followed the same un-imaginary stance. 'Believe me I'll follow the path to the heavyweight championship of the world my way', he would insist. But by the time he fought Tomaz Bonin, which was his 17th pro fight it became increasingly obvious that all the behind the scenes negotiations with his paymasters, namely the BBC and the ongoing public verbal sparring with rival promoter Frank Warren, was beginning to take its toll. There was even rumour he suffered a minor breakdown a few days before the Bonin fight. Anyway, there seemed to be a plausible reason for the poor showing on that particular night.

Then following a couple of stoppage wins over half decent American opposition in Robert Davis (rsf 4) and Robert Wiggins (rsf 7) in mid 2005 the ever self confident and self hyped 'A Force' faced his toughest test when challenging fellow Londoner Danny Williams for the vacant Commonwealth heavyweight title. I for one always felt Audley would come good as he stepped up in class but how wrong one can be.

Williams vs Harrison was rightly hyped as the most eagerly awaited domestic heavyweight clash since Frank Bruno challenged Lennox Lewis for the heavyweight title in 1993 and tickets for the clash were snapped up very quickly. The stage was set for a real barnstormer. We knew Danny was not the same fighter that smashed up Mike Tyson the previous year but we knew for sure his incredible fighting heart and solid chin was always going to be a match for the cocky untested contender. As it turned out to cut a long story short an admittedly out of shape Danny Williams clinched a split decision win over a severely over hyped and under performing challenger. The defeat was all the more humiliating for Harrison because he constantly boasted for years how superior his skills were compared to other domestic heavyweights, especially Danny. Never before has a British fighter promised so much but delivered so little.

In a recent press release Audley insisted the performance against Danny Williams was a one off and that he had a lot to prove. Unfortunately he produced yet another equally negative performance and it is now very doubtful indeed that he will ever become a legitimate heavyweight title contender let alone a world champion.

When Audley returned from the Sydney 2000 Games with that priceless piece of Gold round his neck his legacy and financial riches seemed assured. He may have received the riches, reportedly estimated at around £2 million but because of the constant arrogant boasts and the disastrous way in which he manoeuvred his professional career, I fear that legacy may have been severely damaged beyond repair as soon Dominick Guinn's hand was raised on Friday night.

April 14, 2006.