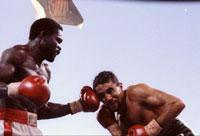 By Clive Bernath: It is difficult to even begin to understand why two middle aged boxing legends would even contemplate fighting each other again for a third time 17 years after they first fought. But that is exactly what 43 year-old Jeff Fenech and 49 year-old Azumah Nelson will be doing when they face each other in a bout at the Melbourne Vodafone Arena on June 24.

Both men are arguably the most famous boxing icons ever to lace on a pair of boxing gloves in their respective country's, Fenech in Australia and Nelson, his native Ghana. When they first met in a super-featherweight bout for Nelson's WBC crown at the Mirage Hotel and Casino in Las Vegas on June 28, 1991, the bout was judged a draw, though the then 27 year-old Fenech has always insisted he did enough to take the title.

Nine months later at the Princes Park Football Club in Melbourne, the pair fought again but this time Nelson emerged victorious by virtue of an eighth round tko win in another tough and memorable battle.

Defeat for the young Australian was indeed a huge setback to say the least but to lose his unbeaten record and in front of his home fans still haunts him to this day.

Redemption, revenge, call it what you like but Fenech is adamant he will set the record straight and finally lay his demons to rest. At the first of three planned press conferences in Melbourne yesterday Fenech insisted that come June 24th he will claim the victory he feels he was robbed of in their first meeting in Las Vegas.



Whilst I feel the 'Marrickville Mauler' decision to make a comeback 12 years after he last fought to face Nelson is partly fueled by revenge and redemption my esteemed and respected Australian colleague Paul Upham insists it is Jeff's fighting spirit that drives him on .

"Jeff is a fighting man and he loves to fight," insists Upham. " It's what he loves to do. Azumah is the same, they both love the rivalry, the competition."

Many boxing writers outside of Australia have dismissed Fenech vs Nelson as no more than a sideshow between two once great fighters but Upham is not of that opinion. " This fight is massive over here(Australia)," said Upham. "The Australian people are really getting behind Jeff for this fight because they really feel he was robbed in his first fight with Nelson and he deserves to have the opportunity to put the record straight.

"And if you think Fenech and Nelson will not in their best condition your wrong because both are very proud men and very competitive men. Jeff always keeps himself in shape and will be as fit as any 43 year-old whereas Nelson was already in training for a fight with Julio Cesar Chavez. Nelson has even said after he knocks out Jeff he will take on Chavez.

"The other thing is this fight is expected to out sell the Mundine vs Soliman fight at the same arena a month before in both pay per view sales and live gate. Look, neither man is in their prime, thats obvious and we don't know what to expect but it looks like the Australian people are right behind this fight.".

May 13, 2008