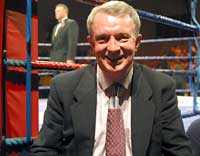 Tommy Gilmour jr at a recent show (Pic Mr Will)

By Clive Bernath: Chris Gilmour, the son of top Scottish Boxing promoter and manager Tommy Gilmour, is to become the fourth generation Gilmour to take out a licence with the British Boxing Board of Control.

Chris, 31, who applies for his promoter's licence on April 5, follows father Tommy jr, grandfather Tommy Snr and great grandfather Jim in continuing the family boxing legacy that stretches back 75 years. Chris will work independently of his father and hopes to stage his first show before the end of the current boxing season in June.

Chris, 31, said: "If the BBBoC grants me a promoter's licence it will be an extremely proud moment for me and the Gilmour family.

"The Gilmour name has been synonymous with professional boxing since the BBBoC was formed in 1929, so I have a lot to live up to. But I'm looking forward to it and can't wait to promote my first show.

"There are a number of outstanding prospects in Scotland and my aim is to give them another platform from which to showcase their talents."

Jim Gilmour was a founding licence holder of the BBBoC and promoted at venues such as Firhill, Cathkin Park and the famous Premierland in Bridgeton during a glittering career stretching over five decades.

His son, Tommy Snr, was recognised as one of the world's leading managers during the 1940s, 1950s, 1960s and 1970s, managing boxing legends such as Bert Gilroy, Jake Kilrain, Charlie Hill, Peter Keenan, Jackie Brown and Chic Calderwood.

Tommy Gilmour Jnr, who will celebrate his 35th year as a BBBoC licence holder on April 7, has promoted in his own right since the mid-1970s. Since taking over the St Andrew's Sporting Club in 1986, he has cemented its position as one of Britain's leading boxing venues, promoting shows once a month.

Tommy Jnr said: "For four generations of one family to have been involved at the highest level must be a first for boxing and is probably a milestone in any sport.

"I will be there to give Chris the benefit of my experience whenever he needs it, but we won't be promoting jointly as he needs to learn on his own and there's only room for one boss!"

Young Chris seems to be perfectly qualified for the job, having worked behind the scenes for his father in the past and also worked as a sports journalist for a national newspaper.

April 3, 2005.