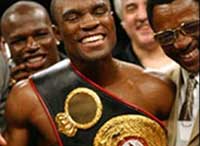 By Clive Bernath: The war of words surrounding the on/off WBA light-welterweight title clash between American champion Vivian Harris and Manchester favourite Ricky Hatton is still very much a topic of conversation on both sides of the Atlantic.

Only last week Harris' promoter Kathy Duva of Main Events vented her anger publicly at Hatton's promoter Frank Warren for agreeing to pay Harris $750,000 then reneging on the deal a few days later and asking Harris to accept 25% less than the original sum.

Warren then agreed to stump up the $750,000 despite losing out on crucial American TV money. But Harris again refused to accept the offer because he was not happy with his net percentage of the purse or that Hatton and other parties involved were, according to him, earning vastly more than he was.

In an open letter from Harris to the press, the WBA champion argues that if he were to take the Hatton fight he would only end up with between $100,000 and $200,000 as the remaining $550,000 would be swallowed up with training expenses, taxes, promotional, manager and trainers fees.

If that is the case Harris would only pick up around 30% of the agreed amount to face Hatton and that of course is not right and I fully understand why Harris has refused to take the fight. It has also been reported elsewhere on the world wide web that Harris is claiming his promoters Main Events would be entitled to 30% of his purse, which is around $225,000. Whilst I sympathise with Harris's plight he is the one that presumably signed a contract to that effect in the first place so he only has himself to blame. Furthermore Warren's offer of $750,000 is a very fair one for the fighter and title involved. Harris contractual arrangements are not Warren's or Hatton's problem.

So it does look like once again that Hatton is to miss out on his defining fight, for the time being at least. There are good quality men, however that would be happy to step in for much less money and would guarantee Hatton a genuine test, a test that would be more than acceptable to knowledge British boxing fans keen to see 'The Hitman' tested to the limit. Ray Oliveira from New Bedford, Massachusetts, Australian based African Lovemore Ndou and our own Junior Witter are just three very qualified names willing to face Hatton at short notice. Witter I'm told would face Hatton for around £150,000.

Who knows who will finally be put in front of Hatton next time out but one thing is for sure, it MUST be a genuine top 10 rated fighter, nothing else will suffice.

August 5, 2004.