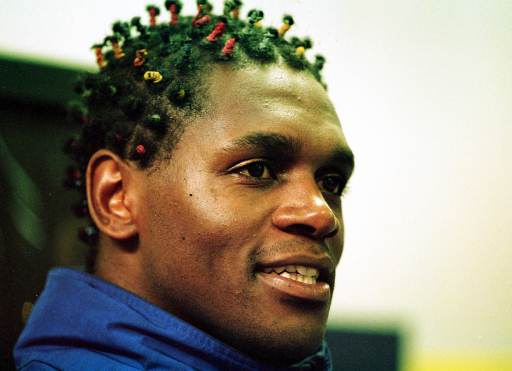 Audley promised so much after landing the Gold medal in Sydney

By Clive Bernath: Following Audley Harrison's embarrassingly dismal display in losing a split 12 round decision to Danny Williams on Saturday night, the 34 year-old former Olympic champion has vowed to carry on and fulfil his ambition of becoming the heavyweight champion of the world.

Even though he had just lost a close decision to a past his best and mediocre Danny Williams in one of the worst domestic heavyweight title fights of the last 10 years Harrison immediately beamed himself back up to 'Planet Audley' picked up one of his all too familiar scripts and declared: "I will return."

"It would have been nice to have retired as a world champion at 36-0 but it's not written like that," reasoned Harrison. "Sometimes you have to take two steps back to take one forward. One loss is not the end of anyone's career. Danny and Frank Bruno have lost numerous times and come back. The idea is to be a man, look in the mirror and come back. I still believe I have the skill, ability, heart and fortitude to be heavyweight champion of the world and one day I will get the opportunity."

Well, Audley this writer was always prepared to give you the benefit of the doubt that one day you may prove your critics wrong but not anymore. I continually battled with fellow writers at press conferences that: 'we should get behind him he has the skills to go all the way.' Saturday night I'm afraid proved that there is more chance of finding life on Mars than Harrison winning the greatest prize in sport.

In the 36 minutes Harrison was in the ring he only produced two or three moments of neat and accurate counterpunching that looked anywhere impressive. For the rest of the time he ran scared, yes scared. Even from the first bell there was no sign of the solid right jab and neat little uppercuts previously seen against lesser opponents. No excuses, when it was time to 'step up to the plate' as he always used to say Audley failed miserably and no promoter in their right mind will want to pay him to perform like that again, nor I suspect will boxing fans want to shell out their hard earned to watch a boxer so reluctant to get stuck in. In 20 years of either attending boxing matches or writing about boxing I have never seen a boxer boast and promise so much but deliver so very little.

Harrison can go on and talk all he likes about Frank Bruno becoming world champ at the fourth attempt and Williams securing another title shot but the fact is that you have to be able/want to FIGHT. You must have the heart, dedication and the will to prevail. Bruno and Williams possess all of the above. They may not have won Olympic Gold or possess the natural skills of Harrison but both have proved their mettle on numerous occasions.

The other important factor is that both Frank Bruno and Danny Williams fully understand how important it is to work with the media instead of against them. To give an example Danny recently accepted an invitation from SecondsOut to attend an exhibition in Birmingham. He turned up as agreed at 2pm and never stopped signing autographs and posing for pictures for the next three hours until everyone had their own personal mementos of a memorable day. Danny even did an exhibition on the pads for 20 minutes. All this after driving over 100 miles up from London and when I asked how much I owed him for the expenses he just grinned and said 'don't be silly I'm only too happy to help, I did it for the fans'. The truth is Danny's a true man of the people so was Bruno, which was why Bruno was afforded so many opportunities at the title. It was as much because of his marketing ability as it was anything else.

Audley Harrison has never endeared himself to boxing fans or the sports media by continuingly boasting and parading around as though it is a given that he be respected as a great fighter in the making. The bottom line is that he will never gain the respect and adulation he so badly craves until he leaves 'Planet Audley' behind and comes back to earth.