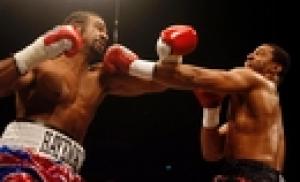 By Clive Bernath: Regardless of whether or not David Haye accomplishes his ambition of becoming heavyweight champion of the world no one can accuse him of not walking the walk after talking the talk. Ever since the 28 year-old former undefeated world cruiserweight champ relinquished his titles earlier this year he has boasted about blowing away all the 'fat out of shape heavyweights' and bringing some much needed recognition back to a division once regarded as the richest prize in sport.

Saturday night at the O2 Arena in London Haye went some way to backing up his boasts by knocking down American contender Monte Barrett fives times before detonating a massive 'Haymaker' after 1.28 of the fifth round to keep his world title ambitions very much alive.

Prior to Saturday night, the critics harboured reservations about Haye's ability to take a punch and with good reason. Afterall, he was floored by the light punching Lolenga Mock in September 2003 and ran out of steam after five action packed rounds when suffering his only defeat against Carl Thompson a year later. Even Haye himself was remarkably honest enough to admit he did not know whether he could withstand the onslaught of a legitimate heavyweight contender.

Ok, I must admit I was slightly disappointed with Barrett's performance. He looked very ponderous and desperately lunged in with telegraphed right hands that often missed by a country mile. Having said that he did find the target enough times to gain the Londoner's respect and make him realise that even taking a jab full in the face from some of these 'fat out of shape heavyweights' can be as damaging as being clobbered flush on the chin by a crisp cruiserweight right hand.




All that taken into account, maybe the reason Barrett looked so flat and ponderous at times was because Haye, despite putting on an extra 20lbs or so, retained both his speed and punching power in the early rounds. From the fourth round on ,though, Haye looked exhausted but by then, as so often with Haye's victims, Barrett was a spent force.

Prior to Saturday night the main talking point amongst boxing fans was, can Haye take a punch at heavyweight? Has Haye got a good enough engine to maintain a steady workrate over 12 hard rounds against the bigger men? Can David Haye become Britain's next heavyweight champion of the world?

For me the jury is still out but one question David Haye did answer Saturday night is-that he is as exciting as he is vulnerable and that makes him very much marketable. His style may not be a recipe for longevity but he really is a welcome addition to a division starved of charisma, raw natural power and unrelenting excitement. In short, 'The Haymaker', for the time being at least-is the most explosive one punch finisher since a certain Michael Gerard Tyson terrorised the division 15 years ago.

November 18, 2008