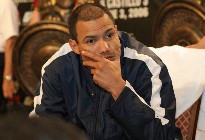 Castillo (pic Showtime/Casino)

By Clive Bernath: Hindsight is of course is a wonderful quality to have. Unfortunately most of us do not possess that attribute; if we did then maybe situations like the one Jose Luis Castillo found himself in on Friday afternoon could have been avoided.

For the half dozen or so boxing fans out there that are oblivious to what I'm referring to it is of course the fact that Castillo scaled nearly 5lbs over the limit for his eagerly awaited WBC lightweight trilogy against champion Diego Corrales, scheduled for the Thomas and Mack Center in Las Vegas Saturday night.

Maybe hindsight is not quite the word I'm looking for in this situation, maybe commonsense is the right word to use.

You see what I cannot understand is how a professional fighter of Castillo's experience and high profile could possibly be that far off making the weight for a world title fight. After all the 32 year-old Mexican has been fighting at the top level for six years now. Add to the fact that Castillo struggled badly and ultimately failed to make the 135lbs limit when the pair fought last October, then surely strict monitoring should have been put in place to ensure everyone concerned was not left with egg on their faces for a second time?

At the moment blame for Castillo not making the contracted weight of 135lbs is being laid firmly at the door of the fighter and his team and to a certain level I agree but I feel other parties involved must also share a certain amount of blame.

The way I see it is this. To stage Castillo vs Corrales III, taking into account fighters purses, tv production, venue costs, etc-probably amounts to at least $3 million in outgoings at least so why didn't either promoter Bob Arum, broadcaster Showtime or the Nevada State Athletic Commission, whose jurisdiction the fight was under, make a more asserted effort to monitor Castillo's weight?

In an article written by SecondOut contributing editor Paul Upham yesterday, Arum said on Saturday night: "When I saw him (Castillo) get on the scale and Keith Kizer weighed him and he weighed 140lbs, I was absolutely beside myself because I had been lied to. We had all been lied to. These people are absolutely nuts for what they did."

"He (Castillo) came into town on Monday and we put a calibrated scale in his suite at the Wynn Hotel. The report was that he weighed 139lbs. Thursday night, the night before the weigh-in, the report was that he went to bed at 137lbs. Naturally, you lose a pound sleeping, so to make 135 was easy."

Now I'm not sure if an employee of Arum's was in the room when Castillo check weighed or not I can only assume they were not. Surely, though, given Castillo's previous history in making 135lbs would it not have been wise for all concerned that official representation from the WBC, the Nevada State Athletic Commission and Arum's Top Rank, held a check weigh-in on the Monday Castillo arrived, then again on the Wednesday? Ok it would have taken a bit of organising for all parties to be in the same place at the same time but certainly no hardship.

At least if an official check weigh-in was held a decision to stage the fight or not could have been made there and then instead of all concerned having to endure the humiliation of a public weigh-in?

As I said hindsight is a wonderful asset to have and we don't live in an ideal world but all the signs and concerns were there for all to see. It is easy to blame the fighter and his team and ultimately it is there responsibility to make the contracted weight.

The WBC voiced their concerns in a letter to both Arum and the Nevada State Athletic Commission informing them that Castillo had broken the sanctioning bodies rules of being no more than 10% over the 135lbs weight limit 30 days out from the fight and no more than 5% over the weight limit seven days before the fight. Arum reportedly denied he had received such a letter.

Regardless, the damage is now done and boxing's reputation has again received a knockout blow. Maybe to guarantee this situation does not arise again ALL boxers involved in world title fights should be made to check weigh-in the presence of officials of the relevant commission, the promoters and tv network. That way all concerned would be kept up to speed as to whether or not one particular boxing is struggling to make weight.

June 5, 2006.