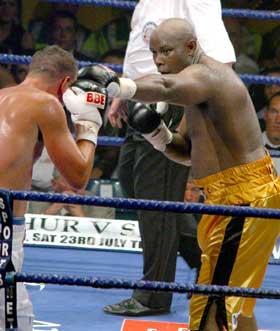 Matt Skelton

By Clive Bernath: When British heavyweight Matt Skelton turned professional in September 2002 at the age of 34 who would have imagined he would win three major titles and fight for the heavyweight championship of the world?

On Friday night at the grand old age of 41 the former mixed martial arts fighter claimed the vacant European heavyweight title to add to the Commonwealth crown and the British title he won previously.

To make the Peterborough based fighter's achievement all the more remarkable, Skelton claimed his latest title win in Milan, Italy against and Italian fighter, Paolo Vidoz. The former Olympic bronze medallist retired on his stool at the end of the eighth round.

Up until then Vidoz was reportedly holding his own until suddenly running out of steam and looking decidedly defeated. But then that's what Skelton does? He may be slow and lack the basic fundamental skills of a professional boxer but he is immensely strong, physically and gradually walks you down. In Short , the man breaks your heart.

Matt himself will readily admit he is not the most skilful of fighters but his crude, lumbering style has netted him three major titles and allowed him to amass a very respectable record of 22 wins, 19 ko's and just two defeats. Those two defeats by the way came via a split decision over 12 against Danny Williams, later avenged- and a 12 round loss to the undefeated Ruslan Chagaev for the WBA heavyweight crown in Dusseldorf, Germany in January of this year.

Matt Skelton may not be pretty to watch, a promoters dream or possess the silky skills of a highly polished professional but he gets the job done- three major title belts around his mid-section is testament to that.

December 22, 2008