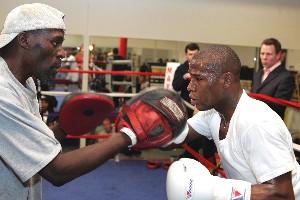 Roger and Floyd Maywather on the pads

By Clive Bernath: Floyd Mayweather Jr wants the world to know that he is ready to sign the contract to face Manny Pacquiao on May 5, 2012 to decide who is the best pound for pound fighter in the world, providing he agree to various drug testing procedures.

Mayweather has a May 5 Live HBO date allocated and has made it clear he wants 'Pac Man' to be the man in the opposing corner

"I told him [Pacquiao] May 5 is open. Now you know me, to all the fans - May 5 is the date. Sign the contract!" Mayweather told FightHype.com. "I'm waiting. Now I can't be sitting waiting all day, now. You want a fight, let's make it happen.

"I'm here. I'm waiting. What's going on? You said you a clean athlete and you said you would take the tests and all that. Well let's do it."

A Mayweather Vs Pacquiao is the obvious ppv money spinner and a fight rightly afforded genuine 'Superstar' status.



However, getting the two best pound for pound boxers in the same ring has proved pretty much impossible up til now. WBC light-middleweight champ Saul Alvarez, WBA light-welterweight king Amir Khan and Erik Morales have publicly announced they would relish a battle with Mayweather Jr on May 5 but his trainer and uncle Roger Mayweather would prefer his nephew to face tough Argentine battler Marcos Maidana.

"I think he [Floyd] could probably fight ... it would be a Maidana," said Mayweather. "The one who beat [Victor] Ortiz.

"I think that would be a better match than fighting a Morales. He's an aggressive type of fighter and he has a win over a major fighter."

November 28, 2011