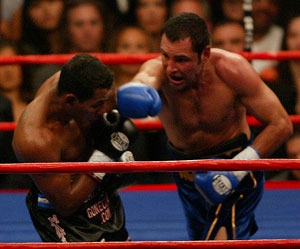 De La Hoya(right) destroyed Mayorga last time out (Hogan photos)

By Clive Bernath: According to media reports two of the best pound for pound boxers in the world today, Oscar De La Hoya and 'Pretty Boy' Floyd Mayweather, are set to clash in a $35 million dollar boxing extravaganza in Las Vegas on May 5.

I say boxing extravaganza because the clash between two of boxing's modern day greats is not only guaranteed to be an exciting evenly matched battle but history will almost certainly be made and records broken.

The fight will be made at 154lbs with De La Hoya's WBC junior-middleweight crown at stake.

Pound for Pound king Mayweather, produced a masterful performance in completely out-boxing Argentine tough guy Carlos Baldomir two weeks ago to claim the WBC welterweight crown while 33 year-old De La Hoya battered the equally tough Ricardo Mayorga inside six rounds to win the WBC junior-middleweight belt back in May.

If the old adage 'your only as good as your last fight' is any indication then boxing fans around the world could be treated to what could turn out to be the fight of the decade and one that will be remembered for many years to come.

According to unconfirmed reports De La Hoya will receive the lion's share of around $25million while Mayweather has settled for between $10 and $12. Those figures, presumably do not include a cut of the PPV revenue.

As far as history is concerned Mayweather will be looking to secure a world title at his fifth weight, having already been crowned champ at super-featherweight, lightweight, junior-welterweight and most recently at welterweight. As for De La Hoya, he is a six weight champion by virtue of title wins at super-featherweight, lightweight, junior-welterweight, welterweight, junior-middleweight and middleweight.

Pay Per View buys for the 'Fight of the Year' are also set to be smashed and break any existing record buys outside of the heavyweight division. It may seem as though Mayweather has settled for a significantly less financial reward to face the 'Golden Boy' but when you consider De La Hoya vs Mayorga registered 925,000 ppv buys compared to 325,000 for Mayweather vs Baldomir then one can understand why.

But so what, the aforementioned will only grate on the enormous ego of Mayweather and the fact that his own father, Floyd Mayweather Snr, will be training Oscar to defeat him, will only enhance the interest in the build up to what must surely be the most eagerly awaited non heavyweight clash since Marvellous Marvin Hagler and Tommy Hearns staged the most exciting three rounds of boxing in Las Vegas 21 years ago.

November 13, 2006.