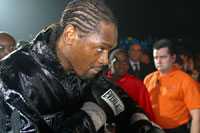 Harrison best of the bunch (Pic Mr Will)

By Clive Bernath: With the domestic boxing scene all but pretty much shut down for the next month or so now seems a good time to take a look at the British heavyweight scene and to analyze the potential and abilities of the top men in the glamour division.

Danny Williams, Matt Skelton, Michael Sprott, Audley Harrison and Roman Greenberg are clearly the top five in the division. There was a time when a legitimate UK based/born world heavyweight title contender was rarer than finding a snowball in the desert but now, with the heavyweight division being the most wide open it has ever been, we have five men that could all feature in title fights against either WBC champ Vitali Klitschko, IBF titleholder Chris Byrd or WBA king John Ruiz in the not so distant future.

All five and their respective management teams have aspirations of fighting for the richest prize in sport but out of the five who will get there first and who has the best chance of emulating the achievements of our greatest ever heavyweight Lennox Lewis?

Below are my own personal thoughts on the abilities of our top heavyweight hopes.

Danny Williams
What better place to start than Brixton's favourite son Danny Williams. Of course Danny has been there, done it and got the t-shirt. Who can forget his historic fourth round knockout win over the once feared Mike Tyson and his brave but painful eighth round defeat at the hands of Vitali Klitschko for the WBC crown in December 2004. Following such high profile fights one could easily have understood if Danny had chosen to retire, especially after having taken so much punishment against Klitschko, a fight that saw him hit the canvas four times.

But no, Danny insisted that he could regroup and was all set to face Matt Skelton for his old British and Commonwealth titles last month until his surprise withdrawal just hours before the fight in what was a make or break fight. A win would have put him in line for a crack at one of the three major titleholders but now it is difficult to see how the 32 year-old will resurrect his career.

After such a late pull out so close to ITV's debut broadcast and letting down his promoter Frank Warren, I'd be surprised if any other broadcaster or promoter in the UK would risk hiring him for a main event ever again.

Warren publicly stated after the Skelton pullout that he did not wish to promote Williams again. If that is the case Danny may have to go on the road and climb back up the rankings the hard way.

Williams is as talented as any of the five names featured in this article but to my mind has always blown hot and cold in the self confidence department. One thing he has never lacked though, even if Warren does disagree, is he has plenty of 'bottle'. I agreed with everything Warren said about Danny after the Skelton pullout but lacking 'bottle for a fight? You gotta be joking.

I for one would like to see Williams face Skelton. It is the only fight out there for either of them at this stage.

Matt Skelton
At the age of 38 and with only 17 professional fights (all wins) to his name Skelton is definitely the oldest 'prospect' in town. What he has achieved in less than three years as a professional is nothing short of remarkable and goes to prove that when you have a very experienced promotional team behind you it can make all the difference.

Skelton is the British and Commonwealth champion, having beaten Michael Sprott by 12th round knockout in April 2004. Skelton, for me, is arguably the weakest of the five names featured. Ok he has beaten Sprott once but the Reading fighter has since redeemed himself with an impressive win in Germany and will now challenge Italian Paolo Vidoz for the European title on October 1.

Another reason I say Skelton is the weakest of the five is because though he is an immensely strong brawler type that is both dangerous and awkward at the same time, a step up to European level could see his inexperience exposed. Skelton has come a long long way in a very short space of time but quite what direction his management will take him in I'm not sure. Time is running out, maybe it is time to let him loose against one of the heavyweight prospects stateside and see what happens?

Audley Harrison
For me Audley is the best of the five at the present time but also the most disappointing. The undefeated Olympic super-heavyweight champion from the Sydney 2000 Games is currently 18-0-(13), and progressing at a snail's pace partly due to injury but mainly because he insists on doing things his way and it has cost big time up to now. Audley's rivals from the 2000 Games Samuel Peter and Paolo Vidoz are much further down the line, Peter is impressing the Americans with his all action style and eagerness to fight the best while Vidoz in the European champion. Audley in comparison is still talking a good fight but so far has not delivered. On September 24 Peter takes on former WBO heavyweight champion Wladimir Klitschko in an IBF title eliminator while Audley treads water by taking on 36 year-old fellow southpaw Robert Wiggins.

Harrison's biggest mistake was trying to promote himself. He argued long and hard with the media about how Oscar De La Hoya, Roy Jones Jr and Lennox Lewis successfully promoted and guided there own careers but what he failed to realise was all the aforementioned were established world champions at the time and all employed a very experienced team whilst going it alone.

All of that said I still believe Audley can battle his was way to the heavyweight title. He certainly has the skills and is incredibly light on his feet for such a big man. The fact that he has hooked up with promoter Dan Goossen is also very significant. Goossen knows the business as well as anyone. If Audley is prepared to take advise from Goossen and work with another certain larger than life promoter then there is no reason why he cannot challenge for one of the three major titles within 18 months

Michael Sprott
Despite his loss to Matt Skelton you can never write off Michael Sprott. Each time he has lost the Reading puncher has bounced back in impressive style. The 30 year-old from Reading has won and lost to both Danny Williams and the useful German Timo Hoffman as well as former WBO heavyweight champion Cory Sanders and Skelton. But Sprott is like a cat with nine lives and he proved it yet again back in April when he went over to Germany to impressively out-point the previously undefeated Gengiz Koc to win the vacant European Community title.

So Sprott's career is back on track and on October 1 he travels back to Germany to challenge Italian Paolo Vidoz for the full European title. If successful he must defend against Koc within 90 days then if he wins again a world top 10 rating beckons and the possibility of a crack at one of the world titles. Sprott is certainly capable of pulling of wins against both Vidoz and Koc, even in Germany.

Sprott has been a pro now for nines years. His main strengths are his fitness and heart but he is also a deceptively good boxer when he puts his mind to it but like Danny Williams Sprott does not always believe in his own ability. Of the five Sprott could be the one that will get a world title opportunity first. If he can win and keep the European title I'm sure his promoters Sports Network will try everything to get their man a crack at one of the titles.

Roman Greenberg
Of the five Greenberg is the work in progress. He is by far the youngest at 23 years old and in time as he matures and gains experience I believe will be best of the lot. Greenberg passed his toughest test a couple of weeks ago, out-pointing the tall 6ft 6 18st Frenchman Mamadou Sacko. Greenberg is now 20-0-(14), but has not yet fought at the standard of the other four. That I'm told is now about to change. Jim Evans, who trains both Greenberg and Michael Sprott, tells me that Roman will have a couple of months off then be stepped up to the next level in October or November. In Greenberg's defence he has said many times that he would relish the chance of facing either Danny Williams or Matt Skelton. The young prospect has wanted to step up in class for a while now but wisely his management team of Evans and Robert Waterman have resisted his demands until now.

The thing that separates Greenberg from many of the other prospects is he has both fast hands and excellent footwork as well as a good boxing brain. He has the ability to glide in and out of range at will and also possesses decent power in both hands, especially the left jab.

So there we have it five top domestic heavyweights, all with different styles and at different stages of their careers but all with the same ultimate goal-to become heavyweight champion of the world.

Who do you think is the best of the five heavyweights mentioned? Or maybe I've missed someone out. Please email your opinions together with your full name and where you are from? to Editor in Chief Clive Bernath at boxingeditorial@secondsout.com and I will print the best replies.

August 4, 2005.