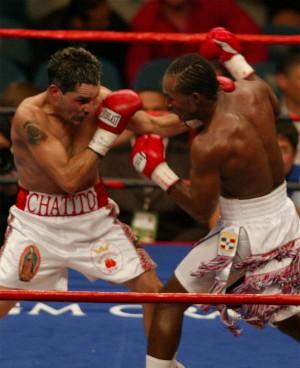 Javier Jauregui, left vs. Joan Guzman: HoganPhotos.com

By Derek Bonnett: No professional fighter likes to lose. Even trialhorse competitors like Peter Buckley, 31-253-11 (8), and Anthony Ivory, 31-78-5 (12), have to feel a lot better about a victory than even their bravest defeat. So, former lightweight world champion Javier Jauregui, 53-16-2 (36), didn't get any pleasure from hearing the three judges of his Friday night bout against Kid Diamond label him a majority decision loser (95-95, 94-96, 93-97) to the fringe lightweight contender.

Jauregui seemed to dominate Kid Diamond over the first four rounds without much resistance and landed his right hand at will. As the fight progressed, he seemed to only give away three or four of the late rounds at best. In speaking with Jauregui's manager, Charlie Perez, this reporter found the team echoed this sentiment as well.

"Yes, we were very disappointed by the way the decision went. We thought we won the fight seven to three, losing the seventh, eighth and ninth rounds," Perez acknowledged. "We don't know what the judges were looking at and we don't understand how they came up with those scores. I think Kid Diamond got the home town decision."

Although a native of Kyrgyzstan, Kid Diamond, or Almazbek Raiymkulov (his birth name), does in fact make his home in Las Vegas, Nevada. The bout was televised live by Telefutura from Buffalo Bill's Star Arena in Primm, Nevada. Also, this is not the first time Kid Diamond has found himself on the receiving end of a favorable decision. Just last year, he was seemingly outworked over 12 rounds against Miguel Angel Huerta in Rochester, New York and also walked away with a split decision victory.

Jauregui has now lost two consecutive bouts in 2008, but against Kid Diamond he showed the same resilience and desire to win as he did in upsetting Adrian Mora and Miguel Angel Huerta in his previous two outings. Against Kid Diamond, Jauregui did not look like a fighter in his final days.

Perez confirmed as much in stating, "Well, as far as Javier's career is concerned, he's not ready to throw in the towel yet. He still has plenty of fight left as everyone saw during this fight. He says he's going to take a short break and see what's offered to him. [However,] he wants me to make it clear that he's not just continuing to fight on just to make a few dollars; he wants to be world champion again and that's what motivates him to train harder than ever for each and every fight that he takes on."

That dream has been set back considerably over the last two months by Anthony Peterson, legitimately, and by the judges of the Kid Diamond fight. However, the lightweight division has experienced a major shake up in the last few months with the defeats of ranked contenders Zahir Raheem, Amir Khan, Michael Katsidis, and Jose Armando Santa Cruz. The former owner of the mythical linear lightweight championship, Joel Casamayor, also tasted of defeat in the last couple of weeks. So, just maybe, another big name fight looms for Jauregui.

In closing, Jauregui offered an observation about the sport of boxing that holds some credibility.

"[S]ometimes it seems that judges, over the years, decide when its time for fighter to retire and make way for the younger guys. It seems that they decide they're going to retire him by not letting him win a fight and that's what I think happened to me this time."

Each year it becomes more and more painfully obvious that we cannot seem to correct the injustice of bad scoring in the sport of boxing. However, the boxers can respond in one fashion and that is to fight. To keep on fighting, fighting, fighting, in the hopes they can shine off some of the tarnish and residue left behind by unjust officials, who have done the most to mar the beauty of professional prizefighting.