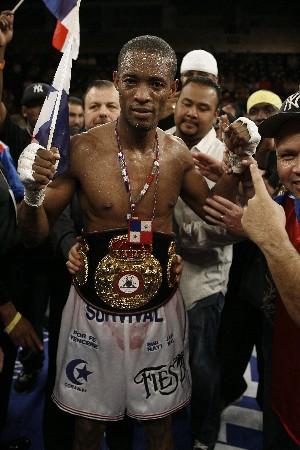 Caballero with his world title: HoganPhotos.com

By Derek Bonnett

Ethnocentrism often gets the best of us in the sporting world and the realm of professional fisticuffs is not subject to exclusion from our cultural biases. Culture is an important characteristic to many and it's that much easier to identify with a certain participant because he is, in some sense, like oneself. In fact, it's natural to favor a certain boxer because he hails from your neighborhood, city, state, or country, since you likely have greater exposure to that particular boxer.

In what I hope to be the first of many analyses, this piece will focus on four of the best fighters of one particular nation in an effort to expose both the common fan and the enthusiast to a fighter or two which he is not familiar with. My first subject will be the Republic of Panama.

Panama is the southernmost nation in Central America and geographically connects the two Americas together. Incidentally, the nation that has sprouted such ring legends as Ismail Laguna, Eusebio Pedroza, Panama Al Brown, and Roberto Duran, calls its currency the balboa. Panama's boxing history is a rich one and it still offers some very promising names in the sport today.

4) Anselmo "Chemito" Moreno is a twenty-two year old bantamweight contender with a professional dossier of, 21-1-1 (8). Both blemishes on Moreno's record occurred within his first year as a professional back in 2002. His four round split decision defeat to Ricardo Molina was later avenged twice (KO9, W10).

His most significant work in the division is a unanimous decision victory over former world super flyweight champion Felix Machado and a surprise first round KO of the usually durable Ricardo Vargas, who had gone the twelve-round distance with Silence Mabuza and Rafael Marquez. These efforts have earned him a number one ranking by the WBA and number six spot in the eyes of the WBC.

Chemito is scheduled to receive his first title shot on May 31 against WBA bantamweight champion Wladimir Sidorenko, who has a knack for retaining his title on his home turf.

3) Roberto " La Arana" Vasquez lost his professional debut in 2001, but has since fought twenty-seven times in building a 26-2 (19) resume. The only other defeat on Vasquez' record came via narrow 12 round decision against Takefumi Sakata in enemy territory for the WBA flyweight title. Vasquez is a man without a clear division right now as he has fought between junior flyweight and bantamweight in that last three years.

Vasquez captured the vacant WBA light flyweight title by stopping Beibis Mendoza in 10 rounds back in 2005. In two of his title defenses he turned back the challenge of former world champions Jose Antonio Aguirre and Noel Arambulet. He also won the interim WBA flyweight title by defeating Takefumi Sakata by split decision in their first encounter. La Arana is currently ranked No.7 at 115 lbs.

At the moment, Vasquez doesn't have a scheduled bout on the horizon, but a rubber-match with Sakata at flyweight is a natural if he can shed a few pounds as Sakata still reigns as WBA champion.

2) Ricardo "Maestrito" Cordoba stands at 32-1-2 (21) and now campaigns in the 122lb. division after eight years as a professional. Like Vasquez, Cordoba knows the sting of not getting the verdict on enemy soil. Maestrito dropped a split decision in Thailand to the capable Poonsawat Kratingdaenggym and twice had to settle for draws with the aforementioned Wladimir Sidorenko in Germany in WBA bantamweight title bouts.

Cordoba handed recent featherweight world title challenger Roinet Caballero three consecutive losses in 2001. The highlight of Cordoba's career has been a lopsided unanimous decision over future WBA super bantamweight champion Celestino Caballero. Cordoba has returned to the 122 lb. class and is ranked in the No.2 spot for Caballero's title. He also holds a No.6 ranking by the WBC.

Cordoba, 25, weighed 120lbs for his May 7 victory over Franklin Solis (KO3) and could offer a stern challenge to any fighter between 118 and 122 if given the opportunity.

1) Celestino "Pelenchin" Caballero stands as the only reigning world champion from Panama at this time. He's also the senior man on this list at 31 and stands at a freakish 5'11" while still making 122 lbs. Besides his unanimous decision loss to Cordoba, Caballero was also stopped in three rounds to now featherweight contender Jose Rojas.

Since the 2004 loss to Cordoba, Caballero has won nine straight including major victories over Daniel Ponce De Leon, Jose Luis Valbuena, Yober Ortega, Somsak Sithchatchawal, and Jorge Lacierva. Caballero held the interim WBA title for two bouts before winning the definitive belt and notching three defenses.

Pelenchin is poised to meet former flyweight champion Lorenzo Parra on June 6 in the challenger's homeland of Venezuela. A possible rematch with WBO super bantamweight champion Daniel Ponce De Leon also looms according to the rumor mill.

Keep your eyes open for these four of Panama's best. It's conceivable that the proud Republic of Panama could sport four reigning world champions by this time next year if things line up right.

May 9, 2008