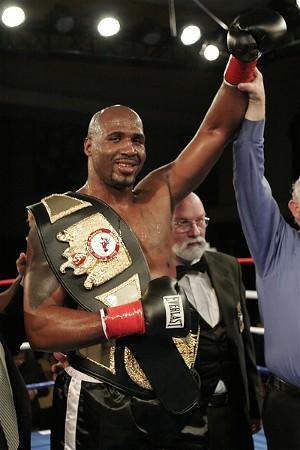 By Derek Bonnett: Travis "Freight Train" Walker travels around much more lightly these days. However, the extra weight he has shed is of a more figurative manner. Walker, 28, fell victim to one of 2007's most peculiar outcomes last October when his bout with TJ Wilson was stopped just 15 seconds into the opening round. The Houston resident appeared stunned, but remained standing and received very little time to respond. Just four months later (February 29, 2008), Walker exacted his revenge by stopping Wilson in two rounds to raise his record to 27-1-1 (21).
"He never considered the first Wilson [fight] a real loss because he knew he wasn't seriously hurt and never doubted that if the ref let the fight go on he would have stopped him," Stephen Munisteri, Walker's manager, explained. "However, the loss really ate at him and depressed him. He could think of little else but getting revenge. When he got it, he said a great burden [had been] lifted off his shoulders."

One characteristic that great fighters have shown us time and time again throughout history is the ability to avenge the blemishes on their dossier, even one as dubious as Walker's loss to Wilson. Walker is a long ways from greatness, but his willingness to meet Wilson again at least shows strong character.

Next up for Walker is Earl Ladson, a heavyweight trial horse who has faced a number of heavyweight hopefuls over the last several years, in a six-round affair at Graham Arena in Rochester, Minnesota on April 26. Ladson's record stands at 13-18-1 (7).


"[Travis] is a super hard-worker. He runs nine miles every day and is rarely out of the gym. Lately, he has been doing two-a-days and sparring with stable mate Raphael Butler," Munisteri described. "He plans to be aggressive early on since it's a six-rounder and work behind the jab."
Beyond the Ladson fight, Walker's future plans are uncertain. Munisteri insists he is networking right now and shopping around for top ten heavyweights to test his fighter against.

Munisteri also shared some thoughts about other heavyweight action which will likely surface in the next few months. His attention was brought to the Tony Thompson-Wladimir Klitschko bout scheduled for July.

"We all were very impressed with Thompson when he was in camp with us," said Munisteri. "We all believe he's seriously underrated and has legitimate shot at upset: however, we all believe Wlad is the best out there and he [should be] favored."

He seemed less certain about the imminent arrival of David Haye on the heavyweight scene.

"Haye's a talented guy, but the big unknown is how he does against bigger, stronger guys who hit as hard as or harder than he does. There's a huge difference between the cruiser and heavy division."

Continued progress combined with a little luck could land Walker a major bout with one of the three men mentioned above. However, he has his mind on the assignment in front of him right now and any deviation from that focus could lead him off the rails on his journey toward a heavyweight title fight.

April 22, 2008