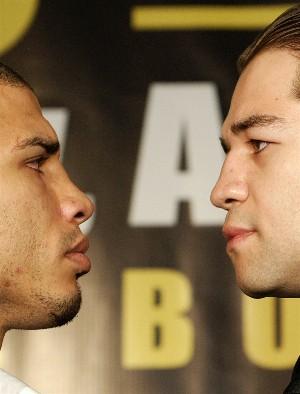 Cotto And Gomez Head To Head

By Derek Bonnett: A comprehensive defeat can do a lot as far as putting things into perspective for a professional prizefighter – even when that fighter was as big of an underdog as Alfonso Gomez was against Miguel Cotto in their WBA world championship bout on April 12 in Atlantic City.

Leading up to the bout, Gomez, now 18-4-2 (8), appeared confident and unimpressed by the atmosphere of his first world championship bout. Many experts even figured the tough guy from The Contender season one would be able to absorb what the champion had to offer and secure a moral victory by lasting the distance.

This was not the case.

However, the vanquished Gomez should not be written off as a fighter. Both Paulie Malinaggi and Carlos Quintana have rebounded nicely from their defeats to Cotto and both currently wear title belts around their waists. While their styles vary greatly from Gomez', he should not be denied the opportunity to rebuild.

"He was the Miguel Cotto I expected," Gomez conceded. "Strong, hard punching, in good shape. I was more surprised with what I put on the table. I expected more from me because I know I could have done so much more. I have to get back to the gym to fix some faults that I saw in the video of the fight. "

The disappointment of a wasted opportunity hangs heavily in Gomez' words. All the more, this leads me to suppose Alfonso was not just talking the talk before the bout; he truly believed in himself and that makes this defeat that much more difficult to swallow.


There is a bright side here. Alfonso Gomez now has big fight experience against a man who is arguably among the top five fighters in the world today; he fought for the world's welterweight title. Sometimes, defeat is just the thing to get the phone ringing in the management office. If you haven't been paying attention, there are a number of fighters at 147 in need of rebuilding or further establishing themselves. One or two just might underestimate Gomez, who won't be twenty-eight until this October.

"I'm sure if there is a good offer to get right back into the big pot, my team and I would take it. Whatever sounds right, we'll take," Gomez admitted. "But right now, I'm just taking a nice rest."

Rest he shall, but names like Cintron, Berto, and Chavez Jr. shouldn't be prevented from entering his thoughts as he ponders the next move.
Gomez also offered his thoughts about the upcoming rematch between Quintana and Paul Williams on June 7 at The Mohegan Sun in Connecticut.

"Well, coming from a loss, and thinking like a person who will come back from this loss, I think maybe Paul Williams learned a lesson and will develop a better plan."

Gomez closed with some words of advice and support for his friend Sergio Mora who will be meeting Vernon Forrest for a portion of the junior middleweight crown on the same June 7 card.

"Train hard, believe in yourself, and give it all you have. I believe he can do it and I'm rooting for him also."

Belief in oneself may not always be enough to become crowned a champion, but without it, one would never find himself with the opportunity to share the ring with one.

May 5, 2008