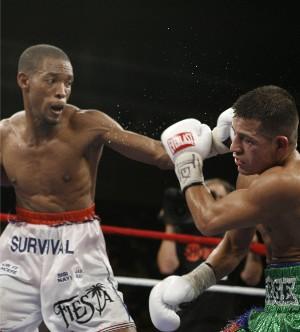 Caballero lands a left hook

By Derek Bonnett: With all the big boxing talk of the last couple of months being focused on Hopkins-Pavlik and Jones-Calzaghe, it appears as if the enthusiasts of the sport have completely forgotten about the super bantamweight unification bout between Celestino Caballero and Steve Molitor on November 21 at the Casino Rama in Rama, Ontario. Alongside of Marquez-Vazquez III and Margarito-Cotto, this could be one of the best match-ups of the year and is a truly underrated super fight.

Both Caballero and Molitor won their official title in 2006 (Caballero won the interim title in 2005), and has reeled off a string of five successful defenses. Both fighters are undoubtedly among the top five in their division and have good reason to arrive at the Casino Rama confident of victory. Neither man has captured the American audience like the top 122 pounder in their division, Israel Vazquez, but a victory in Ontario will certainly catapult either man into the position of number one contender for Vazquez' crown.

While Caballero, 30-2 (21), has faced the stiffer opposition in his career he has not looked like the man who defeated Daniel Ponce De Leon and Somsak Sithchatchawal in some time. It just might take the challenge of a Steve Molitor to bring that competitive spirit and elite level of performance from the Panamanian champion. Molitor, 28-0 (11), on the other hand, has faced a less experienced ensemble of challengers, but has appeared dominant and ready for a sterner challenger for some time. What more can boxing fans ask for?

Allan Tremblay, an integral part of the Molitor management team, feels timing has been an issue carefully plotted out for the Canadian champion's entire career.

"We are right on plan. We took a lot of heat for bringing [Molitor] along slowly, but this is a marathon not a sprint," Tremblay explained. "Furthermore, it was part of the plan to establish Steve as a "brand" in this country and build boxing in Ontario off off a series of title fights. We wanted to ensure that when we eventually went to the U.S.A it would be with two belts to give us the necessary clout in the marketplace to justify the move."

When asked what those future plans in the U.S.A. might entail, Tremblay was all business.

"As a team, we are totally focused on this contest. I don't want to look past Caballero and will address that issue after the fight."

The Canadian Kid also does not show any signs of regret for the pace at which his career has been handled. In fact, the champion can hardly contain himself when asked about the challenge that awaits him.

"Without a doubt [Caballero is my greatest challenge] and when I am challenged by the best, the best comes out in me," said Molitor. I am both physically and mentally 'good to go'. I don't want to give away my game plan, but I am well prepared for both his [height and reach] advantages."

The champion understands the advantage of a home court more than many other champions in the sport, but wasn't entirely against going to Panama for a chance to unify with Caballero.

"The money was the best here at Casino Rama," stated Molitor. "I was 'road warrior' for many years and won the title on the road, as you know. However, having rabid fans pulling you on can't hurt. This fight means everything to me. The recognition and the financial rewards that go with success speak for themselves."

Recognition and financial rewards are things both Steve "The Canadian Kid" Molitor and Celestino "Pelenchin" Caballero are long overdue. A win should lift the victor somewhere among the ranks of the top twenty in the sport pound for pound. More importantly, the outcome of this bout will provide Israel Vazquez with his most deserving challenger, including fighters with the last name of Marquez, and showcase one more reason why the 122 pound division has, in the opinion of many, surpassed the welterweights. The wait is almost over and now it's time for world boxing fans to take notice of this super fight.

November 18, 2008