Tough Test For Kirkland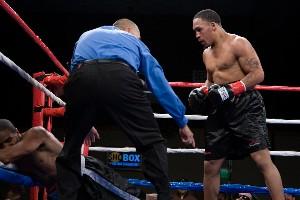 Kirkland Battles It Out With Conyers

By Derek Bonnett: On May 17, junior middleweight prospect James Kirkland will put his 21-0 (18) record on the line against his most formidable opponent to date at the Buffalo Bills Hotel in Nevada. Eromosele Albert, 21-1 (10), will play the role of the underdog, but the Nigerian fighter is surely a live one against the less experienced Kirkland.

Kirkland's recent outings against Allen Conyers and Mohammed Said have been impressive displays of power (KO 1, KO 2), but the Austin, Texas native will need to tighten his defense if he is going to find success in the higher rungs of the division. Albert is no puncher, but he has been able to find his openings and land effectively on other less defensive minded fighters like Yory Boy Campas and Daniel Edouard (W10, KO7) in his most recent efforts.

Kirkland's trainer Ann Wolfe feels he may be in the best shape of his career for this showdown and made sure to bring in the toughest sparring partners available to prepare for Albert.

"James is a pressure fighter. He's working on smart aggression, pressure without getting hit," explained Wolfe. "Eromosele Albert is a really terrific fighter and James and I have all the respect in the world for him. We know James has to be the best he's ever been."

Respect is a key ingredient for success in the sport of boxing. The sport's history contains too many young prospects that believed too much in their own hype and paid the consequences at key junctures in their careers. A win on May 17 should elevate Kirkland into the top 10 on everyone's rankings. It should also provide him with more rounds and take him into deeper waters than he's seen to date. A defeat puts him back to the drawing board with the likes of recently upset Andy Lee and James McGirt, Jr.


James has made mistakes before. In his last outing an overconfident and excited Kirkland tasted canvas for the first time against Conyers. Fortunately, the 24 year old Kirkland regained his composure and finished his man later in the very first round.

"James learned a lot in that fight," recalled Wolfe. "Conyers kept talking to James before the fight and James is a real tough guy; he don't back down from nobody. That's just James. So, he just rushed out there and jumped on the guy and got caught. He wasn't hurt, just surprised. James learned a lot about patience and controlling his temper."

Patience is a quality behooving all punchers. An old adage attests that the best way for a fighter to miss out on a KO is to look for it. Albert is not the type of fighter that is going to lie down easily. If a KO occurs for Kirkland, it will be one he earned by breaking his man down with a steady application of pressure.

Even so, Wolfe warned, "Don't look for James to be passive on May 17 because he won't be. He's still going to bring it; that's James! He's ready to make his move."

Cameron Dunkin and Michael Miller are two men Wolfe credits with managing Kirkland's career at the right pace and in the right direction. Their belief in him is evident from their decision to take on Eromosele Albert. Guys like Yuri Foreman, Sechew Powell, and Joel Julio will need to make room for Kirkland if he is victorious.

As far as the future goes, Wolfe feels the team will be prepared for whichever challenge awaits next. In a division that is waiting for Vernon Forrest, Joachim Alcine, and Verno Phillips to step up and claim superiority, anything is possible for an exciting young prospect like James Kirkland.

May 1, 2008




Subscribe to feed