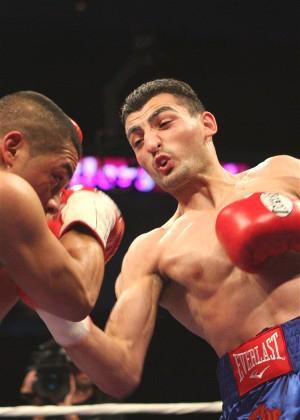 Vanes "The Nightmare" Martirosyan: HoganPhotos.com

By Derek Bonnett: In July 2008, Vanes "The Nightmare" Martirosyan, 22, was counted among the top four Armenian-born fighters in the world of boxing in my Each Nation's Best article focusing on Armenia.

The young prospect, who represented the U.S.A in the 2004 Olympics after defeating Andre Berto to earn his berth on the team, went unbeaten in five bouts in 2008 to move his record to 22-0 (14). The orthodox fighter, now making his home in Glendale, CA, went the 10 round distance twice against his strongest opposition to date (Angel Hernandez and Michael Medina), nearly shutting out both men on the judges' scorecards.

It would seem that Martirosyan is ready for the next step of his professional career and capable of shedding his "prospect" label altogether. Now that a February 7 date has been set for The Nightmare's 2009 debut, Team Martirosyan has its eyes set on the future and what they expect to be a fruitful year.

"2009 will by far be the biggest year in Vanes Martirosyan's career in terms of a make or break year. Shelly Finkel, his manager, plans to move Vanes along from prospect to top 10 contender status during the year," stated Al Nazaryan of Team Martirosyan. "If all goes well, we would like to see Vanes challenge for a world title by the end of '09. To get to that goal, Vanes would first need to show strong performances against some top fifteen guys in the junior middleweight division, then perhaps fight for the NABO or NABF before taking that big step to the world title bout. While some may argue that he is being moved along somewhat slowly, we can only respond by assuring them he has the best in the business in his corner and that our long term goals are all set and will be met, God willing."

No names of these top fifteen contenders were mentioned by Team Martirosyan, but one source mentioned Billy Lyell, 18-6 (3), of Youngstown, OH as the opponent for February. While hardly a top fifteen caliber opponent, Lyell does bring greater experience with him to the ring after having squared off with James Kirkland, Yory Boy Campas, and David Lopez over the last two years. However, Martirosyan's management is well aware of who is who amongst the 154 pound bunch, particularly Vanes' contemporary prospects.

"If you ask Vanes, he believes he is ready to compete with ANYONE in the division, and that of course is a healthy mindset for a rising prospect to have. Ideally, we would like for him to meet the likes of Alfredo Angulo, James Kirkland, John Duddy, Joe Greene, Yuri Foreman, and Chavez Jr., all of whom are solid undefeated prospects/contenders in their own rights," Nazaryan explained. "These fights of course won't happen just yet, but along with Vanes Martirosyan, these are the biggest names in the division and one or two will stand above the rest after all is said and done. The trick of course is to try and remain at the top once you get there, nothing can be worse for a young fighter than short lived glory followed by a sudden downfall."

2008 was witness to quite a few sudden downfalls concerning young, highly touted prospects such as James McGirt Jr., Andy Lee, Yoan Pablo Hernandez, and Amir Khan. While the hottest prospects at 154 may not be on the table just yet for Martirosyan, the team is well aware that there cannot be a reward without taking a substantial risk.

When asked about his opinion of how his career has been paced, Vanes has this to say, "I just take it as it comes. I'm always ready to fight whoever they put in front of me. I have a lot of respect and trust for my team, that includes my manager Shelly Finkel, promoter Bob Arum/Top Rank, trainer Ronnie Shields, and of course my dad and uncle who all want the best for me. I think my progress has been steady considering I joined the pro ranks at the young age of 18, now we are ready for the next step and I think you will see that going into 2009. We have always stressed a common goal, which is not only to get to the top, but to get there at a level that will see me remain at the top for some time."

Staying power is hard to come by and only the best of the best manage to keep their name atop their division for very long. Before the boxing world can worry itself about Martirosyan's ability to remain a champion, it must first be convinced he battle his way through the division's young guns and earn his shot. That march will begin this February.

"I will definitely be on the Darchinyan vs. Arce undercard come February 7th at the Honda Center in Anaheim. I will train to be ready for the best as I always do. I didn't even stay in LA to spend Christmas or New Year's with my family; that has been my sacrifice and determination over the years," Martirosyan explained. " I'm back in Houston to work with Ronnie and be in top form both physically and mentally. This will be a big fight for me considering Anaheim is a short drive from my hometown of Glendale. A lot of my loyal fans will be at the Honda Center for both myself and my countryman, the now undisputed world champion, Vic Darchinyan. Jorge Arce of course is another good friend and Top Rank stable mate of mine. I'm real excited; expect plenty of fireworks come February 7th."

But will the fireworks end there? What about the rest of the pack at 154?

"We are all bound to collide with one another at one point or another for junior middleweight supremacy," Martirosyan stated. "There are at least six or seven young, undefeated, solid prospects/contenders including myself in this division, who are all capable of winning world titles. I'm not sure how many other divisions can offer that at this time. As for me, I really don't have a preference on who I'll fight against, just bring me the best, and I will be ready to do my thing come fight night."

If Martirosyan's calling for the best at 154, well, that can be as difficult to determine as who leads the current crop of prospects? Is it the unbeaten Sergiy Dzinziruk? The newly crowned Paul Williams? Or perhaps old warhorse Vernon Forrest? Who stands above all the rest?

"At this time, in my eyes, it has to be Sergio Martinez," Martirosyan conceded. "He was most impressive out of all the champions when I last saw him on HBO. Very technical, good speed, and a fun fighter to watch. Some of the other champs are getting older and are perhaps on their way out to make room for this new school coming in. In another year's time, I honestly believe 154 will have the most excitement to offer compared to all other divisions."

The junior middleweight division has been in a transitional period for the last couple of years as most of the excitement and talk has been centered around the welterweight division. The welterweights once had a pretty firm grasp on the title of being called the best division in the sport, but the super bantamweight, super flyweight, and junior flyweight divisions have made it a close race. I believe boxing fans wouldn't be too upset about a new horse entering the race. If the new class of junior middleweights feel their up to the task, then here's to hoping Vanes Martirosyan isn't the only one with a big 2009 on his mind.

January 4, 2008