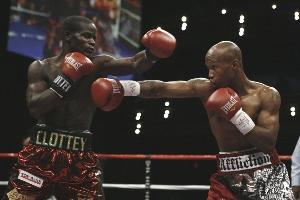 By James 'Smitty' Smith: Well I'm just about off for a nice vacation away from just about everyone and everything except my mom and maybe an occasional black bear. I'm headed towards to Appalachian Mountains in Northern Georgia to my retreat to finish writing my movie.

The North Georgia Mountains are so quiet and peaceful. You know where that is don't you? Think back to the movie 1972 movie Deliverance, taken from the book by James Dickey, directed by John Boorman and staring Burt Reynolds, Jon Voight, Ronnie Cox and who can forget, " weeee , squeal like a pig," Ned Beatty. I'll be avoiding any wild pigs or people I hope. So I will delay my packing just long enough to give you this short staccato jab type column.

First off, after I got back from the Joshua Clottey win over Zab Judah at the Palms Hotel and Casino here is Las Vegas, I watched the HBO replay of Antonio Margarito's eleventh round stoppage over Miguel Cotto. I did see a few things in this replay that I did not observe as vividly in person at the fight at the MGM Grand. That night I scored the fight in Cotto's favor, and I did the same on the replay with the exception of two rounds. The second round I originally scored even, and after watching the replay I leaned toward Margarito. There was one other close round that I actually would change my scoring from Cotto to Margarito because the close up camera work showed a lot of damage being done on the inside that I could not clearly discern from my seat live at the fight.

Although I still had Cotto leading at the time of the stoppage watching the replay, I could see that though Miguel was ahead in the battle, he was losing the war. Margarito was breaking him down with his superior size and strength and, mostly, his pressure. I will say this about Margarito, he is no super, great welterweight, not an all timer, by any stretch. He is just a big, very good, relentless 147-pounder by today's standards.

What is so strange about the welterweight division in boxing in comparison to most sports is that the fighters of today at that weight are little guys compared to the great welterweights of yesteryear. Can you imagine a Miguel Cotto, Zab Judah, or even Floyd Mayweather having to face Sugar Ray Leonard, Tommy Hearns, or Mike McCallum. Cotto, Judah and Mayweather would be way too small, as was Cotto against Margarito. Margarito will always do well against these little guys. He'll have it a bit tougher if he can find guys more his size, like he did against Paul Williams.



On to Clottey and Judah, it went just as I expected with Clottey being the stronger more consistent fighter and eventually winning the fight on the technical decision. I believe if it were not for the cut and them going to the scorecards he would have perhaps stopped Zab a few rounds later than the ninth. Zab, to his credit, fought a good fight, but he is a reflex fighter who, now at 30, has slowed down just a tad and I feel he is in the twilight of his career.

As for Clottey, he pointed out to me that when I called a fight of his some years ago in New York, I said on the broadcast that night that he was strong enough to some day win a World Title. Thanks Joshua for remembering that and congratulations on giving Ghana another World Champ. I know Azuma Nelson is smiling.

Well the clock is ticking and I have to head to the airport. I hope they don't charge me for any of my luggage. Fortunately I don't have to pack any of my 'Miami Vice' type suits for Deliverance-ville just jeans and tee shirts. We'll talk when I get back. So remember boxing fans hands up and chin down.

August 5, 2008