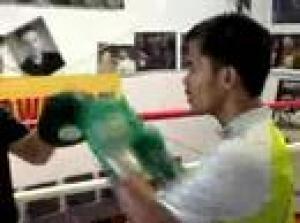 Manny Pacquiao

By James 'Smitty' Smith: So here we go again, a mega week here in Las Vegas that will culminate on Saturday night at a beyond sold out, beyond raucous crowd at the MGM Grand Garden Arena as 'The Golden Boy' Oscar De La Hoya takes on Filipino sensation 'The Pac Man' Manny Pacquiao scheduled for 12 rounds or less! Now will this turn out to be a mega fight or is it just a mega match-up featuring boxing's biggest cash cow, De La Hoya, vs., perhaps, boxing's pound for pound best and most exciting fighter, Pacquiao? I think it is more about the later.

The reason is this simple, old boxing adage of a good big man always will defeat a good little man, but let's break it down a bit, and show it's just not all about the size of Oscar that will make him prevail Saturday night. First off, in terms of overall skill, let us not forget that 'Golden Boy' has more pure boxing talent than does 'Pac Man'. Remember Oscar was a decorated amateur, Olympic Gold Medalist and is an at least six-time World Champion who has faced them all from Pernell Whitaker, Julio Cesar Chavez, Felix 'Tito' Trinidad, Shane Mosley, Fernando Vargas, Bernard Hopkins, and Floyd Mayweather Jr., shall I go on?

Oscar has only been beaten once significantly and that was by Hopkins when he was stopped in the round I predicted. You can make a case for Oscar that other than that Hopkins fight that he never really was beaten but may have beaten himself by not closing strongly enough against Tito, Mosley and Mayweather. The Oscar entering the ring Saturday night is definitely not the Oscar of even a few years back in my opinion. He showed some signs of aging against Mayweather in May of 2007 and in the later rounds of his last fight against Steve Forbes seven months ago.

Oscar has not really suffered any real beat downs. He has only had a few really tough fights and has never been involved in a pier sixer, Ali vs Frazier, Barrera vs Morales type of wars. His body at age 35 is just starting to catch up with him. He is slowing down and is not quite as strong in a fighting sense as he once was. Having said that, this is why he chose to fight Pacquiao rather than Antonio Margarito at this stage of the game. Yes, Oscar will earn more money with Manny as the opponent but he also knew to stay away from the powerful Margarito who, in my opinion, would walk Oscar down at this stage of the game. Oscar still has all the weapons, especially the left hand, be it the jab or that hook. It just takes him a bit longer to load those weapons these days.

Oscar is certainly very prepared for this fight although his camp has once again been a strange one. Maybe he does it for HBO's 24/7 show but I won't even go into all this crazy stuff with trainers that Oscar had done in preparation for this fight. I'm sure if the late greats Ray Arcel and Eddie Futch were still here with us they would have joined my pal Angelo Dundee and Oscar's new aid the very astute Nacho Baristain. Oscar has had more trainers than a cat has lives, really. I believe it shows a bit of an insecurity in him at times but, oh well, he is a surefire Hall of Famer and may go down as Boxing's richest fighter ever, even though I will never rank Oscar as one of the best ever.

Offensively, Oscar is not as aggressive as Manny, not as fast or quick as Manny but he possesses the more potent offense and that is the left jab, good body attack and, eventually, his coup de grace, that left hook. It may be slower and it may take him longer to set it up and land it but eventually,… well, we'll get to that later.

Defensively, Oscar is, and always has been, a very good fighter. He punches fast and gets his hands back quickly to defend. His head movement is good, he fends off opponents very well with his shoulders guarding his chin, he also does not take unnecessary chances, sometimes to a fault. Oscar is smart inside the ring, and one of the best things he does is when he hurts you he knows how to finish or get the ref to call a halt by going in with the shoeshine combination punching we have seen him close the show with against the likes of Vargas and Ricardo Mayorga.

Now, let's head across the ring and talk 'Pac Man'. I first met this little dynamo over four years ago when we first had him on our TV show IN THIS CORNER. I knew then he was gonna be something special and he is, but it is not because he is the greatest boxer I have seen, in fact he still has some issues that have caused a few problems for him and may be his undoing against a real, good, welterweight, especially if his first name is Oscar.

Manny on offense is a whirlwind of speed, quickness and power. The power is mainly created from the speed and, sometimes, from the crazy angles he punches from. Manny is so offensive that he really does not think all that much about defense, or at least that used to be the case. His trainer, Freddie Roach, has done an excellent job of making Manny much more aware of defense and it has made Pacquiao a more well-rounded fighter. He actually could be seen in his second fight with Juan Manuel Marquez in March of this year and his last fight against David Diaz in June of this year, really utilizing defense, head movement and slipping shots. Again it has made him a better fighter and may prove to lengthen his career.

Don't forget Manny is no longer a spring chicken at age 29 and remember he started fighting, professionally in his teens. In fact, I bet you did not know this fact, Manny has had more fights (52 fights) 47-3-2 (35KO's) than has Oscar (44 fights) 39-5 (30KO's). Oscar only began fighting as a professional (November 23, 1992 first KO over Lamar Williams at the Great Western Forum, Inglewood, CA) three years before Manny did (January 22, 1995, 4-round decision over Edmund Enting Ignacio in Mindoro Occidental, Philippines). There is no doubt, however, Manny is certainly at the peak of his career while Oscar is in the twilight of his.

Yes, Manny's D is better than it used to be, but he still is a very frenetic fighter at times and likes to lunge in and dominate and overwhelm his opponents. That certainly has worked against the guys from 106 to 135 pounds that he has beaten and usually dominated. He has even overwhelmed greats like Marco Antonio Barrera in their first fight and Erik Morales in their rematch and rubber match and that opening round of the first Marquez fight. But those guys are midgets compared to De La Hoya who will have a decided four inch height advantage and a six inch reach advantage and believe me you will see it once the fight begins.

In fact, that may be Oscar's biggest problem dealing with a real small southpaw like Manny. Remember another sort of diminutive southpaw named Pernell 'Sweat Pea' Whitaker gave Oscar all he could handle eleven years ago. Whitaker was not as fast as Pacquiao, but he was a naturally bigger man and way better defensively than Manny, but still it is worth noting for comparison sake. A few fights later another smallish southpaw named Hector Camacho was able to take De La Hoya the distance but lost virtually every round of that fight. Both Whitaker and Camacho were basically the same height (5'6) as Pacquiao but both had more reach (69 inches compared to Pacquiao's 67) and, as I said, were bigger dudes.

Speaking of my buddy the Macho Man, he was involved in a fight that may best bolster the hopes of the Filipino nation going into this fight Saturday. On May 1, 1997 at the Convention Center on the Board Walk in Atlantic City, New Jersey, Hector Camacho sent Sugar Ray Leonard into permanent retirement by humiliating and stopping Leonard in round five. It was sad to watch the once so great Leonard losing and being stopped by the much more diminutive and light punching Camacho. Don't get me wrong, Hector is a Hall of Famer, but in his prime Ray would have, well let's just say NO MAS. When they fought Ray was 41-years old and not even a shell of his old self, and Hector was 35, but still had a lot left. The comparisons in size to this fight are very favorable as Ray was 5'10 compared to Oscar 5'10 ½ with Leonard's reach being 74 inches compared to De La Hoya's 73 inches. Camacho is exactly the same height as Manny and as mentioned earlier had two more inches in reach. And the Macho Man won, Will the Pac Man be able to do the same against the Golden Boy?

Before I give you the answer, let us remember the name Bernard Hopkins and what he just did pulling off the upset over Kelly Pavlik. This would be an even greater upset than that fight, in my opinion. While it certainly would not be Buster Douglas-ish in terms of monumental upset reaching pandemic proportions, it would be huge to those of us who really do subscribe to the good big man always beats the good little man scenario. Well maybe not always, Smokin' Joe is somewhere out there saying, but come Saturday night Oscar De La Hoya will be too big, and too strong, too powerful and will stop Pacquiao in round 10. Enjoy the fights, I'll be back next week to recap. Remember boxing fans hands up and chin down.

December 3, 2008