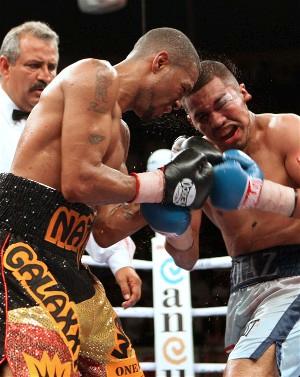 By James 'Smitty' Smith: Should be a very good weekend featuring mostly Latino Lightweight Championship Boxing with four very good, skilled, tough fighters involved in two separate fights. Joel Casamayor from Cuba, 36-3-1 (22), battles Mexican Juan Manuel Marquez, 48-4-1 (35), here in Las Vegas at the MGM Grand Garden Arena. A little further South, down in Biloxi, Mississippi at The Beau Rivage Resort and Casino, it will be Nate Campbell, the lone Americano, 32-5-1 (25), taking on unbeaten Joan Guzman ,28-0 (17), from the Dominican Republic.

These two fights have some interesting similarities with the two older, naturally bigger fighters in Casamayor (37 years old) and Campbell (36 years old) taking on smaller and younger fighters in Marquez (35 years old) and Guzman (32 years old).

Let's start out with the Southern portion that will be seen on Showtime Championship Boxing featuring Campbell and Guzman. Campbell turned pro in 2000 at 137 pounds where as Guzman started his professional career actually a few years earlier in 1997 at only 124 pounds. Campbell, kind of a late bloomer, comes off an impressive win over previously unbeaten Juan Diaz earlier this year in March. Campbell is a good boxer- puncher, but he can be somewhat erratic, who can ever forget him putting his hands down and inviting Robbie Peden to knock him out four years ago. Peden obliged and did so in round five. Then, Peden halted Campbell again in their rematch in round eight a year later, the only two times he has been stopped.

Guzman comes off a nice decision win over Humberto Soto about ten months ago. Soto like Campbell was the naturally bigger man but Guzman adjusted well and never really allowed Soto to get his power shots off. Joan can really box when he chooses to, he has some great legs and very good reflexes. This fight is totally a pick 'em, and I will give you my pick on it in just a minute, but first lets head West to where Smitty resides here in Vegas and take a quick look at Casamayor and Marquez which will be available on HBO Pay Per View.

Casamayor is about as skilled a fighter as there is in boxing today. He comes from the tremendous Cuban Amateur program that saw him capture a Olympic Gold Medal beating Irishman Wayne McCullough in the 1992 games in Barcelona. After defecting from Cuba, Casamayor turned pro in 1996 at 132 pounds in what became his adopted hometown, which was my hometown, Miami, Florida. Marquez began his pro career at about 10 pounds less than Joel in 1993 in, where else, Mexico.

Casamayor comes off what many considered an upset 10th round TKO win over then unbeaten Michael Katsidis in March. Coincidentally, Juan Diaz, Campbell's last opponent, just won a 12 round decision over Katsidis, Casamayor's last opponent. As for Juan Manuel he comes off a razor close loss in his rematch against Manny Pacquiao, also here in Vegas, also in March of this year.



This fight with Casamayor and Marquez may be somewhat of a chess match, but I also expect some fireworks and maybe even some less than savory tactics given the way I know Casamayor can be. He is like Bernard Hopkins in that he will do what he has to do, at times, to get a fight going his way, or away from the other guys way. As for Marquez, he is about as good a technician as there is in boxing today. He has been in there against the best of the best, like Pacquiao twice, Marco Antonio Barrera , Rocky Juarez, Derrick Gainer, Manuel Medina and Robbie Peden. He has never been stopped and you can make a case that he beat 'Pac Man' in both fights, remember their first fight ended in a draw back in 2004. One has to wonder what Marquez must have thought when he heard about Pacquiao signing to fight Oscar De La Hoya for all the millions.

OK, are you ready for my picks? With both of my selections in these Lightweight Championships, I am applying the same principle. I'm picking the somewhat smaller, somewhat younger guys to win. Having said that it may turn out that both smaller guys Guzman and Marquez may be a bit too small to get their respective jobs done. Guzman and Marquez to win decisions.

September 11, 2008