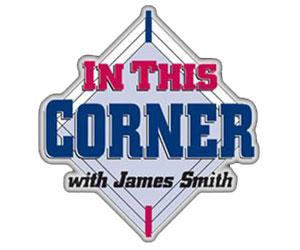 By James 'Smitty' Smith: Before I get to this weekend's big fight between Roy Jones Jr. and Joe Calzaghe, let me state how profoundly proud I am to say that Barack Obama is 44th President of the United States. Yes, I am happy for him becoming the first African-American to achieve this, but he also is the first bi-racial man to accomplish this and for me and my family, it is very personal. You see I married an African-American woman, Kim Smith, in 1981, she already had a young son, David, from a previous relationship. I legally adopted David and he is my son. We then went on to have two more children, Ryan and Meagan, who I'm proud to say are bi-racial.

I remember back then sometimes people would mumble that this was unfair to the kids, that they would never really know their true identity and be confused. The ones who were really confused were those with that backwards kind of thinking and mentality that actually stemmed from a deeply bred racism and/or just plain ignorance. The election of Barack Obama hopefully will not only be a great thing for those in this Nation, but hopefully it will help us shed that international tag that we have had being called the "Ugly Americans". God Bless America and Barack Obama and his family over the next four years, I bet somewhere Jack Johnson, Joe Louis, Sugar Ray Robinson, Muhammad Ali and so many other great former champions of color are smiling as proudly as myself and my family and hopefully you are today.

On to Madison Square Garden in New York where Saturday night Roy Jones, an all-time great takes on unbeaten and destined to be one of Great Britain's all-time greats, Joe Calzaghe. You know a few weeks ago I did not have a problem picking a winner in this fight being fairly sure that Joe Calzaghe would be just too busy for Jones. However, after what Bernard Hopkins did to Kelly Pavlik in Atlantic City a fortnight ago, I am a bit more reluctant and a lot less inclined to believe this fight is a slam dunk win.

We all thought Jones was done following his back to back KO losses to Antonio Tarver, in their second fight, and then the devastating scary KO to Glen Johnson. Both of those KO defeats took place in 2004. Since then Jones has had only four fights, losing in the rubber match to Tarver via a unanimous decision then winning three 12-round decisions over Prince Badi Ajamu, Anthony Hanshaw and, in his last outing, over a shop-worn Felix 'Tito' Trinidad in January of this year.

On the other hand, Joe Calzaghe has had nine fights over the past four years, winning them all against the likes of Jeff Lacy, Mikkel Kessler, and, in his last fight, a close split decision win over Bernard Hopkins here in Las Vegas. With what Hopkins did to a previously unbeaten Pavlik, we found out Bernard had more left in him than we thought. So, perhaps, Calzaghe having trouble with Bernard should have been expected, but Joe still found a way to win and remain unbeaten in 45 fights spanning back to his pro debut on October 1, 1993 in Cardiff, Wales, a first round TKO over Paul Hanlon. Calzaghe beat Hopkins the same way he has defeated all of his opponents so far, by out boxing, out punching and out busying his competitors, all of them.

It will be the same way he will have to defeat Jones. There is no doubt how great Roy once was. He is really the only guy to defeat Bernard Hopkins decisively ever winning that 12-round decision over Hopkins in 1993, the same year Calzaghe was turning pro. Jones is 39-years old and Calzaghe is not that far behind at 36. But here is the most important thing to remember in matching these two guys up here in 2008, Jones, although maybe one of the most talented fighters of his time, is not as good a pure fighter as Hopkins. I said this back in the mid-90's when many were hailing Jones as perhaps the greatest fighter ever, especially after he went up and whipped John Ruiz to win the Heavyweight Crown in 2003.

I always maintained Roy was a great athlete who could box. He was the quintessential reflex fighter and once he slowed down just a bit, we would find out how good a fighter he really was. Well, we found out in those three fights with Tarver and the fight with Johnson. We also found out something about Jones' chin. Now, Calzaghe isn't a big puncher by any means, so Joe's power will not be the key. Calzaghe's boxing skills and punching pressure, constantly throwing punches and not allowing Roy to rest and set up those quick combos will be key. Jones has faced many Southpaws, including Tarver three times, but none of them throws nearly the volume of punches that Calzaghe does.

I'm too drained from the election to go on any longer, so here goes; Jones, I feel, will be very motivated for this fight and he could do what Bernard did and bring yet another fighter to his first defeat, but I don't see it. I like Calzaghe to win this fight most likely by decision, but a late stoppage of Jones is not out of reach. So boxing fans remember hands up and chin down until next week.