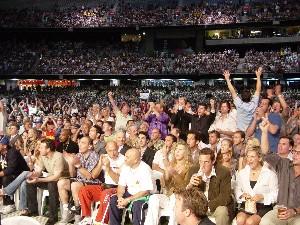 By Jason Pribila: Northeast Boxing was formed over 10 years ago by co-owners Chris Coyne and Maury Nehme with one simple goal in mind, "Make Fight Nights a popular father-son bonding experience in Northeast Pennsylvania."

Although I felt that their mission statement was noble, I feared that it may be just a tad outdated. Especially when most of today's youths feel that a night at the fights would involve an octagon, and not a ring.

I would have the chance to see for myself when I was sent to cover the ESPN2 televised Friday Night Fights card from Scranton, Pennsylvania's Catholic Youth Center on June 13th.

A phone conversation with Nehme got the juices flowing. ""What would you say if I told you we would have 4,000 screaming fans show up for a fight card in Scranton, PA without having a local fighter on the card?"

Nehme continued, "Scranton doesn't have a Kelly Pavlik, a Paul Spadafora, or a Joe Mesi; but we do have great fight fans. Their rooting interest will change with the ebb and flow of the fight."

My experience covering fights is still in its infancy stage. Each venue has been different, and I have always been treated well. However, there was something a little different in the air when I arrived in Scranton. As I circled the CYC looking for an off-street parking spot, I could feel a buzz in the air. A far cry from a casino crowd, this was truly a community event.

Walking into the arena I was greeted by a couple selling T-shirts featuring heavyweight boxer Jason Gavern, a former Scranton police officer who would be fighting on the undercard.

"If you stick around after the fight, Jason will sign it for you!"

I've never understood an autograph on clothing, but I was happy to pay for a souvenir.

As I entered the CYC the lobby was full despite being a full hour before the opening bell. I got my "Free" program before walking into the gymnasium, and quickly found my seat. Once settled, I wanted to find the co-promoters to thank them for my credentials.

I first recognized Mr. Nehme, but he seemed a little too busy to speak with me. Not because he was doing an interview, or talking on his cell phone, but rather because he was leading a group of smiling children to their seats.

"We work with the Commissioner's office and the mayor's office to make sure we have a block of 400 tickets reserved for area children." Coyne later explained. "This is the only way we are going to see our fan base grow."

Nehme added, "Presently the sport has lost a generation of fans. We have to cultivate our crowd. The only way we could do that is by getting kids to our shows."

Another way Northeast Boxing is appealing to a younger crowd is by making tickets affordable. Of the four thousand tickets that were available for the fight, 3,500 were priced at $25. The Press table was located on the third row of the bleachers, a perfect view of the ring at eye level. For anyone that ever sat at the scorer's table of a high school basketball game, our seats were the same. What was great was that seated directly behind me were people that paid only General Admission.

"We try to make it accessible to fathers and sons. I'm 42, and I remember going to the CYC with my father when I was a kid, and tickets were five bucks," Coyne explained.

Back then Scranton had a great tradition of being a fight town. Its easy access provided prospects from New York, Philadelphia and Baltimore a central location to meet and test each other. Teddy Atlas once brought an amateur named Mike Tyson to Scranton to get some quality work done. However, when the sport of boxing migrated to the Casinos of Las Vegas and Atlantic City, Scranton was no longer able to compete.

Without the benefit of having their own boxing gyms, Northeast Boxing has relied on other promoters to bring in the talent.


"If we had our own gyms, we wouldn't have enough tickets left for our fans," Nehme laughed. When we put on a show, I know exactly who is going to be sitting in what seat at ringside."

They have formed a good working relationship with Duva Boxing, who co-promoted each of the two sell-outs that were televised on ESPN2, the first of which took place in February of 2007.

When the June fight card was announced, Dino Duva stated in The Times Tribune, "After the success of the February show, we wanted to come right back. I'd rather be in a place like this – with people who really want to come to the fights – any day over a casino."

With a great endorsement and a second straight televised sell-out the phones at Northeast Boxing (Maury's and Chris' cells) have started to ring.

"Cedric Kushner called us to see if we would be interested in his August 1st Shobox Date, but after we talked we weren't able to pull it off," Coyne explained. "It would have only given us six weeks to promote the show, and with just the two of us it wouldn't be enough time to do it right."

Nehme added another reason why the ShoBox date didn't work, "ShoBox doesn't go on the air until 11pm. If we're going to remain true to our fans, we can't expect to have families coming out that late at night to see a show. We wouldn't be able to get the kids to the show."

In Thomas Hauser's, "HBO: 2008" article he wrote,

"Talk to aging boxing fans today and there's a familiar refrain: "My love of boxing began when I was a kid and watched the Gillette Friday Night Fights on television with my father."

With the continued success of Northeast Boxing, the youths of northern Pennsylvania will have the chance to experience that bond for themselves.

Promoting boxing by putting the welfare of the sport ahead of the next payday or television date is surely an outdated approach.  Which may be exactly what boxing needs.

July 15, 2008