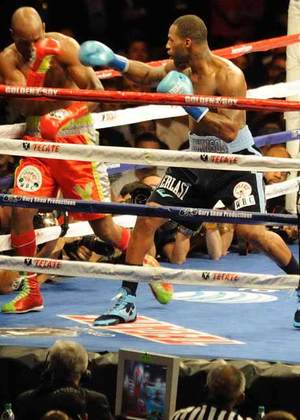 Dawson and Hopkins battle (pic Harry Rosenbluth)



By Jason Pribila: "Believe it or Not" boxing fans have paid over $120.00 in the last 28 days to see two main events that have once again left them apologizing for the sport they are no doubt getting tired of defending. On Saturday night they paid out $50 for 46 year-old Bernard Hopkins' defense of his light heavyweight championship against Chad Dawson. Neither fighter has been a box office or pay per view star. Nothing about their styles caused much of a stir in the boxing community, and the fact it was on PPV was further proof of how irrelevant the boxing fans are in the eyes of the current brass at HBO.

I was on the fence as to whether or not I would purchase this fight card. My friends that normally gather to watch a big fight with me were fortunate enough to have other plans. Others were not aware that the fight was taking place that evening. Promoters did not do much to bring attention to a fight that was taking place 3,000 miles from the fighter's East Coast homes. There were no infomercials in the form of "24/7" or even a "Countdown" show to support a fight that was ear-marked for a controversial ending.

At the eleventh hour I decided to order the fight. I have been ringside to see undercard participants Danny Garcia and Kendall Holt in the past, and was looking forward to this cross-roads fight. I also had picked Dawson to defeat Hopkins, and thought I should purchase what would potentially be the final fight of a Hall of Fame career.

The following list of the evening's "Winners and Losers" should illustrate why I regret hitting the "purchase" button on my remote.

Winners:

3. Dewey Bozella: The inspiring story of the 52 year-old who had been released from prison after spending half of his life being locked up for a murder he did not commit is a great story of the human spirit. Upon his release, Bozella pursued getting a boxing license so that he could fulfill the dream of fighting one time as a free man.

Bozella was a winner long before he entered the ring against cruiserweight Larry Hopkins (0-4). Bozella needed a round to lose perhaps the largest amount of ring rust ever accumulated on a prize fighter. However, no one could have been surprised that Bozella would come back from being down on the scorecards. He was able to out-box Hopkins down the stretch, and when his opponent could no longer seem to bite down on his mouthpiece, Bozella landed crisp right hands in an attempt to end the fight without intervention from the judges. In the end, Bozella was the unanimous winner by the jury's three judges: 39-36, 38-37, 38-36.

2. Danny "Swift" Garcia: The junior welterweight from Philadelphia used this stage to vault himself from prospect to contender in a division that will be ripe for the taking when Amir Khan and Timothy Bradley join Devon Alexander seven pounds north. In Holt, Garcia would have to defeat a dangerous foe near his physical prime.
Mission accomplished. Despite tasting Holt's power early, Garcia dug deep and began to wear down his taller opponent with s strong body attack. Soon Garcia found success by landing upstairs and succeeded in swelling Holt's left eye, a battle scar that was matched on his own face.

Garcia is now ranked in the top two by two separate sanctioning bodies, and with the help of powerful advisor Al Haymon, we could expect to see him on HBO early in 2012. Let's just hope that Golden Boy Promotions allows Garcia the opportunity to fight closer to his home in Philadelphia. He has potential and a fan-friendly style that fans on the East Coast could attach to as he continues to climb the ranks.

1. Antonio DeMarco: The evening's co-feature stole the show. It is too bad that HBO will not rebroadcast this gem, but will instead replay the main event on Saturday Night along with the live ring return of Nonito Donaire. DeMarco entered the ring to face trainer Freddie Roach's latest reclamation project, Jorge Linares. The Venezuela native moved his camp from Japan to Los Angeles in order to train at the Wild Card Gym. DeMarco was hoping that his second shot at a lightweight title would end better than his previous attempt which resulted in a TKO loss to the late Edwin Valero.

In the early going it was all Linares. All of his skills were on display through the first four rounds. However, at the midway point of the fight a nasty cut opened on the bridge of Linares' nose. Linares was at a further disadvantage when DeMarco opened a second cut over his right eye. The blood was flowing non-stop, but Linares kept putting round after round in the bank.

Ahead by scores of: 99-91, and 98-92 (twice), Linares seemed as if he would coast to victory until he got caught by several left hands that he was unable to see. DeMarco seized the opportunity and forced a referee stoppage at the 2:32 mark of round 11.

This was a most unexpected turn of events. DeMarco was clearly out-gunned and out-classed for much of the evening. However, he never doubted his own abilities, and it carried him to a lightweight title.

Losers:

6. Kendall Holt: Once again "R-Rated" came up small in a big moment. Holt floored Timothy Bradley in the first and last round of their unification bout, but allowed his opponent to out-hustle him to a unanimous decision victory.

Early on Saturday night he landed a beautiful combination that stopped Garcia in his tracks, however, when Garcia kept coming forward, Holt retreated into an offensive shell. Once the fight was out of reach, he let his hands go, but once again for Holt; it was too little too late.

5. Chad Dawson: During the build-up to the fight, Dawson said he wanted to fight like "Bad" Chad again. Congrats!
Although all three judges gave him the opening round, it was mainly because he missed with more punches than Hopkins threw. He was not exactly showing the athletic advantages that someone should possess with a 17 year age advantage.

Whether or not you feel his part in shoving Hopkins to the ground was intentional, I ask you too look at the replays that clearly show he hooked his left hand behind Hopkins' right leg as he lunged forward. No one could predict the fall would result in a separated shoulder, but I can't imagine anyone would want to win a title without at least landing a punch.

Dawson stated that his next fight will be to avenge his only career loss against Jean Pascal. My guess is that it will be a non-title bout.

4. Golden Boy and Gary Shaw Promotions: The two main fights that piqued my interest in purchasing this event were made up of fighters from: Philadelphia, Connecticut, New Jersey, and Philadelphia. When they were unable to secure the Prudential Center in Newark, New Jersey; the fight was moved 3,000 miles away to the Staples Center in Los Angeles.

The main reason why this did not end up in Newark is because Main Events promoter, Kathy Duva did not want it there. She has a deal with the venue and has converted it to a home base for the East Coast's top ticket seller, Tomas Adamek. Knowing that this fight would inevitably be papered, she did not want the climate that she created to be tainted.

So we had another displaced major event. Why be creative when the checks from HBO are ready to be cashed? It is believed that few of the 8,400 fans paid full price for their seats; and by their reaction after the main event; they paid too much.

This is now two straight promotions that resulted in Golden Boy Promotions filing protests or setting up conference calls to try to shine the con job they passed along to the public.

As for Shaw, with the attention of the sports world finally focusing on the success of the professional teams from Detroit, wouldn't this fight have made more sense to stage at the Silverdome?

3. Bernard Hopkins: Although no one expects that this will be the last time that we see the "Executioner", eventually everyone knew that he was going to sign-up for one fight too many. He had the perfect opportunity to walk away when he dominated Kelly Pavlik in front of a packed house in Atlantic City. In May, in front of another packed house, Hopkins made history be becoming the oldest man to win a major world title.

Before the fight Hopkins said that he wanted to be the oldest man to ever win fighter of the year. However, a fighter known for going 12 rounds is not going to impress any voters by landing 11 of 29 punches in just under 6 minutes of work.

Hopkins' ability to bend the rules has no doubt added to the longevity of his career. On this evening, a dirty tactic cost him 8 weeks of training, much of the remaining sand in his hourglass, and at least temporarily, the light heavyweight championship.

2. Jorge Linares: For four rounds and 15 minutes, I was ready to declare a man-crush on Jorge Linares. He looked like a man in with a boy as he rolled to an early lead on the scorecards. A victory was a foregone conclusion, and I allowed myself to get caught up playing match-maker for a fighter that looked like he had the tools to not only dominate at lightweight, but the physical make-up that would allow him to continue to dominate as he climbed the scale. With Freddie Roach in his corner, the possibilities were endless because, much like Amir Khan, Linares' 2009 knockout loss to Juan Carlos Salgado seemed as if it were a mere speed bump in his rearview mirror.

Even after suffering a cut over his nose that would bleed continuously like a faucet, Linares showed he had the toughness to go along with his skill set. A second cut over his right eye only seemed to even the fight, but with only two rounds left; Linares seemed destined for big things as soon as his cuts healed.

It turned out that the big things he was destined for came in the form of Antonio DeMarco's left hands. Linares no longer able to see the punches coming suddenly looked defenseless, and the fight was stopped.

Now Linares is forced to start over. There is no doubt he has the skills to climb the mountain again, but will his skin and chin hold up long enough for him to reach his potential?

1. Boxing Fans: 28 days and $130 dollars for this? It is getting to the point when I'm ready to throw my hands in the air and concede to all of the people that preach to me that the sport is dead. The rich continue to get richer, and fight fans keep being asked to pour more and more money into a sport that takes those very people for granted.



To make matters worse, we are only four weeks away from another PPV. This time we'll be asked to pay $65 to watch the world's most popular fighter again manipulate the weight of a fight to ensure he has every advantage when he faces Juan Manuel Marquez for the third time. On the same evening the UFC will be presenting a heavyweight championship match on free television. Top Rank seemed relieved that their competition that evening will be off the air before Pacquiao – Marquez enter the ring. Therefore they gave us Timothy Bradley – Joel Casamayor as a co-feature.

I'm sure it will be tough to ignore the music that will be playing during the upcoming "24/7" series, but I will have to remind myself that this series has yet to give us anything close to a competitive fight.

The money I will save for Pacquiao – Marquez 3 will be put toward my bus ticket to New York for Cotto-Margarito II on December 3. Of course, boxing was able to find a way to tarnish that evening, as Golden Boy counter-programmed Top Rank's PPV, by scheduling their Bantamweight tournament finale on Showtime the same evening. Once again, the rich will get richer, and the boxing fan will suffer.

Jason Pribila is a full member of the Boxing Writers Association of America. He could be reached for questions or comments at pribs2000@yahoo.com, or followed on Twitter @PribsBoxing.