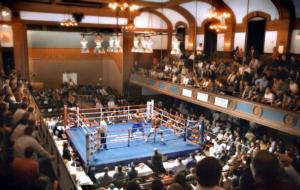 The Legendary Blue Horizon

By Jason Pribila: A year ago Joey "Minnesota Ice" Abell entered the ring in the Legendary Blue Horizon on the verge of making noise in the heavyweight division. Four rounds later he was knocked out by Andrew Greeley (13-20-2). He tried to pick up the pieces by taking on the semi-retired, fully ancient Al Cole in Sweden and lost a split decision. Abell capped off a horrific 2008 by being disqualified for hitting Jason Nicholson (17-25-2), after he was already knocked down.

Fortunately for Abell he plies his trade in a division that grants fighters more lives than the secret code provided gamers on Nintendo's "Contra".
On Friday May 15, he returned to the Blue Horizon to face Billy Willis (12-13-1) in the evening's main event. Abell used his physical advantages from the opening bell. He began the round by landing a looping, overhand right, which would eventually set up a straight left. He boxed well behind his jab, and threw a quick hook off of it. The round was all Abell until he got caught admiring his work, and found himself buzzed by a Willis right hand that scored as the round ended.

Abell did a nice job of mixing in body shots in round two. His straight left began to land frequently, but a lapse in defense left him buzzed again against the ropes. He recovered quickly, and landed a lead right hook to regain momentum as the second round came to a close.

Early in round three Willis tried to land a Hail Mary. His prayer was answered by a counter left hand that sent him to the canvas. When the action continued, another left hand brought a halt to the proceedings, and Abell had suddenly won his fourth straight fight in 2009. The stoppage came 54 seconds into round three, and Abell's record improved to 24-4, with 23 KOs.

The evening's co-feature pitted Philadelphia's Gee Cullmer in a rematch against veteran Clarence "Sonny Bono" Taylor. The middleweights first met in August of 2004, and Cullmer boxed his way to a unanimous decision. This time an inspired Taylor put up a more spirited effort.

The taller Taylor started fast, and had Cullmer in a precarious position against the ropes. Cullmer, known as being a good body puncher, was able to avoid Taylor's wide shots, but unable to do damage when he got inside.
It was not until round three that Cullmer finally worked his way inside behind his jab. Soon he was able to start landing shots when he made his way inside. Taylor was crafty, but failed to land many scoring blows of his own. A nip and tuck fight was leaning toward Cullmer due to him being the aggressor.

Taylor finally let his hands go in the sixth and final round. He landed a good right hand and a counter left that drove Cullmer back. Taylor enjoyed his best round since the opening round, and it was up to the judges to decide if he did enough in the middle rounds to pull off an upset.

He did not.

Scorecards favored Cullmer by a Split Decision: 59-55, 55-59, and 58-56. With the victory Cullmer improved to (16-1, 3 KOs) while Taylor again did just enough to lose a close decision (13-22, 6 KOs).

The undercard featured a pro debut that actually got the attention of the local television media. Normally boxing on Philadelphia sports shows is reserved for Bernard Hopkins. However, before junior middleweight Ahmad Tuba laced up his gloves, he was already being treated like a local celebrity. Print and television media reported on his story, and he even took in a professional baseball game. Tuba was not an Olympic Medalist, but rather a Muslim who just happens to train with a team of Jewish fighters in Tel Aviv. The squared circle provided a platform for a Palestinian and Jew to stand united in the same corner.

Tuba scored a shut-out on all of the judges' scorecards, and displayed plenty of boxing skills for a fighter making his pro debut. He fought at a measured pace, featured good lateral movement, and precision punching. He even showed he understands the importance of entertaining a tough crowd and ended the bout with a flurry of punches.

"It was difficult coming to the States for the first time. I could have done more, but I'm very happy.

As for the attention he received by the local media, Tuba stated, "Even in my land I don't get treated like that. I feel like a superstar already."

Other results:

Joselito Collado (8-0, 2 KOs) UD6 Darrell Martin (4-9); super featherweight
Jose Tiburcio (4-1) UD4 Julias Edmonds (5-4); junior welterweights
Taneal Goyco (3-0) UD4 Davit Davitshvilli (0-3); cruiserweights
Makidi Ku-Ntima (1-0)KO3 James Pratt (2-5); heavyweights