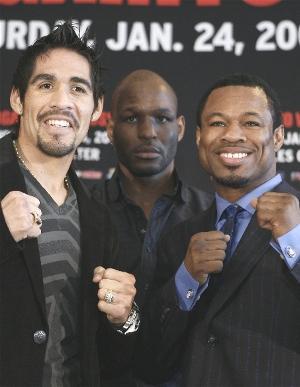 Margarito vs. Mosley: HoganPhotos.com

By Jason Pribila in Los Angeles: The final press conference for Saturday's WBA welterweight boxing title fight between Antonio Margarito and "Sugar" Shane Mosley took place Thursday afternoon inside the Staples Center. Promoters, sponsors, trainers, and the fighters themselves took their turns on the microphone and despite being so close to fight night, the overall feeling expressed was that of joy.

Bob Arum of Top Rank and Richard Schaefer of Golden Boy were joyful because their work was done. At the time of the press conference, Arum reported that there were only a few hundred of the US$25 seats still available for purchase. And both promoters agreed that this fight belonged in Los Angeles, and are thrilled the people responded.

"By this afternoon (Thursday) the fight will be a complete sell-out." Arum continued, "Boxing is alive and well, and will kick ass in 2009."

Schaefer also commented that the current state of the economy will only benefit fight fans. This fight was originally going to take place in Las Vegas, but the casinos felt that it would be tough to attract large numbers of people three weeks in a row, as this fight is sandwiched between the NFL's conference championship games and Super Bowl.

"This fight belongs in LA. The way that they have set up the suites, this fight will surpass the crowd that saw Oscar fight Mosley (June 2000). There will be over 20,000 people (on Saturday Night).

Another difference was that no one at this press conference was trying to win over anyone for last minute Pay-Per-View buys, as this will air on "free" HBO. Arum did express the importance of HBO getting a spectacular rating so that these types of fights remain available to the public minus the US$50 price tag.

HBO's Kerry Davis added that Saturday is a "can't miss" fight, which is why HBO was willing to pay the money to bring it to their subscribers. He also said that he was happy that the fight was a sell-out, so fans had no choice but to watch HBO on Saturday Night. In support of the event, HBO.com will also be airing the live weigh-in at 3pm PST, 6pm EST on Friday.

Once the "business" side of the press conference was over, Golden Boy partner, Bernard Hopkins took center stage. "The Executioner" is never at a loss for words, especially when he has the ear of the boxing media.

"As 2008 showed, bigger is not always better (De La Hoya vs. Pacquiao), old is not always a disadvantage (Hopkins vs. Pavlik). Just because you (media-experts) think you know…be prepared to be wrong."

Bernard also cautioned the media to be careful when they count out a fighter due to his age.

"All you experts who say certain fighters should quit, well, I think maybe some of you journalists aren't as good as you used to be and should retire."

The next person to speak was the man in Bernard's corner the night he defeated Pavlik, and will also be in Mosley's corner for the first time on Saturday night, Nazim Richardson.

"I know my position. I am not here to teach Shane Mosley how to fight. Jack (Shane's father who was in attendance) taught him how to fight. My job is to try to find flaws in Margarito," Richardson continued, "Shane is prepared, and it is ridiculous to say that he's missing a step."

Soon it was time for the challenger to take center stage. Again, the joy of being part of a big event was written all over Mosley's trademark smile. However, as always, he first wore the cap of promoter and thanked everyone that had already been thanked. Shane, like his partner Oscar De La Hoya, has become very predictable when it comes to giving sound bites, but he did add a new wrinkle.

"I don't just feel sharp; I feel special. I feel like I have a cape on. I feel like I'm going to fly. This will come down to speed and power. Margarito has power, but I got him on speed, a little bit."

I'd have to wager that no one was happier that the press conference was behind him than Shane Mosley. He enters the ring as a 4-1 underdog; however this promotion has focused less on his chances, and more on his involvement with BALCO in 2003. Now the work is done, the interviews are complete, and Shane has it in his hands (and feet) to author a new chapter.

Antonio Margarito seems poised to lend only two words to Shane's legacy on Saturday Night, "The End". The "Tijuana Tornado" has finally reached the mountaintop, and from the look on his face, he enjoys the view. I have never seen Margarito look anything but confident, but today he simply had the look of a guy who believed he was unbeatable.

"We came here, we did our work," he said. "We know Mosley's a very good fighter; we know he's a very experienced fighter. There are no secrets here; we know each other very well. I prepared myself very well and I'm confident I'm going to win this fight. And to my fans, there will be a "Tornado" for a very long time.

On Saturday night, it will take a truly "special" effort to defeat Antonio Margarito. We will see what history has to say.

Pacquiao-Hatton Note: Prior to the press conference, Bob Arum said that he planned to fly to the Philippines to speak with Manny Pacquiao. He remained confident that the Pacquiao-Hatton fight would still take place on May 2nd at the MGM Grand.

"The talks were never dead," Arum stated, despite yesterday's reports to the contrary, "We're texting like mad all the time. It's free now, that's how you do things now."

Bob Arum is texting to the Philippines. And who said that boxing promoters were unwilling to change with the times?

On a final note, Arum was asked if he was contacted by Floyd Mayweather Jr.'s team about a possible fight with Pacquiao. Arum has not been contacted, but if he was, he would suggest that Floyd, "Show some balls and fight Margarito".