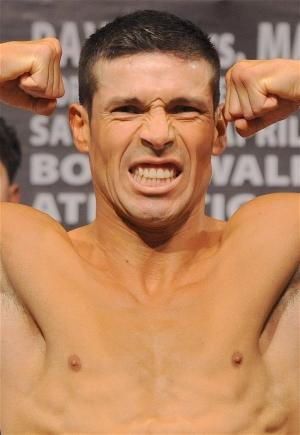 Sergio Martinez wins: Naoki Fukuda/WBC

By Jason Pribila at ringside: There is a new middleweight champion of the world, and he is from Buenos Aires, Argentina! Sergio Martinez got off to a fast start and dominated down the stretch to win a unanimous decision over Kelly Pavlik during the main event in Atlantic City's Boardwalk Hall.

Martinez (45-2-2, 23 KO) was the latest fighter to throw a wrench into the old boxing adage that a "good big man will beat a good little man". Like Manny Pacquiao, when the little man enjoys such a tremendous hand and foot speed advantage the fight is almost unfair.

The question going into the fight was whether or not Martinez would be able to stand up to Pavlik's punching power. Martinez did not seem to be concerned as he fought with his hands by his side. When Pavlik (36-2, 32 KO) finally caught up to him, Martinez proved he was as tough as he is confident. As the bout and title seemed to be slipping away, Martinez put the pedal to the medal and dominated the fight from the ninth round until his hand was raised in victory.

The fight was close, and added drama was caused due to the fact that Martinez failed to get a close decision in his last bout against Paul Williams, which took place upstairs in the same building.

The official scores were read and were all in favor of the challenger: 115-111, 116-111, and 115-112. This writer scored the bout 114-113 for Martinez, the clear victor.

For Kelly Pavlik the roller-coaster ride he has been on since a remarkable 2007 that saw him go from Contender to Champion has now reached a new valley. He has now suffered his first loss in the middleweight division. His previous loss came to Bernard Hopkins at a catch-weight of 170 lbs.

While Pavlik was never in the fight against Hopkins, he was able to make adjustments against Martinez after the third round. Despite suffering a cut over his left eye, Pavlik worked behind his jab, and began to land his powerful right hand. His high point came when he scored a knockdown in round 7. Pavlik landed a right hand as his legs got tangled with Martinez, and took the lead on the scorecards.

Pavlik seemed like he was wearing the Argentinean down when suddenly the momentum shifted in Round 9. Out of nowhere Martinez accelerated and moved forward behind flurries. A second cut opened over Pavlik's right eye, and soon his face was covered in Ohio State Red. Martinez seized the momentum and kept Pavlik on his heels for the rest of the fight.

Pavlik admitted that he could not see Martinez' left hands coming after Round 9, and gave Martinez credit on his victory. Following the fight, his cut-man said that Pavlik would need at least a dozen stitches on the inside and two dozen stitches on the outside to close Pavlik's wounds. There is no shame in this defeat. I cannot imagine how anyone could prepare for a middleweight with the speed of Martinez.

The Martinez victory brings the middleweight title back to promoter Lou DiBella's stable, where it was held by Jermain Taylor. Martinez now has plenty of options for the biggest money fight available at either middleweight or junior middleweight. Pavlik does have a rematch clause, but he may be shelved for a while until his wounds heal. A rematch with Paul Williams (should The Punisher be successful on May 8, against Kermit Cintron) would now be huge. A Martinez-Williams rematch would be coveted by HBO and boxing fans, especially since their first meeting resulted in a "Fight of the Year" candidate.

Pavlik is only 28 years old. He could pursue the rematch, which would not be a terrible idea. For moments in the fight he was able to do damage. He may also move up to Super Middleweight. Pavlik rehydrated after the weigh-in to 178 lbs.

This night, however, belongs to Sergio Martinez. It may have taken him a while to arrive, but the signs suggest that he will be around for a while.
The fight was promoted by Top Rank Promotions in association with DiBella Entertainment.