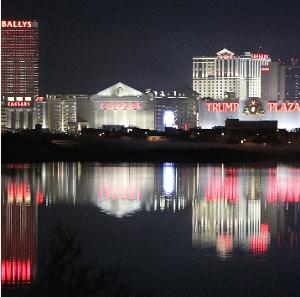 Atlantic City Boardwalk

By Jason Pribila at ringside: Atlantic City's Boardwalk Hall is hosting the first fight in its main room since October 2008. Top Rank in association with DiBella entertainment put together an 8 bout card featuring prospects, a son of a legend, a Russian Olympian and Philadelphia's best kept secret.

Mike "MJ" Jones (21-0, 17 KO), fighting for the first time in front of the suits at HBO provided fireworks as he dismantled the game Hector Munoz (18-3-1, 11 KO) over 5 brutally one-sided rounds. Jones has been in discussions to open up the June 5 HBO card from Yankee Stadium against DiBella prospect Antwone Smith, he certainly made a strong case for himself.

Jones admittedly opened his February fight tentatively against veteran Henry Bruseles. Munoz had no such luck. Jones came out fast behind his jab and lead left hook. By the second round he had already emptied his entire arsenal. Although he had a target that was easy to hit, he resisted the temptation of head-hunting and distributed his punches evenly to Munoz' body.

While no one would mistake Munoz for a world-class talent, no one will question his chin. After four rounds he received a visit from the ringside physician, who allowed Munoz to continue. When Jones delivered a flush right hand and left uppercut, referee Benjy Estevez saved Munoz from himself.

The bout was waved off at 2:03 of round 5.

Time will tell if Jones' next assignment will be on the "Network of Champions". If HBO passes, someone else will recognize he is must-see TV.
If Jones was sensational, Russian Olympian Matt Korobov (11-0, 8 KO) would be considered methodical. The southpaw boxed well and threw in enough straight left hands to clearly defeat Josh Snyder (8-5-1, 3 KO).

When Top Rank signed Korobov they promised to move him along quickly as a professional. That plan seems to have stalled a bit, as he is still fighting 8 round fights. There is no doubt Korobov has skills, but he may be a little too stingy with his punch output to ensure that his demand matches his potential.

Official Scores read: 79-73, 78-74, 78-74

Lightweight prospect Jeremy Bryan (13-1, 6 KO) saw his "0" go away in controversial fashion when he was knocked out by Vincent Arroyo (10-1, 7 KO) at 1:43 of the eighth and final round. Arroyo caught Bryan with a left hook that stunned the Paterson, New Jersey native midway through the round. Bryan went to the ropes, and looked as if he took a knee to avoid further punishment. Arroyo continued throwing punches and landed a right-left combination that closed the show. Many ringside observers questioned if Arroyo should have been disqualified, but replays showed that Bryan's knee never touched the canvas. If there was an argument, one could suggest his backside was caught against the ropes, but no one could blame Arroyo from continuing to throw.

Although the fight was closely contested, only one ringside judge found a round to give Arroyo prior to the stoppage.
The controversy could warrant a rematch, which fans would not mind seeing.

On April 15, 1985 Marvin Hagler and Tommy Hearns engaged in an all-time classic brawl. 25 years later, Tommy's son Ronald (25-1, 19 KO) entered the ring in Atlantic City. Although he delivered a right hand that reminded some of his Hall of Fame father, the fact he was matched soft against Delray Raines (17-8-1, 12 KO) ensured there would not be any two-way action. The bout ended when Raines failed to beat the count on his second trip to the canvas.

The official time was 1:47 of Round 1.

The fight card opened with once promising heavyweight Dominic Guinn (33-6-1, 22 KO) stopping Terrell Nelson (8-10, 5 KO). Guinn has gone from main event fighter to card opener, and his lack of activity was again on display. Despite scoring a knockdown in the opening frame, Guinn found himself even on one of the judge's cards after 7 rounds were complete. A rare flurry buzzed Nelson, who remained on his stool after round 7.