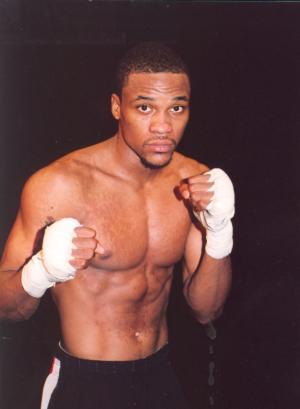 SecondsOut Prospect of the Year: Mike Jones

By Jason Pribila: This is the story of a Hall of Fame Promoter who continues to build fighters the old fashioned way; locally, without the benefit of television exposure. While others build their stables by following casino money and making back room deals with television executives, he remains loyal to his vocation and the fighters that believe in him.

This is also the story of a fighter that possesses the skills to make it to the top. He remains grounded by keeping his day job at the Home Depot, while raising his two daughters. He remains patient and loyal to his promoter, even though some of his peers have filled the television dates that he deserves.

This is not the synopsis of Clint Eastwood's next film. This story is real.

This is the story of promoter J. Russell Peltz and his prized pupil, Mike Jones, the 2009 SecondsOut.com "Prospect of the Year".

Those that have seen Jones fight have rarely questioned his potential. He is a 5'11" welterweight with a huge wingspan and power in both hands. He possesses the tools to control fights from a distance, but his instincts often lead him to trade with his foes. It is his fighter's mentality that makes his fights fan friendly, and is sure to translate well to a television audience.

This leads to the question, "Why isn't this kid on TV?"

"Everyone understands what is going on in boxing today," explained Peltz, "there are relationships and associations between certain networks and promoters."

"We are developing a fighter the right way" Peltz continued. "For a guy that isn't on TV, or with one of the so-called "Big Boys", he's doing pretty well as far as the ranking organizations."

Jones is currently rated No. 7 by the World Boxing Association (WBA), No. 11 by the International Boxing Federation (IBF), and No. 16 by the World Boxing Council (WBC).

Jones' rise in the rankings began in August of 2008 when he captured a regional title by knocking out Brazilian Juliano Ramos, who was 15-1 at the time. He then delivered a highlight reel knockout over Luciano Perez, which was televised on Telefutura's "Solo Boxeo".

That knockout got the attention of several boxing publications, and Jones earned the "Prospect of the Year" honors from MaxBoxing.com, and earned high praise from ESPN.com which wrote, "If Jones can take a punch, he could go all the way."

"Prospect of the Year" is not usually an honor that one repeats. However, 2009 did not go according to plan.

Telefutura canceled "Solo Boxeo", and Jones lost an outlet that had invested in him. But the lack of television exposure was not the only problem that the Jones camp faced.

"We didn't have a fight take place that we scheduled," Peltz explained. "He only fought three times. He needs to fight at least four times."

The frustration began in March when his scheduled opponent, Larry Mosley, had to cancel due to injury. Jones kept the date, and knocked out late-sub, Dario Esalas in two rounds.

In June, Jones had to pull out of the rescheduled bout with Mosley due to an injury suffered in training. The doomed bout was called off for a third time in August, when Mosley again came up lame. Jones marched on and defeated Lenin Arroyo over ten one-sided rounds at Bally's Atlantic City.

Jones was scheduled to return to the Boardwalk in November to face battle tested Richard Gutierrez (24-3-1), who represented a step-up in competition. Again Peltz was faced with finding a late replacement, as Gutierrez bowed out with a training injury.

Jones again pressed on, and knocked out Raul Pinzon (16-3) in five rounds.

While 2009 may have been spent treading water, 2010 promises to give Jones the opportunity to display his championship stroke.

Earlier this month Top Rank announced a deal was being finalized with Fox Sports en Espanol and Fox Sports Net, which would consist of a total 36 shows. The February 27 main event will mark the return of Jones to Bally's Atlantic City, and more importantly national airwaves.

Jones is scheduled to face Puerto Rican veteran Henry Bruseles (28-3-1), who has not lost since a TKO8 at the hands of Floyd Mayweather Jr. in 2005. Although Bruseles has been largely inactive, fighting only seven times in five years, he represents a step up in competition.

If Jones gets by Bruseles unscathed, there is talk about a potential Spring showdown with former welterweight titlist, Joshua Clottey.

"We would fight Clottey yesterday," Peltz said. "It's up to Clottey."

Word of a possible showdown with Clottey was discussed in the media room in Atlantic City, prior to the Paul Williams – Sergio Martinez bout. While everyone agreed that Clottey would represent a quantum leap in competition, no one doubted that Jones could land on his feet.

Movies are not made about prospects. Even in the hands of the most meticulous promoter and management team, a prospect needs to continue to grow mentally and physically. He needs to remain healthy, take advantage of opportunities, and even benefit from a little luck.

The first act of Mike Jones' career is over. His journey from prospect to contender and from contender to champion lies ahead. One could only hope that this story unfolds on the biggest stage possible.


WINNER: Mike Jones

Previous SecondsOut.com Prospect of the Year Awards

2008: Yuriorkis Gamboa
2007: Andre Berto
2006: Paul Williams
2005: Amir Khan
2004: Daniel Ponce De Leon
2003: Roman Greenberg
2002: Miguel Cotto
2001: Francisco Bojado
2000: Julio Diaz