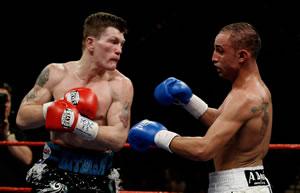 By John Lumpkin: Walk into any sporting goods store in the land and see if you purchase anything related to boxing. At best, you might be able to locate a heavy bag, some training gloves and maybe a speed bag. What you will not find is T-shirt, ball cap, jacket or any other item that would help promote the sport. The reason you will not find these things is that boxing has no representative.

Boxing, unlike most sports competing for the public's dollar, is not an entity. It is a collection of independent entities that periodically collaborate to put on a show. The only things that bind the participants of this sport are their willingness to submit to the auspices of any number of various organizational body rules and compliance with the state/country commission in which the contest takes place. Unless one of these bodies has a specific rule, just about anything goes. It is the reason a Jr. Middleweight can take on a Lightweight.

Why does it matter that boxing does not have a representative body? It matters because boxing cannot act on its own behalf to repair its reputation and promote the sport. Things have changed since the heyday of boxing and we are now in an era where branding matters. It is not that branding is absent from boxing, but rather than we only see it when the independent entities that elect to use it. Boxing, the sport, needs its own branding and its own marketing campaign otherwise the public will never get the message that it is a fun and exciting sport to watch. Having an excellent product is not enough. The audience needs to be identified and a message needs to be delivered. An occasional big fight between big names is not sufficient to attract large numbers of fans to the sport. These people are only coming for the show.

The Contender, whether you liked it or not, was a microcosm of what promotion can do for a sport. Most of the fighters that participated in the original show went on to secure opportunities and paydays that they probably would not have had without having participated on the show. The difference was not in their skills or experience, but their exposure to the public. People knew who they were and wanted to see more of them. It is a pity that so many boxing fans failed to see the importance of this show as a catalyst for bringing in more fans to the sport, but we are good at shooting ourselves in the foot. Had there been more support from core fans, we might have seen the one thing the show needed; fighters that were actual contenders.

The sport of boxing's success is dependent fighters fighting and fighting often. It is difficult to do this when every fight requires its own negotiation, its own promotion, and its own deals. How often do you think the Super Bowl would happen if every NFL team had to set up an independent negotiation with every team it wanted to play? This is the advantage that mixed martial arts and wrestling hold over boxing. They host events and market the product. They can do this because they are self-contained entities.

Boxing continues to cling to the outdated model that the independent promoters should foot the bill to develop new talent. While it is in their better long term interests of the sport to have a pool of talent, as long as the promoter runs the risk that the one bright new talent of the many they feature will change promoters, they are going to be reluctant to invest a great deal of money to cultivate talent. The situation is made even more desperate by the lack of TV dates and the increasing competition from all sorts of different types of entertainment and more popular sports.
There is no simple fix here. What the MMA does is roughly the equivalent of joining the promoter and the sanctioning body into a single company and controlling every aspect of the sport. The very idea that these two types of entities would collude together in boxing is an anathema, however this is precisely what enables the MMA to produce quality shows with a very limited pool of talent. It is also the same basic model employed by most major sporting organizations in the US.

P.S. Taking nothing anyway from Hatton, but did anybody else get the sense that Pauli Malignaggi just hasn't recovered from the beating he took from Cotto?

November 25, 2008