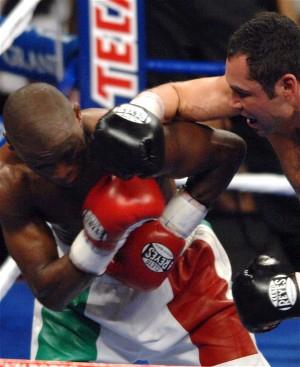 By John Lumpkin: How is it that so many boxers that make literally millions of dollars during their career end up penniless? In one sense, the answer is obvious: they simply spent more money than they made. But, how does it happen and why does it happen so consistently? No one is surprised that Mike Tyson, a man that made over $350 million dollars in his fighting days has a major debt to the IRS. Evander Holyfield's financial troubles seem par for the course, and many people expect that Floyd Mayweather will return for the money. After all, even the great Sugar Ray Robinson came back for the money.

Boxers who make it big face essentially the same dilemma that lottery winners do. To those who are unaware, the lotteries have a dirty little secret – up to 70% of major lottery winners eventually declare bankruptcy after winning the lottery! Lottery winners, by in large, are ordinary Joes who work or have worked for a living. They are accustomed to having more dreams than resources to secure them. When the lottery winnings come, their tendency is to make their dreams come true. Many go right out and buy a new car, but not just a car, the car.

Along with all the newly acquired money are a lot of newfound friends and advisors. Many have good intentions, but most really just want of piece of pie. Some even believe they are owed and behave accordingly. Does it seem fair to buy yourself a new Porsche when your best buddies are driving jalopies? It is an easy trap to fall into. It is gratifying and empowering to be able to buy dinner for everyone, but few people understand when it is time to stop. Some feel a sense of responsibility and continue to pay for those less fortunate. Others feel the need to flaunt.

What differentiates lottery winners and boxers from people who have grown up with wealth or gradually earned their fortune is that they are going from one standard of living to another in a very short period of time. They have not developed the trusting relationships with the types of professionals that can help them create a strong financial future. Nor are they likely to have the requisite knowledge and education to be able to fully comprehend the nature of the opportunity they have found themselves in.

Credit is often the enemy for newfound rich. One of the things that will happen when people quickly amass wealth is that their credit improves. People are always willing to lend rich people money because there is a very good chance they will be paid. It is so easy to sign on the dotted line and take home the merchandise today. The problem is that if the person had bad credit habits beforehand, the acquiring of new wealth does not change the habits. It might take a little longer, but eventually people who do not make a concerted effort the change their ways will fall into the same traps.

One of the biggest problems people encounter when they come into money quickly is how much money they can safely spend. If a boxer earns $1 million from their purse, the question is how much money do they really have? For sake of argument, let us say that our fictional boxer is 30 years old and needs to live off the $1 million dollars earned from today forward throughout his entire lifespan over the next 55 years. If our boxer was able to secure a relatively low risk investment that paid a steady 8% interest per year with inflation predicted to be a constant 3% per year, what kind of yearly income could our boxer have if they wanted to have each successive year's income adjusted for inflation?

The calculation that is needed is to determine what the first year's income would be since every year after will be the previous year's figure multiplied by the 3% inflation rate. To do so, we must first find the real rate of return. This is necessary because while the boxer is earning interest which is increasing his wealth, inflation is simultaneously decreasing it. The calculation is slightly more complex than simply subtracting one number from the other and the formula is stated as rr = [(1+rNOM )/1+ Inflation)] – 1.0. Using the numbers provided, this translates to [1.08/1.03]-1 = .048543689 or 4.8543689%.

Using the real rate of return figure in conjunction with the PMT function in Microsoft Excel [PMT(4.8543689%,55,1000000,,1)], we can determine that the first year income, if paid to the boxer immediately, will be just $49,982.31! The following year's income will be adjusted upwards by 3% to keep pace with inflation enabling the boxer's purchasing power to remain stable until his death at 85. It is critical to recognize that this annual income is not tax free income, so actual monthly take home pay for this million dollar investment is likely to be somewhere around $3500 a month (The exact amount varies depending on how the money was invested and other factors).



The superstar boxers that make huge sums of money have much higher potential incomes. If we take the Excel formula and enter $100,000,000 in place of the $1,000,000, we find that our superstar boxer would have an annual pre-tax income of about $5,000,000 with an after tax income around $3.5 million or so. It is a lot of money, but it is not enough for the superstar boxer to consider buying that $2.5 million Enzo Ferrari or the multimillion dollar Gulfstream jet. A $100 million just isn't what it used to be.

Whether the boxer has put away $1 million or $100 million, the key here is that the money is available for investment and is available in full throughout the boxer's life. Borrowing against it or purchasing other investments will reduce their regular expected income. Unless the boxer has the ability to continue to earn a substantial income post retirement at age 30, the boxer is essentially living on a fixed income.

No matter how much money the boxer has earned, living on a fixed income requires good planning, discipline, and firm budget. It also requires that the boxer to take an interest in their own finances and pay attention to impact of their actions. Unlike the game of boxing, one simply cannot abdicate the responsibility of financial management to someone else. If the boxer does not take the time to understand the basics of finance, the fool will eventually be separated from their money.

P.S. For you math wizards out there, try this. Rumor has it that Money Mayweather purchased a $40 million house. How much money should he have invested to produce the level of income necessary to purchase and maintain such a property? You can assume that property taxes are 2.5% per year and that he likely mortgaged some portion of it at a low rate. Keep in mind that even if you consider the house to be an investment, he does not earn any revenue from the property unless he sells it for a profit.
August 5, 2008