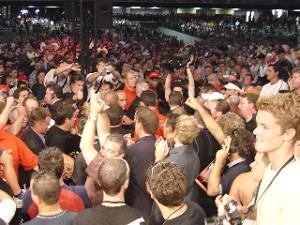 boxing fans

By John Lumpkin: Boxing is a tough sport if you are a fan and live in the USA. The vast majority of us are relegated to witnessing our sport through the rather limited TV programs willing to air it, so it is difficult for many fans to get behind the prospects. TV fans do not usually become interested in a fighter until they have viewed him a few times and it often takes a fighter a fairly significant number of bouts to gain exposure – and even then it is a bit of crapshoot as to who gets such an opportunity.

There are entire divisions of fighters we almost never see because someone else has decided we are not interested. There are championship title fights that go unseen and we simply do not have any means of viewing them even if we wanted to. It is difficult to build interest when there is no way to watch.

Newspapers and sporting magazines largely ignore the sport and when they pay attention, it is usually buried in the back pages. If it wasn't for the Internet, it is hard to say if boxing would still be here. Boxing does have its own publications, but the September 2008 issue you can pick up today is covering topics from three months ago. Guess there is just not enough money to produce a magazine that covers current events. And did anyone happen to notice that KO Magazine was KO'd?

Want to attend a boxing match and actually see what is going on? Tickets for boxing matches between name fighters are not cheap. A ringside seat at the Roy Jones Jr. vs. Joe Calzaghe fight will cost you almost as much as a seat on the 50 yard line at the next Super Bowl. It is hard to imagine that those two events equate. It is not that people cannot afford to watch fights live, it is just that tickets are rather expensive and this is the type of sport where if you want to follow it, one needs to see a lot of fights. Maybe it is a good thing fighters are fighting less often these days.

A subscription to a television service is necessary to view fights in the USA as the networks have all but dropped boxing from their consciousness. The big names fight on the premium channels which often require a more than doubling of the basic monthly subscription fee to acquire. And if that isn't enough, more and more fights are going to PPV which charges between $24 and $60 per card (plus tax and applicable fees). What other major sport can you think of that requires that much money just to watch it on TV?

Boxing is very much dependent on the Internet these days as it is often the best and most complete source for timely information, dialogue, and news. Almost as importantly, we are starting to see the Internet being used as viable medium for delivering fights. As bandwidth costs lessen and more people gain access to technology capable of displaying streaming technologies, we could see a significant upsurge in the number of fights available to us. It could open the doors to viewing fights in far off places for peanuts providing much needed revenues to locals and many more fights for fans. Have to wonder if the new demand for fights over the Internet will lead the TV execs to want to make more fights available on their airway and if they do, whether or not we will care.

July 22, 2008