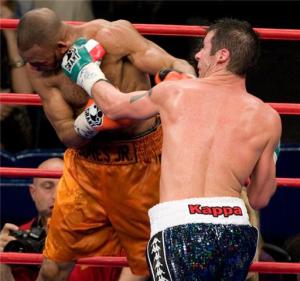 Calzaghe on the attack against Jones: Neil Abramson

By John Lumpkin: Joe Calzaghe did what was expected of him this past Saturday when he dominated the badly faded Roy Jones Jr. The difference between these fighter's capabilities at this stage in their career is staggering. It was almost surreal to realize that Roy Jones' only chance was that of a punchers. Jones reflexes were so far gone that he couldn't pull the trigger even when Calzaghe dropped his hands and stuck his face between Jones' gloves. The only redeeming aspect of the fight for Jones aside from the brief eight seconds Calzaghe needed to rise from the canvas after being clocked by a forearm in the first round was the fact that Jones Jr survived to see the end of the fight.

The interesting thing about fights of this nature is that the winners almost always seem to view the victory as a major accomplishment. Perhaps, it is the ghost of the memory of a former dominate fighter that they feel they have overcome. It is hard to say, but it is common theme. How many of us have heard Lennox Lewis extol about the virtues of his victory over Mike Tyson? And how many of us remember just how far Tyson had slid prior to that massacre? No doubt fans of Joe Calzaghe will reminisce about and laud about Calzaghe's ability to conquer two sure fire future hall of famers. It is not that Calzaghe did not put in the work or earn the victories. He is certainly an excellent fighter that deserves credit for all the effort and skills that have brought him thus far. The question really is what does this victory do for him?

Calzaghe is a step or two shy from receiving the adoration and recognition of a great fighter. While his ardent fans believe him to be the best, the world has yet to even declare him the best of his time. He has never been universally recognized as the pound for pound best, but oddly has a great chance in the near future should Pacquiao fall to the much larger De La Hoya in the coming weeks. Should he receive that honor, will he rest on his laurels and retire or will he reach for greatness?

Calzaghe is a better fighter than most give him credit for. He has honed his craft in much the same fashion as Bernard Hopkins did over his long title reign taking on a long series of top ten contenders and producing victories over a wide variety of styles. And like Roy Jones Jr., the majority of his foes lacked the credentials to be credible threats to his championship. Unfortunately for Calzaghe, unlike Jones and Hopkins, none of his super middleweight opponents were future hall-of-famers in their prime and the two hall-of-famers he did beat were so far past their prime that their significance on his resume is substantially reduced.

Joe Calzaghe has roughly the same number of defenses at super middleweight that Bernard Hopkins had at middleweight. Yet, is anyone seriously discussing Calzaghe as a potential all-time great that could fight in any era like they are about Hopkins? The same respect isn't being accorded to Joe. We are starting to see glimpses of what enabled Joe to remain unbeaten for so many years, but we need more than a victory over Mikkel Kessler and a couple of faded legends. These victories made the name Joe Calzaghe famous across the pond, but it is not enough to place him alongside the game's all time best.

At the age of 36 with financial security and a brilliant career behind him, one could easily argue that there is nothing left for Calzaghe to prove. However, Joe Calzaghe is 46-0. It is a remarkable record and one he should be proud of. He has a chance to surpass Rocky Marciano's record and he has the ability to do it against any opponents he chooses as the title he holds does not come with any conditions. Those four fights are the difference between being just your plain old super Joe and boxing immortality. Win those four fights and boxing fans will speak his name amongst the greats. It almost won't matter who he fights to achieve that record and this is the problem in a nutshell.

November 11, 2008