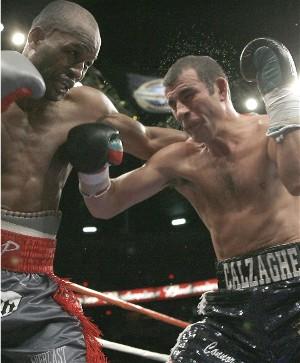 Hopkins vs. Calzaghe

By John Lumpkin

Whenever a fighter reaches the tail end of their career, the natural inclination of the fans is to discuss how we might view their accomplishments at some point in the future. This discussion is often mute because by in large, we tend to reminisce only about the accomplishments and challenges they faced while they were a competitive force. We might note the losses at the end of their careers, but largely view them as a footnote rather than an important part of their resume. This is not necessarily good or bad; it is just what we do.

Many of the boxing's legends have fought well past their primes and initiated more than one ill-advised comeback with disastrous results. Some of the greatest fighters in history have had less than glorious endings. Muhammad Ali lost 3 of his last 4 fights and the last two were not pretty. The combined record of the fighters Willy Pep beat over his last 15 fights was only 76-161-16 with only 1 of those fighters having a winning record of just 9-6-1. We have to go 12 fights back into Sugar Ray Robinson's end of career fights to find his last victory over a fighter with a winning record. Boxing has many of these stories, so it is probably a good thing we opt to remember the best of a fighter's career.

Few fighters' legacies are harmed by their actions late in their career. The primary exception to this, had he elected to comeback and subsequently lost a fight, would have been the late great Rocky Marciano. His legacy is largely tied to his undefeated record and a loss would have eliminated much of his continuing mystique. Young fans know his name today largely because he stands alone as the one heavyweight champion to retire undefeated. Marciano's intense popularity and fighting style would still have endeared him to fans for years to come, but his name would not have been brought up every time someone came close to eclipsing the record he holds. Our reverence for him just would not be the same had he lost the "0".

The announcement of Bernard Hopkins latest fight with Kelly Pavlik has brought about a fair amount of criticism and calls for Hopkins to stop fighting. Numerous fans have commented that his continual efforts to secure fights will harm his legacy. It is a peculiar comment because Hopkins has not been fighting bums. His current fight and his last five fights have all been against either the best young contender or a pound for pounder. It is hard to imagine that these types of contests could harm a legacy. It is more likely that they will only add to his credentials.

The criticism of Hopkins seems more likely to be rooted in the fact that his chosen method of plying his craft simply lacks the aura of electricity and abundant excitement that we crave. Hopkins presents a challenge for us as fans. He does not win as frequently as he used to, but the losses have been close and often hotly contested. It is not out of realm of possibility that Hopkins will be able the neutralize Pavlik's rather straightforward method of attack and land sufficient clean shots to secure the decision. The problem seems to be that some people do not want to know if he can execute this strategy to victory. Pavlik is just more fun to watch when his is pounding his opponent senseless than Hopkins is when he is making his opposition look amateurish.

It is clear that father time has caught up with Hopkins as his offensive output is severely limited – a fact that cost him the fight against Calzaghe. Yet, despite his inability to launch more than a few shots per round, he finds a way to force even the most spirited opponent to fight his fight. If you do not appreciate the subtle tactics he applies, the solution is simple, do not watch his fights. Just don't be surprised if we later fawn over the fights that bore us to tears today for their technical brilliance when he is no longer around.

August 12, 2008