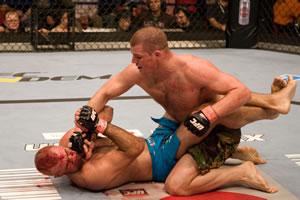 Mixed Martial Arts (MMA)

By John Lumpkin

If you peruse various boxing forums, there is a lot of concern that MMA is going to be the end of boxing. To some degree, the concerns are not unreasonable as we have witnessed a steady decline in the mainstream press coverage of boxing. Most major sports publications and TV shows rarely discuss boxing anymore and even the biggest fights are only given a modicum of support. There are only so much space and time slots to allot sports, so when a new sport rises, it leave less resources to cover boxing. But is the fear justified?

What it will ultimately boil down to is what we the fans consider the most entertaining. For the boxing purist, there will never be a replacement for boxing. We love our sport, we know the ins and outs, the history, the legends, the lore, and can reminisce with pride. To us, there is nothing quite as exciting as a fight between two seasoned competitors displaying a wide range of wizardry in the ring. It may be years before MMA matures to the point where their best fighters can display the same relative mastery of their multiple disciplines that so many of our fighters have shown.

The toughest thing for those of us who are pure boxing fans to come to grips with is that we are not the majority when it comes to people who purchase the right to view fights. The casual fan is the real prize as they are the ones that make the difference. They only show up when the names are known or the event is large, but when they elect to participate, they come in force and pump the big dollars into the show. These fans enjoy boxing, but they do not worship it. They seek to be entertained and are open to any sport that can fill their desire.

One of the greatest things that MMA has going for it is that it is essentially a traveling circus, but before you laugh, please remember the immortal words of P.T. Barnum. This is a tried and true business model that is designed to excite and self-perpetuate. If you watch an MMA show, you will note that it is modern, slick, and fast paced. There is music, choreography, lights, and perpetual action. You do not even have to see the fights to be entertained as there are a multitude of shows going on throughout the event.

The people behind MMA have learned from the meteoric rise of professional wrestling. They understand that casual fans like characters and want to root for heroes and villains. It makes for a great storyline filled with emotion that captivates the audience and attracts sponsors who in turn attract a larger fan base. And unlike boxing, whose sponsors tend to be hair coloring for men or overalls, MMA sponsors understand fun. They are the makers of the popular drinks, fantastic video games, and all sorts of entertaining things.

If it hasn't already, MMA will almost surely pass boxing in popularity in the near future. It is not that boxing is not as entertaining, but rather, it is not as organized. Boxing has many independent entities that focus on short term gains and the infrastructure that supports its future is not what it used to be. The United States has less than 3,000 registered professional boxers. It is a paltry amount considering the minimal effort it requires to acquire a boxing license. To put this in perspective, in the relatively small country of Thailand, there are 60,000 professional Muay Thai fighters.

Despite boxing's woes, it is actually enjoying a bit of an upswing and is rising in popularity across many nations. There have been several contests in recent memory that have filled stadiums with fans. The fact that big name fighters are actually fighting one another with increasing frequency is a tremendous boast for the sport. Yet with so many of its cash cows nearing retirement age, a lull could be just around the corner. So, what does this mean for boxing?

Oddly, MMA could be one of the best things for boxing as it is doing a fantastic job of bringing in new casual fight fans. While the two sports will compete for the same entertainment dollar, there is a fair degree of cross-over between the sports. New MMA fans will be exposed to boxing and some will prefer it. The trick for boxing is to attract those fans while they are still casual fight fans. This will only work in boxing's favor if it can continually produce exciting matchups and learn from MMA how to better market itself. Burying our heads in the sand and hoping MMA goes away is not going to work. That strategy never works.

May 6, 2008