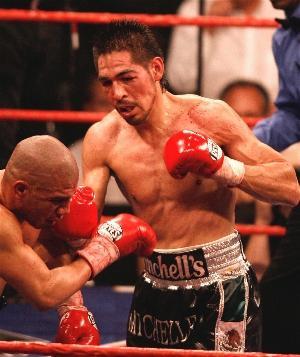 By John Lumpkin: One of the great things about undefeated fighters who have passed many tests is that they cannot conceive of losing. This hardened boldness can sometimes translate into fight plans that seemingly make little sense when faced with a challenge. On some nights, the champion emerges with a glorious victory demonstrating to the critics just how amazing he is. On other nights, like the one this past Saturday, the champion is foiled.

It was obvious from the outset of the Cotto Margarito contest that Cotto's people decided before the fight that Margarito was going to come forward and that was that. Cotto even alluded to it in the prefight conference suggesting there no plan but to react to what Margarito did. The entire approach to the fight seemed to be centered on the idea that Margarito would come forward, Cotto would hit him with his cleaner, harder, more accurate shots and that Margarito would simply be unable to handle what Cotto dished out.

It is hard to say whether any strategy would make a difference as the fight did appear as it was a contest between a good little man and a good big man – and we all know the record here. However, when you give away to your opponent the one thing he has to have to win, it is a strange choice. It is an even stranger choice when your strategy does not include the liberal use of your best weapon. Sometimes that feeling of invincibility is not a good thing.

Much was made out of Cotto's boxing abilities based on his performance against Shane Mosley, yet somehow we lost sight of the fact that rounds Cotto boxed the most were the rounds he lost. This is not to say that Cotto cannot box, he can and he can do so well. But rather, when Cotto looks his best, he is the one seeking and destroying the opponent. Maybe his handlers thought this was not a good tact to use against Margarito or maybe they thought it was too risky. We will probably never know the answer unless they fight again.



It is not that the strategy Cotto fought was completely flawed. It clearly worked for him for a few rounds. The problem was more so that it appeared they went straight to plan B. Since the strategy required Cotto to exert far more energy than he is accustomed to, it did not leave him in a position where he could execute a plan C. Had it worked, we would all be applauding Cotto's ability to use Margarito's strengths against him. In hindsight, it appears Cotto's team overlooked the possibility that Margarito's granite jaw and determination would be as big of a factor as it was. Of course, no matter what style they elect, Margarito's physical abilities will always make him a tough and dangerous opponent for Cotto.

Three things are for certain now – 1) Floyd Mayweather can no longer claim that Margarito does not have the standing to face him. Oddly, the style that Cotto elected to use against Margarito is something Mayweather does much more naturally. Floyd does not have Cotto's power, but that might not be relevant given how little effect Cotto's shots had. 2) We need a rematch between Margarito and Williams. Beating Cotto was an important victory for Margarito, but it is hard to call a guy "World Champion" when he has recently lost to another belt holder. 3) Margarito deserves credit for fighting an outstanding fight.

July 31, 2008