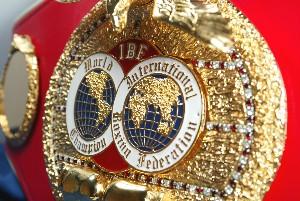 IBF world title: HoganPhotos.com

By John Lumpkin

Every once and a while when a popular champion loses his title in a close fight we hear people proclaiming that it was somehow unfair because there is a notion that to win the title, the challenger must do more than eke out a decision. It has become so popular that many accept it as some kind of fact. Occasionally the losing champions themselves will make the proclamation as Oscar De La Hoya did shortly after he learned he lost a close decision to Floyd Mayweather.

Ask yourself the question and see what comes to mind; what does this really mean? Are we saying that a champion should be given a few extra points before the fight begins just in case he does not do as well? Are we saying that close rounds should go to the champion because he is the current champion and somehow this should count for more? Are we saying that the challenger does not deserve a fair shake? What are we thinking?!

The funny thing about this notion is that the current interpretation is not what was originally meant. The statement was made to describe the difficulty that challengers often faced when attempting to lift the title from a popular champion. The issue was simply that popular champions tended to attract the attention of the judges and that if a challenger did not do something to dissuade the judges from looking at the champion, the challenger would likely lose a close fight because judges tend to favor the fighter they are watching the most in the scoring. It is the same phenomenon that leads fight fans to believe that their fighter wins most fights. It was never meant to imply that challengers should be held to higher standard to achieve victory in a title fight.

Most sports fans have a rather well developed sense of fair play. Boxing already has a reputation for producing outlandish decisions, fight fixing, and numerous other less than scrupulous shenanigans. So when potential new fans begin to pay attention, what must they be thinking when they hear seasoned fight fans crying foul when a challenger rightfully wins a match? It is not consistent with what they believe and it perpetuates the belief that boxing has yet to overcome its past. It may not be much, but watching for odd little notions such as this one is something that fans can do to help the sport.

June 24, 2008